Xavier clinches BIG EAST women's soccer regular season championship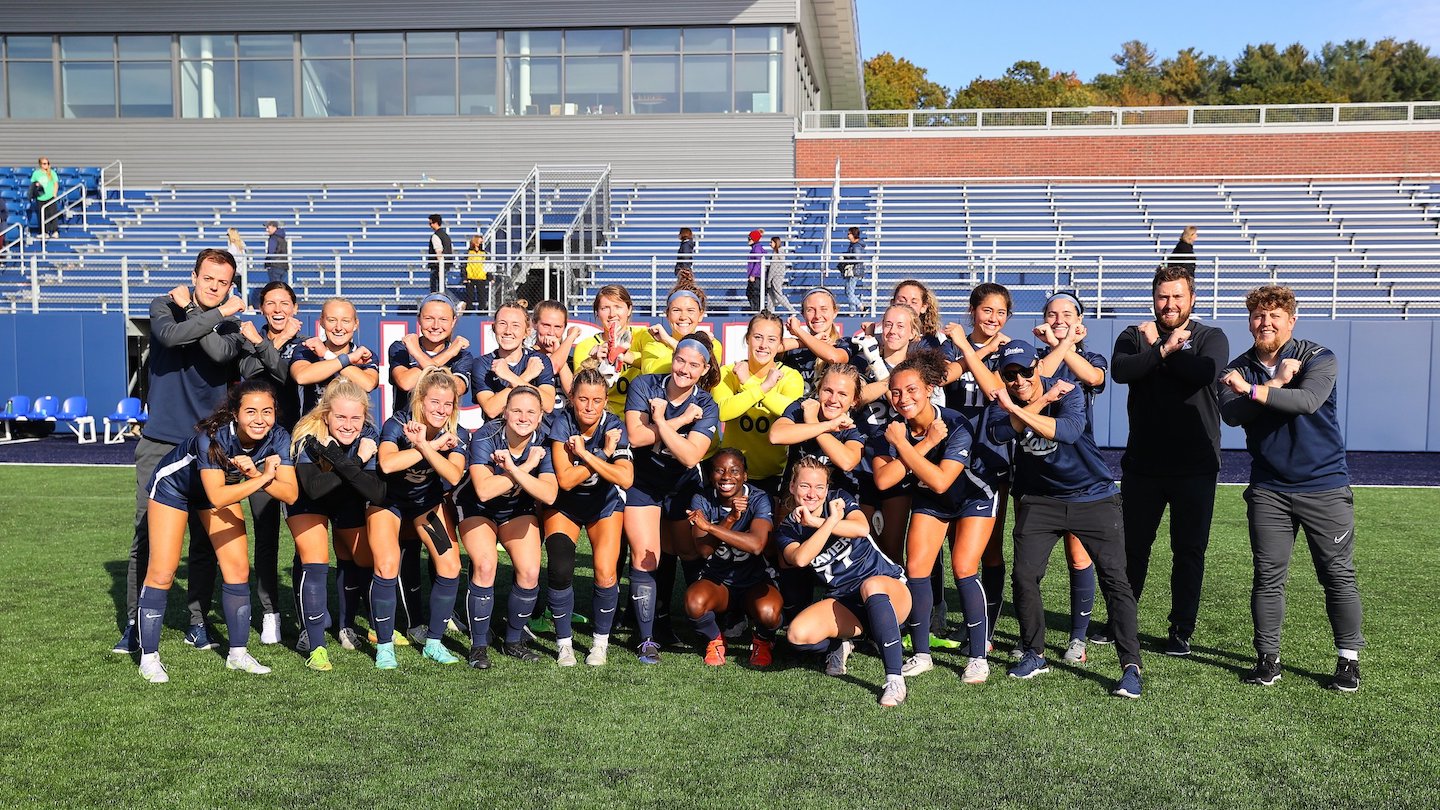 NEW YORK – With one play date remaining and a four-point lead in the standings, Xavier clinched its second BIG EAST women's soccer regular-season title in the last three seasons following a 1-0 win at UConn on Sunday.
The Musketeers, who have a bye on Thursday as the other 10 BIG EAST teams close out the regular season, finished conference play with a 9-1-0 record. Xavier also locked up the No. 1 seed in the upcoming BIG EAST Women's Soccer Championship and will serve as host of the Semifinals and Final, set for Nov. 4 and 7.
Also solidified on Sunday, Georgetown will be the BIG EAST Championship No. 2 seed. As the top two seeds, the Hoyas and Musketeers each earned byes directly into the semifinal round. GU won at Seton Hall on Sunday, 3-0, to improve to 7-0-2 in league play. The Hoyas close out the regular season at home against UConn on Thursday at 2 p.m. ET.
With a 3-0 win at Villanova on Sunday, Butler clinched a BIG EAST Championship First Round home match which will be played on Oct. 31. The Bulldogs, who are 6-2-1 in conference play and finish at home against Creighton on Thursday (7 p.m.), are guaranteed to be either the No. 3 or 4 seed. The No. 3 seed hosts the No. 6 seed and the No. 4 seed hosts the No. 5 seed, with the winners advancing to the semifinals in Cincinnati.
Following a 3-0 win at Creighton on Sunday, St. John's became the fourth team to qualify for the BIG EAST Championship. With a 5-3-1 BIG EAST mark and 16 points, the Red Storm can finish no lower than sixth in the standings, and as high as No. 3. They will close out the regular season at home against Villanova (7 p.m.) on Thursday.
The final two spots in the BIG EAST Championship field will come down to Providence (4-3-2 BIG EAST), UConn (4-4-1 BIG EAST), DePaul (4-5-0 BIG EAST) or Marquette (4-5-0 BIG EAST). The Friars host Seton Hall at 6 p.m. and the Huskies visit Georgetown (2 p.m.), while the Blue Demons and Golden Eagles meet in Milwaukee at 8 p.m. All five of Thursday's regular-season finales will stream live on the BIG EAST Digital Network available on FloSports.
BEDN's postseason coverage begins in the first round on Oct. 31 and continues into the semifinals on Nov. 4. FS1 will air the BIG EAST Championship title game on Nov. 7 at 1:30 p.m. The winner of that contest receives the conference's automatic bid into the 2021 NCAA Championship.
BIG EAST Women's Soccer Championship 
Presented by Jeep
First Round – Oct. 31 (home sites)
No. 6 seed at No. 3 seed, TBD*
No. 5 seed at No. 4 seed, TBD*
Semifinals – Nov. 4 – Cincinnati, Ohio
No. 6/3 winner vs. No. 2 seed Georgetown, TBD*
No. 4/5 winner vs. No. 1 seed Xavier, TBD*
Final – Nov. 7 – Cincinnati, Ohio
Semifinal Winners, 1:30 p.m. ET^
*BEDN
^FS1