West Virginia to host 2020 US Youth Soccer East Region Championships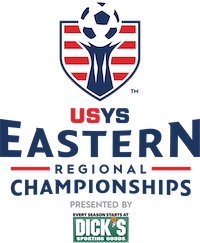 FRISCO, Texas (Via US Youth Soccer) — US Youth Soccer has announced that West Virginia and West Virginia Soccer Association will host the 2020 US Youth Soccer Eastern Regional Championships, June 26-July 2 at Barboursville Soccer Complex and Shawnee Sports Complex.
The event will feature approximately 225 Boys and Girls teams in the 12U through 19U age groups. Regional winners of the 13U through 19U Boys and Girls age groups will earn a berth to the 2020 US Youth Soccer National Presidents Cup.
"The East Region Championship Committee is very excited to once again be hosted for the NCS Series Tournament by West Virginia in 2020. The commitment to continually create new top level facilities, along with the hospitality and willingness to provide an enjoyable experience by the many volunteers and staff of West Virginia, makes this event something that players, coaches, and families look forward to attend," said Brad Roos, Chair of the US Youth Soccer Eastern Regional Championships Committee.
The Barboursville Soccer Complex is a familiar location for US Youth Soccer, as it has successfully held numerous US Youth Soccer regional events in recent years. The 2019 US Youth Soccer Eastern Regional Championships will be held in West Virginia June 28-July 4, 2019
"We are thrilled to be awarded these regional events and look forward to the many players and families that will be visiting Barboursville," Barboursville Mayor Chris Tatum said. "We love rolling out the red carpet for our visitors and look forward to continuing our long-standing relationship with US Youth Soccer and the West Virginia Soccer Association."
"The Kanawha County Commission is excited to partner with Barboursville, US Youth Soccer, and WVSA in bringing this event back to West Virginia," Kanawha County Commissioner Ben Salango said. "The US Youth Soccer Eastern Region Championships will bring thousands of youth athletes, coaches and families to our area. Moreover, this event will provide a $10 million economic impact for the Kanawha Valley."
US Youth Soccer Eastern Regional  Championships | West Virginia
Barboursville Soccer Complex and Shawnee Sports Complex
June 26-July 2, 2020