EDP Soccer League to launch In Florida for 2019-2020 season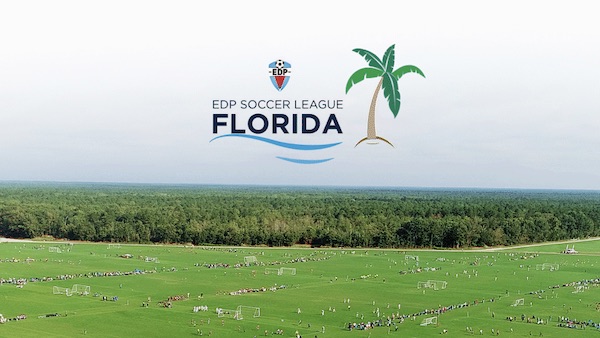 EAST BRUNSWICK, NJ (Via EDP Soccer) – EDP has announced the creation of the EDP Soccer Leagues in Florida, beginning with the 2019-20 season. These new leagues will serve as the beginning of a development pathway for soccer players in Florida from the grassroots level to the highest level of US Youth Soccer.
As an affiliate of the Florida Youth Soccer Association, EDP Soccer Leagues will begin play in Fall 2019.
"Focusing on each team's specific needs, EDP Soccer League will provide the appropriate level of competition for players and their development," EDP Technical Director Simon Collins stated.  "Each league that EDP administers is designed to give teams a quality game every week with sensible travel while supporting them on their journey to higher levels of play."
There will be both club vs. club and team vs. team leagues at all age levels from 11U-19U, as well as local competition in the 9U-12U divisions.  In addition, a season-ending playoff between the top teams will determine the EDP Soccer League Florida Champions.
"As a competitive club, we strive to find the best for our members both in the country and overseas," Maite Newby of CES Juventus Soccer Academy Biscayne said.   "It is very important for us that the tournaments and leagues we participate in are of the highest level and provide a challenge to our players.  EDP has always provided a top-level competitive environment, which is extremely well-organized and a pleasure to participate in. We continue to look forward to the EDP programming in the future."
"We are excited to be an integral part of this new league expansion," Treasure Coast United President Seth Dustin added.  "EDP's reputation of providing exceptional and professional leagues across the U.S. is just what is needed to grow competitive opportunities in Florida for all types of players with the goals that mirror ours."
Daniel Tidmarsh, Director of Football and Events at South Orlando & FC Prime, is excited about the league and its prospects.
He noted, "EDP brings an outstanding track record from across the Eastern seaboard of providing platforms for soccer players of all ages and abilities.  Their expertise within tournaments and leagues entering into the Florida market will be a massive addition for improving soccer statewide."
For more information, visit edpsoccer.com/florida