Washington Spirit – Baltimore Armour finalizes Girls DA coaching staff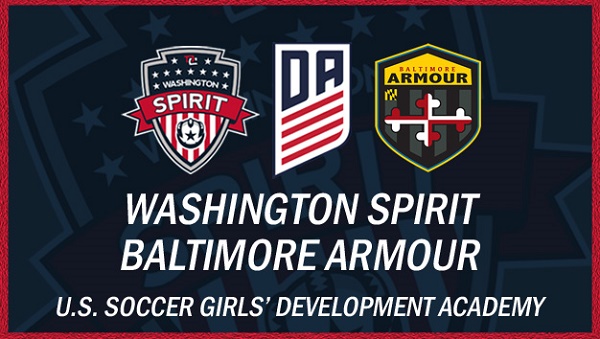 Boyds, MD (Via Washington Spirit) – Washington Spirit – Baltimore Armour Technical Director Denise Reddy has finalized the program's U.S. Soccer Girls' Development Academy coaching staff for the inaugural 2017-2018 season.
In addition to previously announced coaches Bonnie Young, Danny Skelton, Santino Quaranta and KJ Spisak, the staff will also include local club coaches Sam Haddad and Adam Wrede. Reddy's staff will bring with them a successful track record at the youth level that will extend into the Washington Spirit – Baltimore Armour Development Academy teams.
"We are very excited to have these two top level youth coaches join our Development Academy program," Reddy said. "Their knowledge, experience and expertise will add the finishing touches to our top notch staff. We're looking forward to kicking off the inaugural Girls' DA season."
+READ: Washington Spirit – Baltimore Armour announces first four Girls' DA coaching staff placements
Haddad, who will serve as assistant coach of the U-17 team, joins the Washington Spirit Development Academy with 15 years of coaching experience. Haddad currently coaches the top-ranked girls' team for the 2000 birth year age group in the state of Maryland, SAC Showcase Premier 00 NPL. He has coached several successful teams over the years at Soccer Association of Columbia (SAC) and other clubs including women's semi-professional WPSL side Maryland Pride. Haddad holds a Bachelors of Science in Sports Management and is studying for a Masters in Sports Psychology.  He holds USSF "C" and NSCAA Advanced "National" coaching licenses and will complete his USSF 'B" later this year.
Wrede will be the head coach of the Washington Spirit – Baltimore Armour U-14 squad, the youngest age group in the Development Academy. Wrede brings over 25 years of playing and coaching experience to the training fields. He was a four-year starter at Goucher College where he earned CAC All-Conference honors. Wrede spent four years as a director and trainer for Coerver Training before joining SAC's travel soccer coaching staff. Wrede's SAC teams consistently exhibit strong technical skill and in-depth knowledge of the game. The quick passing displayed by his teams have become a signature of his. He holds a USSF 'C' license and is nearing completion of the USSF 'B' license course.
See below for the full Washington Spirit – Baltimore Armour coaching slate for the inaugural U.S. Soccer Girls' Development Academy season.
Washington Spirit – Baltimore Armour Girls' DA Coaching Staff
Technical Director – Denise Reddy
U-18/19 Head Coach – Bonnie Young
U-17 Head Coach – Danny Skelton
U-17 Assistant Coach – Sam Haddad
U-15 Head Coach – Danny Skelton
U-15 Assistant Coach – Santino Quaranta
U-14 Head Coach – Adam Wrede
U-14 Assistant Coach – Bonnie Young
Goalkeepers Coach – KJ Spisak