Washington Spirit announce partnership with WAGS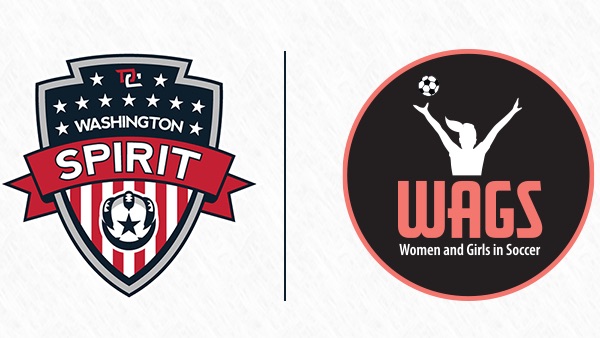 Boyds, Md. (Via Washington Spirit) – The Washington Spirit have entered a partnership agreement with Women and Girls in Soccer (WAGS). As part of the agreement, the Women and Girls in Soccer logo will be printed onto the back of every first-team kit.
Said Spirit Majority Owner Steve Baldwin: "I'm delighted that Women's and Girls in Soccer is partnering with us on our shared objective of advancing female soccer. WAGS has an incredible history of building and supporting females in soccer since 1975 and holds a special place in the hearts of the Washington Spirit. My daughter played in the league, some of our players played in the league, our CEO and Head Coach both coached in the league, and it is an honor for all of us to now work with WAGS leadership in advancing this game. Much less known is WAGS support of the Spirit, and by extension the NWSL, when this league was launched in 2013. WAGS support was instrumental in Washington securing a spot in the NWSL and I thank Lula Bauer, Tom Gross, Laurie Lane, Kerry Diederich, Pat Lusk, Jane Dawber, and Sally D'Italia for their support of our club."
Formerly known as the premier regional soccer league in the DMV, Women and Girls in Soccer's (WAGS) is now a charitable organization with the mission of empowering girls and women – from all over the world – through soccer.
Spirit Captain Andi Sullivan had this to say about the partnership: "I grew up playing in the WAGS League and Tournament and I have fond memories of those games. The DMV is my home, and this partnership furthers that sentiment. On behalf of the Washington Spirit players, I thank WAGS for their support. We obviously believe in their mission and we cannot wait to work together to further empower women through soccer."
WAGS offers six programs just for girls and women in soccer that promote confidence, strength, character, and leadership in a variety of ways. These programs include:
Soccer Hall of Fame Award
Women's Soccer Award of Excellence
College Scholarships
Referee Education and Support
Coaching Education
Worldwide Outreach
WAGS funds its efforts through the WAGS "Rael Vodicka" Memorial Soccer Tournament held annually on Columbus Day weekend in October.
Lula Bauer, WAGS Chairwomen stated, "As inaugural sponsors of the Washington Spirit, we are excited to continue supporting this amazing NWSL Club. Considering WAGS mission of empowering women and girls through soccer, having this opportunity to partner with Steve Baldwin, his staff and the Washington Spirit players, is extremely rewarding to myself and the WAGS Board of Directors."