WAGS Tournament concludes weekend of competition, high-level college recruiting
The 2014 WAGS Tournament concluded on Columbus Day, capping a three-day weekend of elite competition and one of the country's most coveted college showcase events. More than 400 teams from 22 U.S. states and Canada competed in the event, including 46 state champions, four regional champs and one national champion.
Over 200 college programs were represented at the tournament which took place at locations throughout Northern Virginia, including perennial powerhouses such as the University of Virginia, Virginia Tech, UCLA and Rutgers. With Evergreen SportsPlex in Loudoun hosting most of the showcase level matches, coaches were able to flock to a central location and take in multiple games at once.
"We had a number of college coaches come to our games, obviously they're still in season but I think we had 15 at our first game, 12 at our second and 18 our third," said Princeton Soccer Association Director of Coaching John Newman, who attended the tournament with PSA 97/98 Premier, New Jersey's No. 3 ranked U17 team. "One of our players last year was recruited at the WAGS Tournament and ended up with a full ride to UMass, so we knew this was a very good event coming in."
"The tournament was very well run as always, and the Evergreen complex was a great place to play," Newman continued.
Teams battled through rainy conditions for much of the weekend, with showers on Saturday and on Championship Monday. However, the tournament went on without a hitch, as even some younger players got to show off their skills to top college coaches.
FC Stars of Mass Director of Coaching Jason Dewhurst brought his club's high school training group, composed of a combination of U15s and U16s in what was for many of them their first chance to play in a showcase event. The training group, made up mostly of ECNL players who wanted to forego their high school seasons in favor of higher level training and some weekend rest, went 3-0-0 at the WAGS Tournament in the top U16 showcase division.
"It was great for those kids to get an early look from college coaches, because our recruiting doesn't usually begin until our ECNL season starts," Dewhurst said. "It was a huge success for our program, and the Evergreen SportsPlex facility was fantastic. We couldn't have asked for anything better."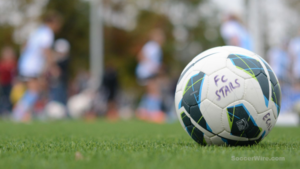 Dewhurst added that the WAGS Tournament is a good place for club coaches to meet and re-connect with college coaches, noting that he was able to talk to coaches from the University of Maryland, UMBC, Pittsburgh and others.
Said one coach from a high level D1 school in Virginia, "We've signed kids from this tournament the last two years," Adding that placing the showcase teams all at one "amazing" venue such as Evergreen is sure to attract even more schools in future years.
+Full results from the 2014 WAGS Tournament
The tournament was played at 22 field locations around Northern Virginia all the way from Loudoun County to Prince William and throughout Fairfax and Arlington. Divisions were played at centralized locations, allowing for minimal travel from hotels.
This year, the WAGS Tournament also featured a referee mentor program for the second year running, which brought in 12 FIFA-certified officials to work with 60 referees from 14 states.
"This builds the quality of the experience that the players have at our tournament," said WAGS President Sally D'Italia.
In addition to the on-field experience, teams from outside the local area got to explore the nation's capital and visit some of the famous monuments and landmarks. Many teams had chance to visit the White House, Washington Monument, and other tourist hotspots.
Arizona Arsenal Premier Teal U17 head coach Matt Midkiff said the chance for his reigning Arizona State Champion team to come play near Washington, DC was "A once in a lifetime experience for some of these kids," explaining that the one game per day showcase format allowed the players and families to go the monuments. Midkiff typically brings at least one team per year, as he explained the time of year and competition level a perfect fit prior to most of the players' winter high school season beginning next month. (In Arizona, kids must choose high school or club prior to the high school season beginning. If they are caught playing in a club game or even training with more than 3 players from the same club team, their high school eligibility is revoked.)
See below for a full list of U11-U15 championship results.

——
U11
U11 Red
Braddock Road Youth BRYC 03 Elite (VA) 1:0 HMMS Eagle FC '03 Legends (PAE)
U11 Blue
Real NJSC Madrid (Medford SC Mighty) (NJ) 0:1 Lehigh Valley United LVU 03 Girls (PAE).
U11 White
FC Amity Fire (PAE) 1:0 Churchland Soccer CSL Fire (VA)
U12
U12 11×11 WAGS Cup:
FC Virginia FCV United 02 Black (VA) 2:0 OP Fire Red 02/03 (ON)
U12 11v11 A:
Tristate Futbol Alliance TFA Elite Fusion (OS) 0:1 Arsenal Gold (PAW)
U12 8v8 Cup:
HMMS Impact Eagle FC (PAE) 2:0 FCV Ashburn Explosion Gold (VA).
U12 8v8 A:
YMS Tempo (PAE) 2:0 Richmond Kickers YSC U12 G Elite (VA)
U13
U13 Cup:
Crew Juniors Crew Juniors Gold West (OS) 0:1 Tophat 20 Gold (GA)
U13 A:
Rage SC '01 Athletica (PAE) 0:3 Sting 02G Brown (TXN)
U13 B:
Kings Hammer Academy KHA Red (KY) 1:2 BOCA United 01/02 NPL (FL)
U13 C:
Pinecrest Premier 01/02 G Blue (FL) 1:0 Maryland United FC White (MD)
U13 D:
TCSC Revolution (WV) 0:3 Sting Central 02G (TXN)
U14
U14 Cup:
Sunrise Sting 00/01 (FL) 2:1 Premier Strikers (MD)
U14 A:
Triangle Futbol Alliance 2:0 PA Classics Academy 00
U14 B:
Manhattan SC Crew (NYE) 0:2 Crew Juniors Elite (OS)
U14 C:
CUSA Crew Jr. 00 Gold (OS) 1:0 Beadling SC Beadling White (PAW)
U15
U15 Cup:
ABGC FCV United Premier (VA) 0:1 FC Pennsylvania Strikers (PA)
U15 A:
Storm SA 99 Blck (GA) 1:3 Beach FC 99G Red (VA)
U15 B:
Hauppage SL Blue Angels (NY) 2:1 Elm Grove Blue (WI)