Virginia State Cup wrap: Championship field now set for Finals Weekend in Spotsylvania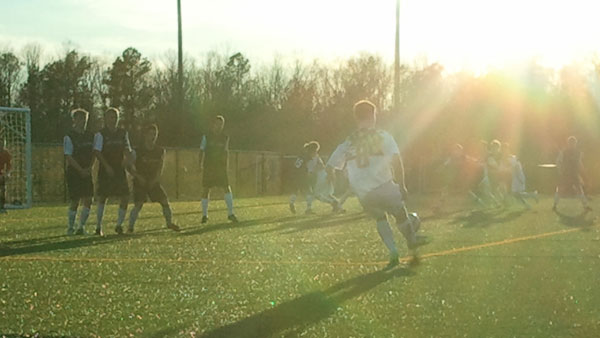 After the weekend's Under-15 Girls, U-15 Boys and U-16 Boys quarterfinal action,the entire field is set for Finals Weekend of the 2014 Virginia State Cup's fall edition.
This year's championship weekend figures to be even more exciting than usual, given that the event — which kicks off with semifinal matches on the morning of Saturday, Nov. 1 — marks the first major occasion hosted by the new Virginia Soccer Training Center in Spotsylvania.
+ VIEW the State Cup semifinal schedule here
Here's a recap of the weekend's games.
U-15 Girls
VYS Patriots Black had everything stacked against them heading into the quarterfinal showdown with ASC Elite. The team, coached by Hank Leung, was missing four key strikers due to a range of issues from a concussion to flu-like symptoms. Leung jokingly said last week that his team was a long shot, needing to play a 10-0-0 formation due to the injuries.
But his team found their scoring touch, winning 4-0 to advance to the semifinals.
Patriots Black netted two goals on either side of halftime, with a midfielder and an outside defender finding the net, but forward Lianna Smith, despite being on limited duty because of a hamstring injury, bagged a brace.
"I'm glad we've got two weeks to heal some more," Leung said after his team advanced. "We didn't play poorly. We did some nice things. We had people out of position, but we finished well. Can't complain."
Smith opened the scoring 18 minutes in after being played through into space, finishing calmly. She got her second about 16 minutes into the second half, settling a poor goal kick from the opponent before volleying home.
Now, momentum is on the team's side as two more players should be ready for the semifinals. The girls who are injured are progressing towards 100 percent, except for another one also dealing with a hamstring injury like Smith.
A player who suffered a concussion was expected to be cleared on Tuesday.
The comfortable margin of victory over ASC Elite was a nice change for the team, after results of 1-0, 1-1 and 2-2 in the three games played overall.
Now, they hope to keep it going.
Quarterfinals
No. 1 FC Virginia United Premier 99 4, No. 8 PWSI Courage 99 G Red 0
No. 5 Beach FC 2, No. 4 Loudoun 99 Girls Red 0
No. 3 VYS Patriots Black 4, ASC Elite 0
No. 2 Herndon United '99 2, McLean 99 Girls Green 0
U-15 Boys
All results were chalk in U-15 boys action as seeds No. 1 through No. 4 went through to the semifinals over the weekend. Three of the four games had at least four goals, as attacking play shined above all else. Arlington Eagles Red continued their fine form with a 4-0 win over SYA Cardinals 99 Red. The boys from Arlington have now scored 13 goals over their three games, allowing zero.
That team is the early favorite for Finals Weekend due to their dominance thus far, but the difficulty will certainly pick up in the semifinals. BRYC are ones to keep an eye on after their convincing win over FASA 99 Hotspur Elite.
Quarterfinals
No. 1 Arlington Eagles Red 4, No. 8 SYA Cardinals 99 Red 0
No. 4 FC Virginia United CYA Purple 4, VAR Elite 3
No. 3 BRYC 99 Elite 4, FASA 99 Hotspur Elite 1
No. 2 Loudoun LS99Red 2, NRUS 0
+ READ: Check out VYSA's full State Cup brackets here
U-16 Boys
A top seed is out as Arlington Attack Red, the No. 5 seed, knocked off No. 4 Herndon Rovers East.
Last week, Arlington coach Chris Smith said his team doesn't go out trying to win by large margins, simply just playing hard and trying to get results. But again his team team rolled, this time to the tune of a 5-1 win.
All of the other top seeds advanced.
Quarterfinals
No. 1 Loudoun 98B Red 3, FASA Hotspur 98 Elite 0
No. 5 ARL Attack Red 5, No. 4 Herndon Rovers East 1
No. 3 BRYC 98 Elite 2, SOCA U16 Elite 0
No. 2 SYC Strikers Blue 1, SYA Comets 0