VYSA in partnership with WAGS awarded U.S. Soccer Innovate to Grow Grant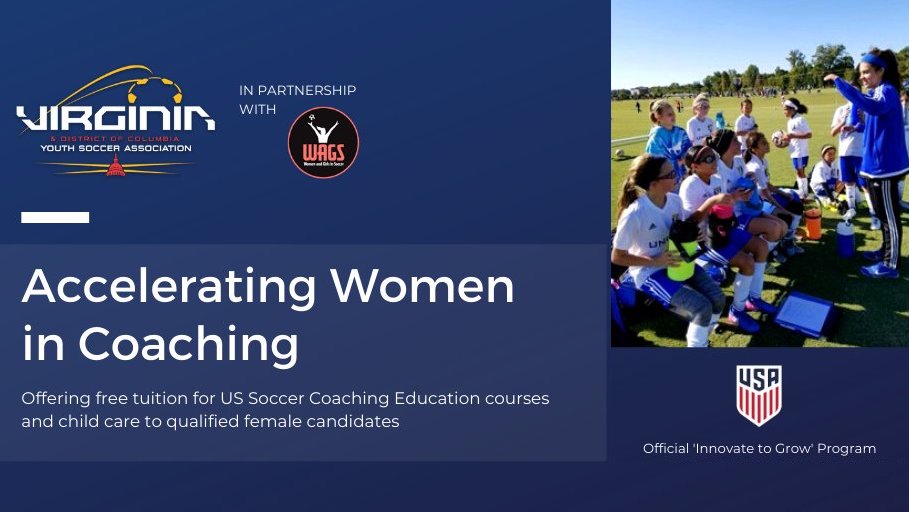 The Virginia Youth Soccer Association (VYSA) in partnership with Women and Girls in Soccer (WAGS) announced today that they have been awarded a three-year grant in U.S. Soccer's Innovate to Grow Program that will work to increase the participation of women in coaching within Virginia and the District of Columbia.
The program entitled Accelerating the Participation of Women in Coaching will offer tuition free 7v7, 9v9, 11v11 and D licenses to qualified female candidates across Virginia and DC. All of the courses will be taught by female instructors and will offer childcare services/stipends for qualified candidates.
U.S. Soccer's Innovate to Grow program was established in 2017 to help U.S. Soccer member organizations like VYSA launch new and innovative programs designed to grow participation of players, coaches, or referees in their markets.
"We are grateful to U.S. Soccer for providing this opportunity for VYSA and WAGS to help increase participation of female coaches within our Association that VYSA Coaching Education has long championed" commented VYSA Executive Director, Phil Summers.
WAGS Executive Director Kerry Diederich commented, "As a trailblazing leader in empowering and supporting the educational path for female coaches, WAGS appreciates the opportunity U.S. Soccer is providing through this innovative grant. We look forward to working with VYSA to impact the trajectory of female coaches through this initiative and ensure their goals in soccer are realized."
"It is our pleasure to partner with VYSA through our Innovate to Grow program as they strive to remove barriers for women in coaching," said U.S. Soccer President Carlos Cordeiro. "This sustainable growth initiative will make the game more accessible to everyone in Virginia, and we are proud to support it."
"VYSA Coaching Education thanks U.S. Soccer for this opportunity. We look forward to continuing the development of female coaches through this outstanding educational initiative" commented VYSA Technical Director Gordon Miller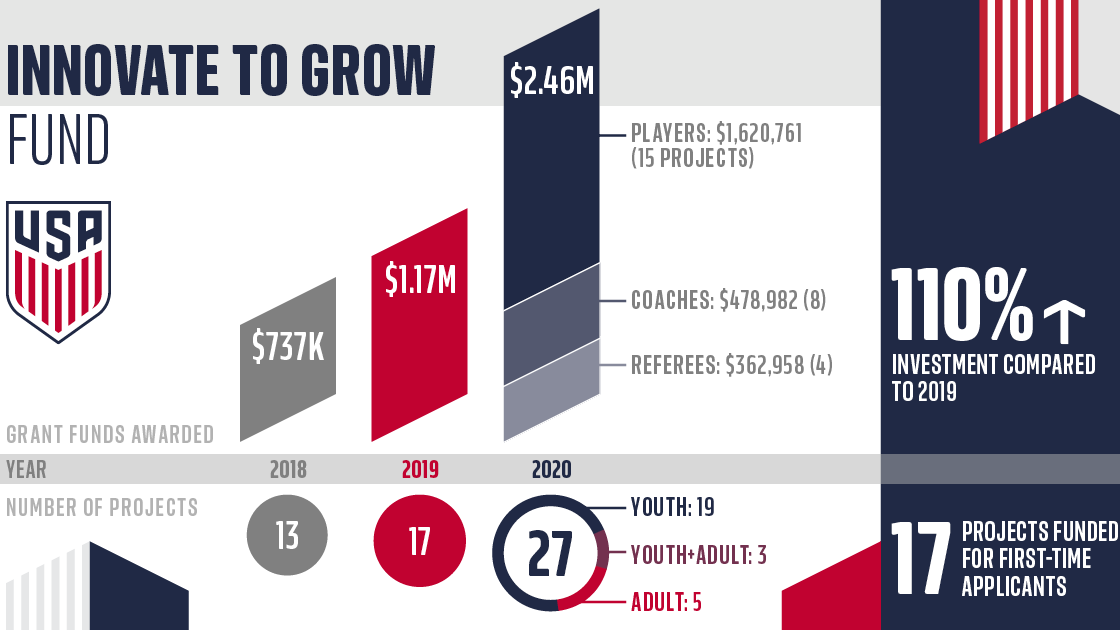 About the Virginia Youth Soccer Association (www.vysa.com) is a member of the U.S. Soccer Federation and U.S. Youth Soccer representing over 160,000 youth players, coaches and administrators in the Commonwealth of Virginia and DC. VYSA oversees programs including the Olympic Development Program (ODP), the National Championship Series (The State Cup), Virginia Futsal, VYSA Gaming, Coaching Education and more. VYSA also owns and operates the Publix Virginia Soccer Training Center (www.vstc.com), a state of the art 50 acre soccer complex located half way between Washington DC and Richmond, VA.
About WAGS (www.womenandgirlsinsoccer.org) – Women and Girls in Soccer. A charitable organization with a mission of empowering women and girls – from all over the world – through soccer. WAGS' mission provides opportunities to sponsor, develop, and provides educational and character building programs for the benefit of women and girls through teaching and promoting an interest in the game of soccer. With money received through a former life as a league, and funded each year through the Annual WAGS Real Vodicka Memorial Tournament, WAGS supports six unique programs for women and girls that creates confidence, strength, character and leadership in a variety of ways.
About U.S. Soccer (www.ussoccer.com): Founded in 1913, the U.S. Soccer Federation has been the official governing body of the sport in the United States for more than 100 years. During that time, the growth of the sport has grown tremendously at all levels. As U.S. Soccer looks towards the future, its mission is to make soccer the preeminent sport in the United States. With a long-term and strategic approach, U.S. Soccer aims to accomplish its mission by supporting its members to increase participation at the youth and adult levels, develop world class players, coaches and referees to consistently win at the highest levels on the international stage and serve the fans by engaging with them in deeper and more meaningful ways.