Virginia Tech women's soccer posts record-breaking night in 8-2 win over Miami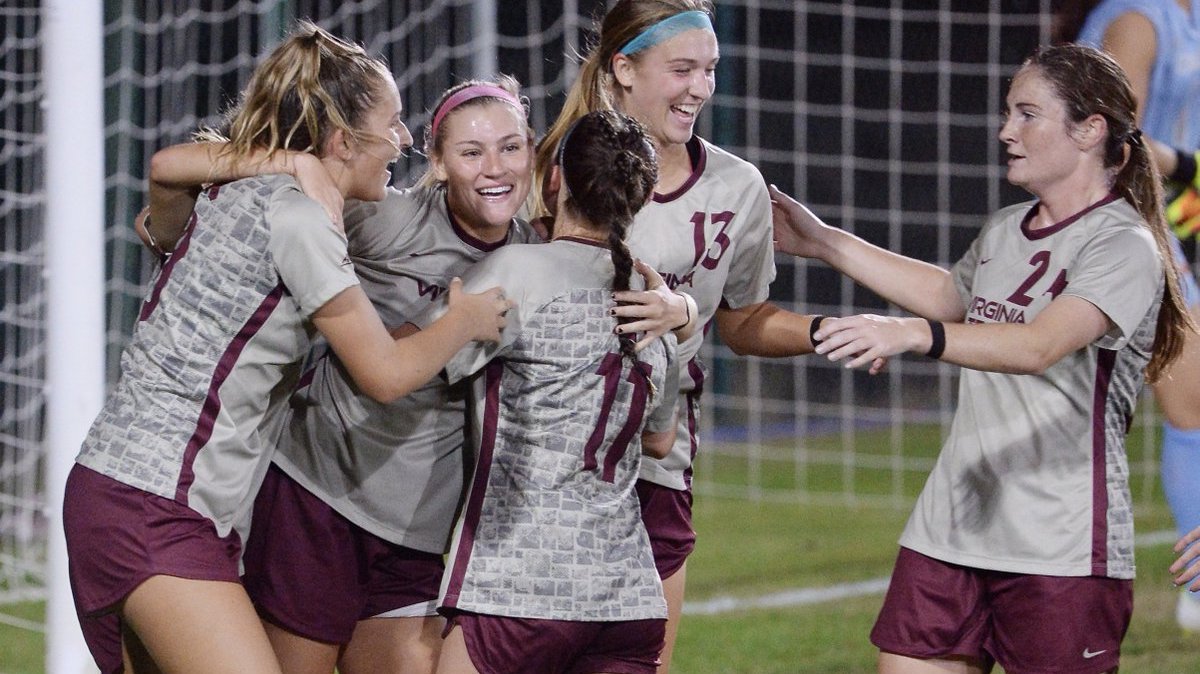 BLACKSBURG – It was a record-breaking night at Thompson Field Thursday night as the Virginia Tech women's soccer team defeated visiting Miami 8-2 in ACC action to earn a much-needed three points, while scoring the most goals ever against a league opponent.
The Hokies lit up the scoreboard early and often, netting four goals through the first 16 minutes of action. Scoring their first goals of 2020 were Emmalee McCarter (9:13) and Emma Steigerwald (11:46), off assists from Sydney Ash and Emily Gray, respectively.
It was then Karlie Johnson and Tori Powell's turn to score their second goals of the year, as Johnson's (13:07) was from Gray, and Powell's (16:02) came from Johnson and Gray. It was the fastest the Hokies have ever scored four goals to start a match – fastest before was Nov. 15, 2014 versus Dayton.
Allyson Brown (30:34) from Gray and Taylor Bryan (37:05) from Brown completed Tech's scoring in the first half, as the six goals marked the most goals ever scored in any half all-time at the school. The previous high was five goals against VMI on Aug. 31, 2004. For Gray, she set the school record for assists in a game with her four – the prior record was three done four times and twice by Julian Johnson (2006 and 2008).
Tech (2-6-0, 2-4-0) added two more goals after the break, as Makenzie Graham scored off a pass from Johnson and Brown scored her second of the night off a cross from Ava Veith. The eight goals were the most ever in an ACC game, surpassing the five scored at Syracuse on Oct. 23, 2014. It was also the second most ever scored – nine in that match versus VMI.
Miami (0-6-0, 0-5-0 ACC) tallied one goal in each half, with its first off a corner in the 33rd minute, and the second off a Tech defensive turnover in the 79th minute.
Lastly, Tech had seven different players score a goal, marking the first time that has ever happen in program history – the most prior was six in the VMI match and a 7-1 win over High Point on Aug. 23, 2013.
Tech's @CoachChugger talks about tonight's victory over Miami. pic.twitter.com/LAkZ6wNRTW

— Virginia Tech Women's Soccer (@HokiesWSoccer) October 16, 2020
Additional Notes
Last player with two goals in a game before Brown – Kelsey Irwin, Oct. 24, 2019.
Last player with two goals off the bench before Brown – Murielle Tiernan (2) at William & Mary, Sept. 4, 2016.
Last player with five points in a game before Brown – Laila Gray (2G,A) vs. Pittsburgh, Oct. 25, 2015.
Last player with three or more assists in a game before Gray – Kelly Conheeney (3) vs. Clemson, Oct. 13, 2011.
McCarter has started 47 straight matches for the Hokies, the longest active streak on the team.
Grace Sklopan streak of minutes played ended after 1,798 consecutive when she did not see any action in the second half. She was Tech's lone Hokie to play every single minute of the 2020 season (634 straight minutes) entering the night. She had played every minute of the past 19 matches last leaving a game on Sept. 13, 2019 – vs. College of Charleston.
Alia Skinner now has 54 saves this season, the most for any goalkeeper eight matches into the season. Over the last eight seasons, the high-water mark for saves was by Dayle Colpitts, who stopped 78 shots in 27 matches.
Skinner entered the night the nation's leader in saves per game at 8.60.