Virginia Tech women's soccer enters 2019 season with high expectations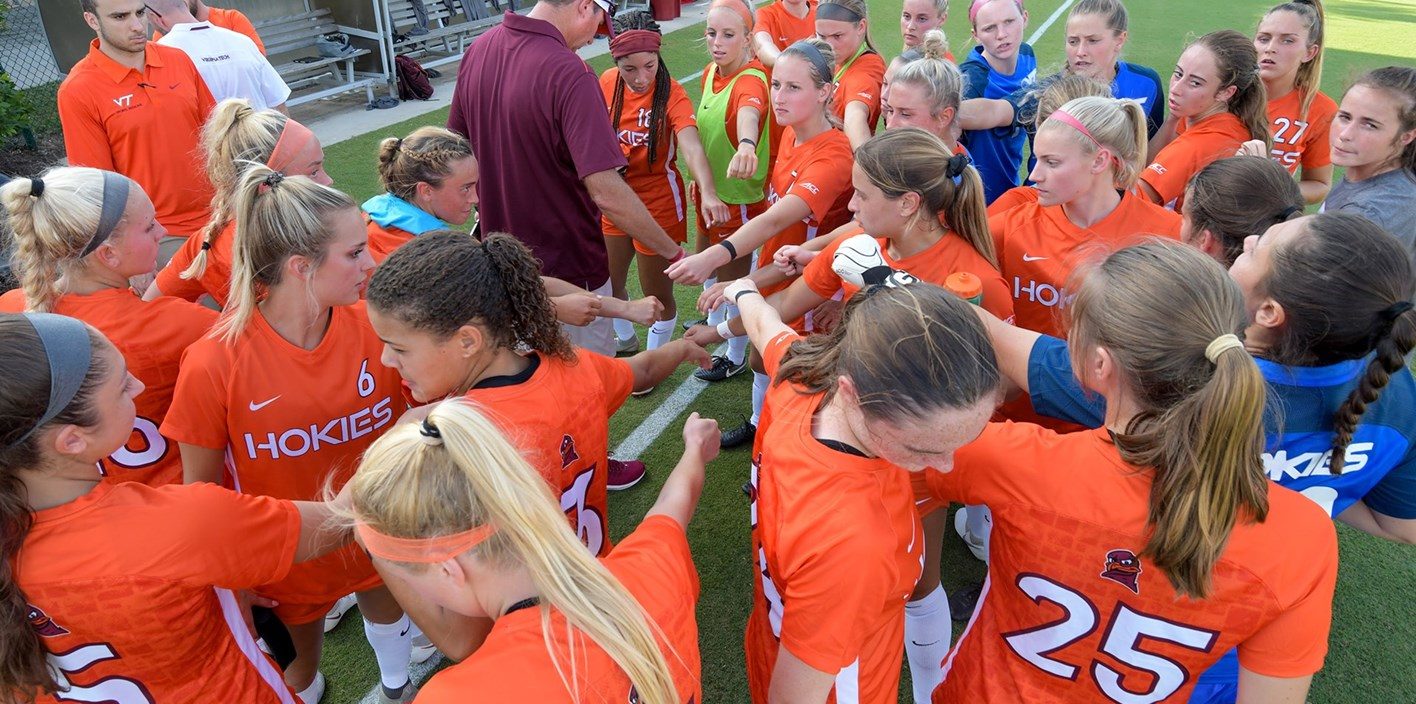 BLACKSBURG – Costa Rica ranks high on many people's list of vacation destinations, with its abundance of perfect weather, beautiful beaches and amazing rain forests. It provides visitors with all sorts of opportunities for exotic adventures.
Coaches, players and support staff in the Virginia Tech women's soccer program enjoyed all the Central American country had to offer during their visit in late May, while also mixing in some training and two exhibition games. Now, they prepare for another adventure – one slightly less exotic, but potentially so much more rewarding.
Tech begins pursuit of an ACC crown and another NCAA Championship bid on Aug. 22 with a match against Liberty. That contest marks the first step toward continuing the momentum established when the Hokies beat Louisville on the final weekend of the regular season to qualify for the ACC Championship and then later reached the NCAA's Sweet 16 after upsets of Texas and Arkansas.
"I wasn't surprised," Tech head coach Chugger Adair said. "Our team had it in us, and throughout the year, we saw bits and pieces of some really good stuff. It was a little bit of a learning process of how to play and how to win games. We won a number of tight games, which helped the season be better. I think we won four or five 1-0 games. So I was pleased that we were able to figure out how to win those types of games.
"In the [NCAA] tournament, I think we did a really good job of adjusting to different styles of play and keeping ourselves out of trouble against some good teams … As the game went on in both of those matches [against Texas and Arkansas], I thought we got better and more comfortable and confident. I was pleased with that. We were able to grind out those results."
The NCAA appearance ended a two-year absence for this proud program, and the two wins left the Hokies at 11-8-3 overall in 2018 – Tech also went 5-5 in ACC action. More importantly, the NCAA wins left them hungering for more, and with a roster that returns nearly every key component from last season, they enter the 2019 campaign with high expectations.
Tech returns nine players who started at least 10 matches in 2018. Though the Hokies lost six seniors from last season's squad, they only lost two – Alia Abu El Hawa and Heather Timothy – who started. They return 19 of the 20 goals scored from last season, and the squad features a core of seven seniors, all of whom played extensively last fall and have in their careers.
Two all-conference players – goalkeeper Mandy McGlynn and defender Kelsey Irwin – serve as the foundation of this team.
McGlynn, a senior who has started 56 matches in her career, anchors this squad as the key building block. She started all 22 matches last season and tied for the ACC lead with 10 shutouts.
"She has been consistent throughout her career, and that's been one of her strengths," Adair said. "She's a real fun personality and has a great effect on the group. She's a steady, reliable force on the back line. We're hoping to grow her kicking game, maybe grow her ability on crosses, and just build on her shot-stopping ability."
Irwin, a redshirt senior with 53 career starts, scored three goals and handed out an assist in 2018. Her primary role, however, is to prevent McGlynn from seeing any action. Fellow seniors Jaylyn Thompson, Jordan Hemmen and Kiersten Hening return as defenders, along with redshirt sophomores Kara Henderson and Olivia Odle, both of whom have battled injuries the past two seasons. They provide experience and talent on the back end.
"Kelsey has an ability to read the game and organize and play out from the back as well," Adair said. "She has good balance that helps us stay organized and helps everyone stay in position.
"Going into the season, I think our defenders will be a strong point. It's a matter of them coming together and being organized and buying in to what we're trying to do. We're going to ask them to get forward a little more, particularly our outside backs, and get in the attack a little more than we have in the past. That's something we've tried to do, but haven't really gotten there yet."
On offense, Tech expects to be much improved this fall. Karlie Johnson burst onto the scene last season as a freshman, leading the team with six goals, including three game-winning goals. Another freshman last year, Emily Gray, made the ACC's All-Freshman team and led Tech with six assists, while adding two goals. Both should be even better this season.
In addition, Hemmen provided four goals and can help push things forward, and the quartet of Allyson Brown, Lilly Weber, Bridget Patch and Emma Steigerwald can provide a spark. The four of them each scored a goal last season.
Adair also is excited about the return of Nicole Kozlova, a redshirt freshman from Toronto who tore her ACL before last fall and missed the entire season. She returned to action this offseason and attended the Ukrainian National Team camp in June. Hopefully, she adds another element to the Hokies' attack.
"One of our big challenges is how we're going to score more goals consistently and be more dangerous," Adair said. "We've got to learn to take some chances. Emily's had a number of opportunities … we've got to make sure we get that final product from her and Karlie, just consistency up front. We're bringing Nicole Kozlova in, and she didn't get to play last year. Those are kids we're looking to bring in and be more attacking-oriented. Molly Feighan and Emmalee McCarter [two sophomores] played significant minutes, mostly in the midfield, but they can do some things to help up front create and score more goals.
"That's going to be a real emphasis in our training – how dangerous can we be in the attacking third? I'm optimistic. Those kids as freshmen were, at times, like a deer in the headlights in front of the goal. It's helping them get composed and getting in that situation more often and being more comfortable. We've got to keep putting them in those positions and giving them more opportunities and train them as best we can."
The Hokies certainly will need all their talent and experience considering that they face a daunting schedule. The nonconference slate includes matches against SEC foes Auburn – an NCAA Championship participant last season – Georgia, and Alabama. Their ACC schedule features eight teams who made NCAA appearances in 2018, including an Oct. 10 match against defending national champion Florida State in Blacksburg.
Such a schedule means taking advantage of every training session and practice to maximize the potential for positive outcomes.
"It [the schedule] builds our RPI, and it gives us experience in higher-level games," Adair said. "I think that's important for us to learn. You play those quality opponents, learn to win games in those situations, and then you're going to be in better situations during tournament time, or come 'crunch time,' let's say. So I'm hoping we can grow and develop that.
"But it is difficult. It's going to be a difficult schedule. We're trying to play teams that are going to make us better. It's not the softest nonconference schedule. It's not the hardest in the nation, but it's in the higher end. So we're looking to grow and push our team a little bit."
Adair admitted the ultimate goal for 2019 is the NCAA Championship. That always is the ultimate destination for this program, which has received a bid in six of Adair's eight seasons as the head coach.
The Hokies appear ready for this season-long trip. Hopefully, it will be gratifying in the end.
INSIDE THE NUMBERS
10 – Mandy McGlynn's 10 shutouts in goal led the ACC last fall.
9 – Nine players return who started at least 10 matches in 2018.
8 – The Hokies return eight players who scored goals last season.
7 – Tech's roster features seven seniors.
6 – Emily Gray's six assists in 2018 led the squad.
5 – In 2018, Tech won five ACC matches for the fifth time since the school joined the league for the 2004-05 season.
4 – Four players return who registered at least 10 shots on goal in 2018.
3 – Karlie Johnson and Jordan Hemmen led Tech with three game-winning goals last fall.
2 – The Hokies' top two point scorers in 2018, Karlie Johnson and Emily Gray, were freshmen.
1 – Tech won four matches by a score of 1-0 last fall.