Virginia Tech goalkeeper Mandy McGlynn earns school record 30th clean sheet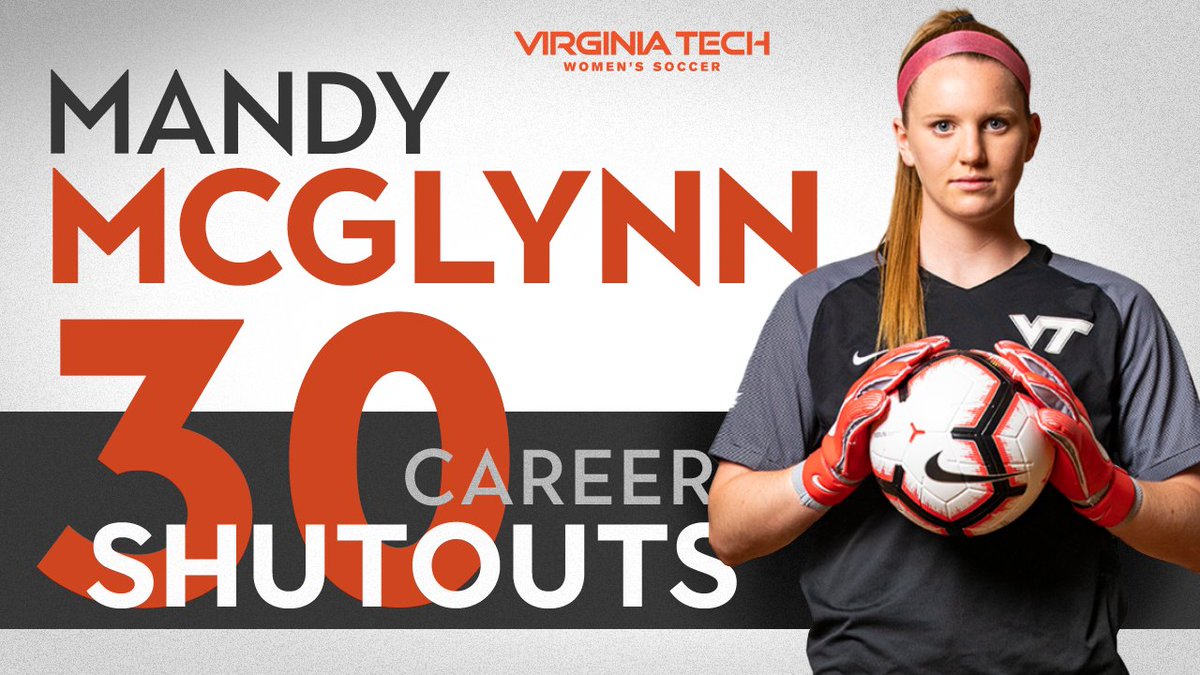 BLACKSBURG – Behind a seven-save performance, Virginia Tech goalkeeper Mandy McGlynn posted the 30th shutout of her Tech career, breaking the school record while helping the 23rd-ranked Hokies earn a 0-0 draw against No. 10 Duke in ACC women's soccer action at Thompson Field on Sunday afternoon.
Tech (9-2-1, 1-2-1 ACC) battled its third straight top 10 opponent, and with the tie kept their home unbeaten streak intact, now sitting at 5-0-1. It will be tested yet again Thursday night when the Hokies will face their fourth straight top 10 foe in No. 6 Florida State. Duke, playing in its fifth overtime match of the season, is now 6-1-4 overall and 1-0-3 in the ACC.
McGlynn, who has cemented her place among Tech's all-time goalkeepers, needed to make four saves in the final 10 minutes of action to preserve the shutout. It is her eighth of the season, already the third-most ever in a single season, and broke the career mark, which she had shared at 29 with Dayle Colpitts (2010-13) enter the match.
Neither goalkeeper was really tested in the first half, and Tech's best chance in the second was in the 71st minute, but Lilly Weber's shot near-post on a breakaway chance was saved by Duke goalkeeper Brooke Heinsohn.
In the first overtime, Emma Steigerwald and Mikayla Mance each also challenged Heinsohn, with Steigerwald's strike being punched over the top the net resulting in Tech's lone corner. Off of it, Mance had a chance but it was controlled by Heinsohn.
In the second overtime, Duke had five of its 15 shots in the game and had two corners as well. However, McGlynn would not surrender the game winner and earn the much needed point for the Hokies.
Quick Notes:
This was the 18th meeting between the two schools, and it now stands at 12-4-2 in favor of Duke, but Tech is 3-4-1 in matches at Thompson Field.
Tech is now 11-54-5 against teams ranked in the top 10.
As a ranked team, Tech is 73-28-8 under head coach Chugger Adair, and 11-24-4 versus other ranked opponents.
Jaylyn Thompson has now started 62 straight matches, the most since Kelsey Mitchell (2009-12) started all 88 games of her Tech career and passing Candace Cephers (2013-15), who was the last to start more than 60 straight (61).
McGlynn is now at 52 straight and Jordan Hemmen 50.
McGlynn has played 4,606:43 straight minutes since the last time she was substituted (Aug. 25, 2017 – 49 straight matches).
Up Next:
The Hokies welcome No. 6 Florida State to Thompson Field Thursday night with kickoff slated for 7:30 p.m.