Virginia Soccer Association, Winchester United announce partnership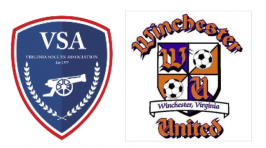 Haymarket, VA (Via VSA / Winchester United) – Virginia Soccer Association and Winchester United have announced an official partnership between the two clubs beginning immediately.
This relationship is a step forward in both clubs' continued coach and player development efforts. Throughout this partnership, the clubs will share player development resources, develop collaborative playing festivals, college preparation, and host several coaching education events each season.
"VSA is excited to begin this partnership," said VSA Executive Director Matt Lacey. "We are looking forward to sharing ideas and adding to the continued development of an already established club like Winchester United. We believe that all clubs are better working towards the same goals and this unique partnership will provide Winchester United coaches and players access to the VSA development model and pathway. As a club, we have always been very impressed with Winchester United's coaches and teams so we are excited to collaborate with Jim and his staff."
A major part of the VSA and Winchester United partnership will be providing Winchester United coaches and players to more exposure and education to higher licenses and opportunities. VSA currently has eight coaches who hold a USSF A license, six coaches who hold a B-C License, and eight coaches who hold a USSF National Youth License. All of VSA's remaining coaches currently hold a USSF D license or are currently working towards it. VSA also has three VYSA Coaching Education Instructors along with three U.S. Development Academy coaches on staff. Winchester United coaches will also have access to VSA coaching education classes and online platforms.
"Winchester United is so excited to have the opportunity to have a working relationship with such an outstanding, forward thinking club as VSA," said Winchester United Director Jim Carden. "United is always looking towards the future and how it can better improve our club. Being in partnership with VSA enhances the opportunities for our players and coaches,"