Division champions crowned at Capital Fall Classic Boys Weekend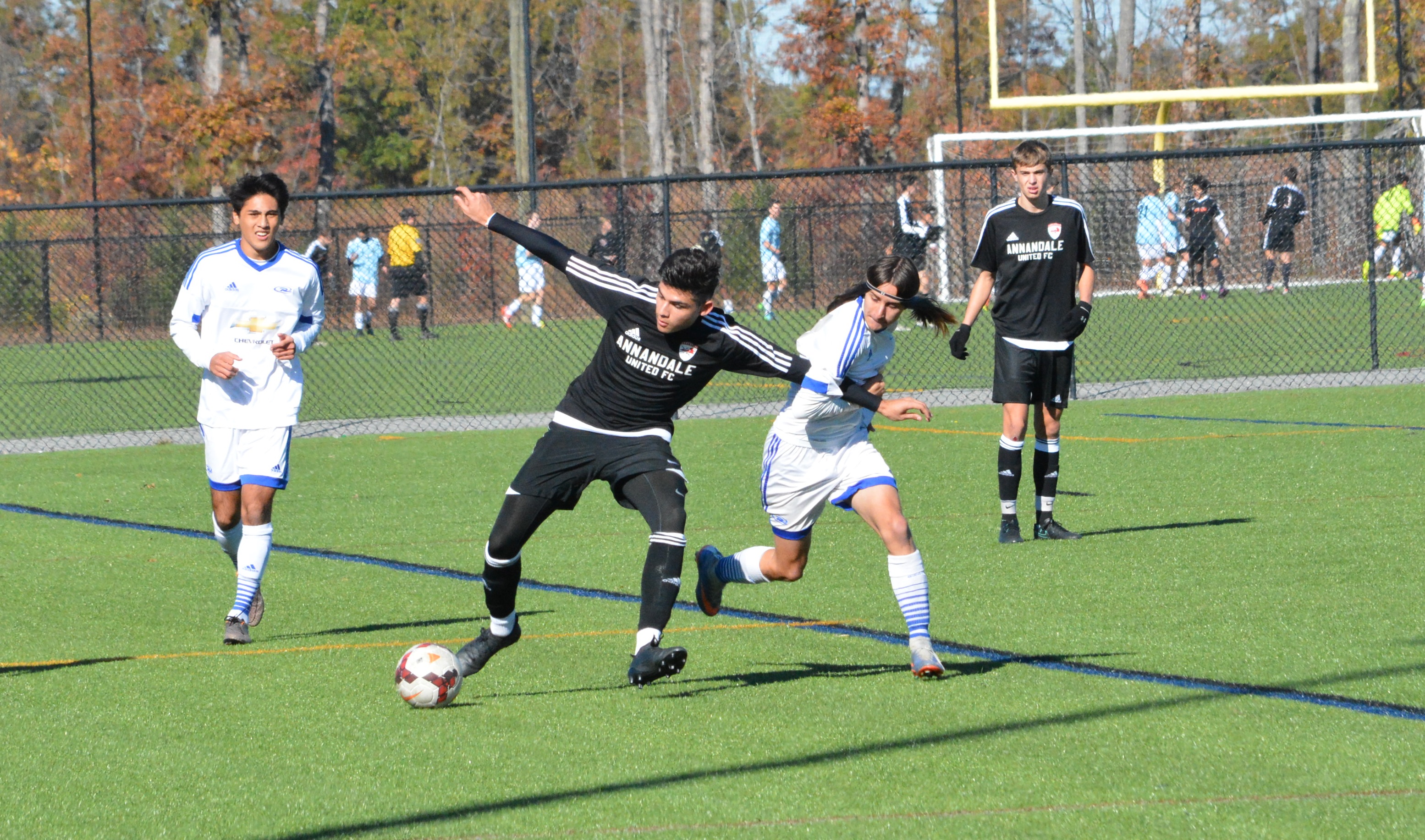 Results | Tournament Website
Twitter: @RSKTournaments
Instagram: @RSKTournaments
(Via Richmond Strikers) – A total of 46 teams representing 26 clubs won division championships on Sunday at the Capital Fall Classic Boys Weekend, the first leg of the Richmond Strikers Tournament Series' end-of-season event.
Champions of 11 Premier Divisions also earned guaranteed acceptance into the 2017 Jefferson Cup, one of the nation's most exclusive showcase tournaments.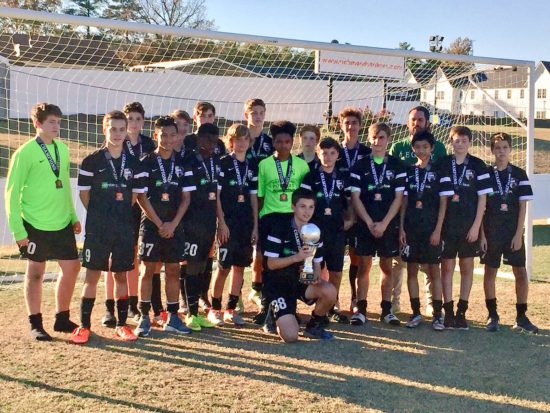 Three of the Jefferson Cup qualifiers represent Williamsburg-based Virginia Legacy SC, which had teams win Premier Divisions in the U-12, U-13 and U-15 age groups. The Legacy CCL Elite U-12s posted a perfect 4-0-0 record, racking up 15 goals while earning four straight clean sheets on the defensive end. The Legacy CCL Elite U-13s earned a win and a draw in group play to reach the semifinals, where they stormed past North Carolina side XL Soccer World 04 Elite Rangers 4-0. In the U-13 Final, Legacy edged Stafford Revolution 04 Blue by a 3-2 score in a rematch of their Group A battle which ended in a draw. The Virginia Legacy Wizards claimed the U-15 Premier Black Division, sweeping Group A with three straight wins before a 2-1 victory against Stafford Revolution 02 Blue in an evenly-matched Final.
+Read: Jefferson Cup expands to four weekends starting in 2017
Ohio club Soccer Vision Academy had two teams claim Premier Division titles, ensuring they will return to Virginia in March for the Jefferson Cup. U-10 side Soccer Vision Academy Bayern and U-14 side Soccer Vision Academy Project24 both ran the table in their respective divisions, each cruising to four consecutive multiple goal victories.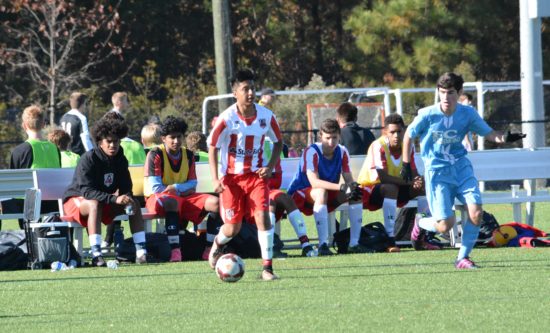 A pair of Virginia clubs – the Richmond Kickers and host Richmond Strikers – also had two teams each stamp their tickets to the Jefferson Cup.
Richmond Kickers Elite 98 racked up four straight wins in the U-17/18 Premier Division, outscoring three group opponents by a 10-2 margin before a narrow 2-1 win over FC Richmond Magic 98 in the Final. Meanwhile, Richmond Kickers Elite 99 earned three straight draws to place second in a highly competitive group, then defeated Richmond Strikers Elite 98/99 Orange by a 3-1 scoreline in the title match.
Richmond Strikers 06 Elite Black and Richmond Strikers 01 Elite won the U-11 and U-16 Premier Divisions respectively, each winning four straight games in the process. Both were met with tough match-ups in the Finals, as Strikers 06 Elite Black edged Maryland side Bowie Bulldogs 2-1 and Strikers 01 Elite defeated North Carolina's Triad Elite SC Red by the same margin.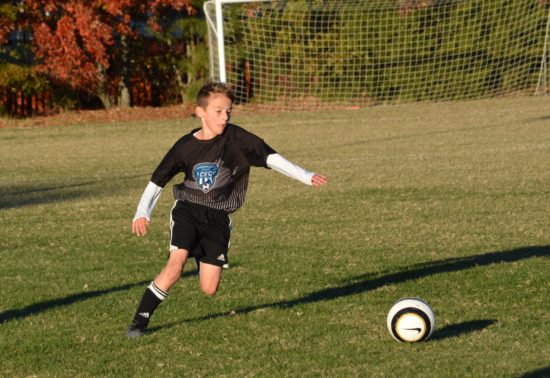 In the other Jefferson Cup qualifying group at the U-15 level, Virginia Rush 02 claimed the Premier Orange Division championship. After opening the weekend with a 2-1 loss against FC Richmond Magic 02, Rush reeled off three straight wins to claim the division title, culminating with a 3-0 shutout of Richmond Strikers 02 Elite in the Final.
Rounding out the list of Jeff Cup qualifiers is Annandale United FC 00, which posted an unbeaten 3-0-1 record in the U-17 Premier Division. Annandale finished atop Group B with two wins and a draw, outscoring the competition 8-2. In the title match, United emerged with a 2-1 victory over Richmond Strikers 00 Elite.
Overall, nine clubs – Richmond Strikers (8), Premier AC (6), Culpeper Comets (3), Virginia Legacy SC (3), Virginia Rush (2), SOCA (2), Richmond Kickers (2), Soccer Vision Academy (2) and Tidewater Sharks (2) – had multiple teams capture division championships, competing among the 319 total teams from seven states.
Other clubs that had teams win a division title include: Valley AFC, Locomotive FC, Fredericksburg FC, Annandale United FC, Virginia Soccer Association, Bethesda SC, Beach FC, Old Dominion FC, International FC, Dynamo SC, Herndon Youth Soccer, La Plata Soccer Academy, FC Richmond, FCI Soccer Academy, Tri County SC and Gunston SC.
The Capital Fall Classic will continue with the Girls Weekend from November 19-20, including 214 teams representing clubs from seven different states. In total, more than 530 teams will participate in the tournament over the course of the two weekends.
See below for the list of division champions and finalists from the Boys Weekend.

Capital Fall Classic Boys Champions and Finalists
*2017 Jefferson Cup Qualifier
U-9
Premier Division
Champion: Richmond Strikers Orange (VA)
Finalist: Gunston SC Premier 08 Red (VA)
Classic Orange Division
Champion: Richmond Strikers Swoosh (VA)
Finalist: VIP United FC First Touch (VA)
Classic Black Division
Champion: Richmond Strikers Tiempo (VA)
Finalist: Suffolk FC Rampage (VA)
U-10
Premier Division
Champion: Soccer Vision Academy Bayern (OH)*
Finalist: Richmond Strikers 07 Elite Orange (VA)
Superior Division
Champion: Richmond Strikers Chesterfield 07 Elite Blue (VA)
Finalist: Tri-County SC 07 Force Black (WV)
Classic Division
Champion: Premier AC Elite 07 Navy (VA)
Finalist: FC Richmond Metro 07 Boys Sky (VA)
U-11
Premier Division
Champion: Richmond Strikers 06 Elite Black (VA)*
Finalist: Bowie Bulldogs (MD)
Superior Orange Division
Champion: Gunston SC Premier Red 06 (VA)
Runner-up: FCI – Eagles (MD)
Superior Black Division
Champion: Tri-County SC 06 Blast (WV)
Finalist: Richmond Strikers 06 Premier White (VA)
Classic Orange Division
Champion: Culpeper Comets 06 Red (VA)
Finalist: SOCA 06 Classic White (VA)
Classic Black Division
Champion: FC Richmond Metro 06 (VA)
Finalist: Valley AFC Xpress 06 Green (VA)
U-12
Premier Division
Champion: Virginia Legacy CCL Elite (VA)*
Runner-up: Central Virginia United 05 White (VA)
Superior Orange Division
Champion: Tidewater Sharks 05 United (VA)
Finalist: Richmond Kickers 05 South Ukrop Quakes (VA)
Superior Black Division
Champion: Culpeper Comets 05 (VA)
Finalist: Richmond Strikers Chesterfield 05 Elite Blue (VA)
Classic Orange Division
Champion: Tidewater Sharks 05 City (VA)
Finalist: Valley AFC Xpress 05 Green (VA)
Classic Black Division
Champion: La Plata Power Red (MD)
Finalist: Richmond Strikers 05 Premier White (VA)
Classic White Division
Champion: Premier AC Elite 05 Silver (VA)
Finalist: Richmond Strikers 05 United (VA)
U-13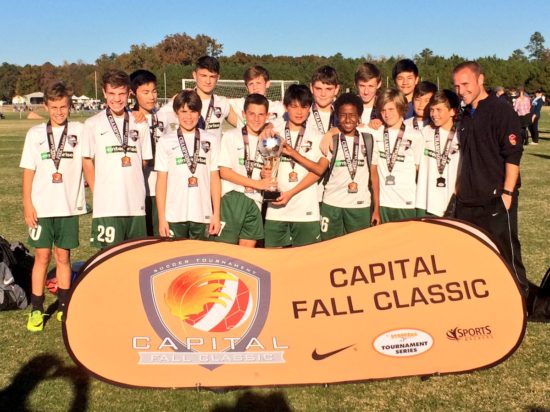 Premier Division
Champion: Virginia Legacy CCL Elite (VA)*
Finalist: Stafford Revolution 04 Blue (VA)
Superior Orange Division
Champion: Herndon Youth Soccer River Plate Black (VA)
Finalist: Premier AC Elite 04 Navy (VA)
Superior Black Division
Champion: Dynamo SC 04 White (VA)
Finalist: Richmond Strikers Chesterfield 04 Elite Blue (VA)
Classic Orange Division
Champion: SOCA 04 Classic (VA)
Finalist: Culpeper Comets 04 (VA)
Classic Black Division
Champion: Premier AC Elite 04 White (VA)
Finalist: FC Richmond Metro 04 (VA)
U-14
Premier Division
Champion: Soccer Vision Academy Project24 (OH)*
Finalist: Virginia Rush 03 (VA)
Superior Orange Division
Champion: FCI – Real Barza (MD)
Finalist: Tidewater Sharks 03 United (VA)
Superior Black Division
Champion: IFC Eagles 03 (VA)
Finalist: McLean Youth Soccer 03 White (VA)
Superior White Division
Champion: Culpeper Comets 03 Red (VA)
Finalist: Beach FC 03 Coritiba (VA)
Classic Orange Division
Champion: SOCA 03 Classic White (VA)
Finalist: Beach FC 03 White Santos (VA)
Classic Black Division
Champion: Premier AC Elite 03 White (VA)
Finalist: VB City FC 03 Academy II (VA)
U-15
Premier Orange Division
Champion: Virginia Rush 02 (VA)*
Finalist: Richmond Strikers 02 Elite (VA)
Premier Black Division
Champion: Virginia Legacy SC Wizards (VA)*
Finalist: Stafford Revolution 02 Blue (VA)
Superior Division
Champion: Richmond Strikers Chesterfield 02 Elite Blue (VA)
Finalist: McLean Youth Soccer 02 White (VA)
Classic Orange Division
Champion: Premier AC Elite 02 Navy (VA)
Runner-up: Richmond Kickers Central 02 (VA)
Classic Black Division
Champion: Old Dominion FC Hurricanes (VA)
Runner-up: Triangle Futbol Alliance CAM Navy (NC)
U-16
Premier Division
Champion: Richmond Strikers 01 Elite (VA)*
Finalist: Triad Elite SC Red (NC)
Superior Orange Division
Champion: Beach FC 01 Black (VA)
Finalist: Richmond Strikers 01 Elite Orange (VA)
Superior Black Division
Champion: Bethesda SC Sharks (MD)
Finalist: FYSA Force Black (VA)
Classic Division
Champion: VSA 01 Select (VA)
Finalist: Fredericksburg FC 01 Red (VA)
U-17
Premier Orange Division
Champion: Annandale United FC 00 (VA)*
Finalist: Richmond Strikers 00 Elite (VA)
Superior Orange Division
Champion: Richmond Strikers 00 Elite Orange (VA)
Finalist: Loudoun Soccer 00 Black (VA)
Superior Black Division
Champion: Fredericksburg FC 00 Red (VA)
Finalist: Vienna Youth Soccer Raptors Elite Red (VA)
Classic Division
Champion: Premier AC Elite 00 Navy (VA)
Finalist: Gunston SC Elite 00 (VA)
U-17/18
Premier Orange Division
Champion: Richmond Kickers Elite 98 (VA)*
Finalist: FC Richmond Magic 98 (VA)
U-18
Premier Orange Division
Champion: Richmond Kickers Elite 99 (VA)*
Finalist: Richmond Strikers 98/99 Elite Orange (VA)
Superior Orange Division
Champion: Virginia Rush 98 (VA)
Finalist: Beach FC 98/99 Black (VA)
Superior Black Division
Champion: Locomotive FC 99 (MD)
Finalist: St. Mary's Soccer Revolution (MD)
Classic Division
Champion: Valley AFC Xpress 98 Green (VA)
Finalist: Golden Ball 98 (VA)