VIDEO: id2 National Selection team splits two games in Belgium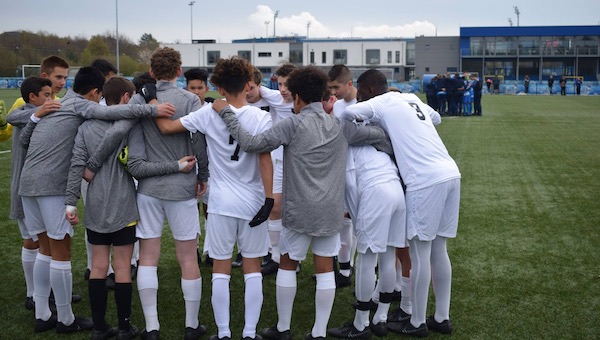 ANTWERP, Belgium (Via US Club Soccer) – The second video journal chronicling the 2019 id2 National Selection International Tour is now available, showing the team's two games in Belgium against 2005 academies of KV Mechelen (6-2 win) and KRC Genk (4-1 loss). The id2 National Selection team – made up of 18 top boys players (17 born in 2005, 1 born in 2006) – is past the halfway point of a two-week journey highlighted by four games against top academies in Belgium and France.
Over the remainder of the tour, the American delegation will face the 2005 academy teams of world-famous PSG and Reims. This is the first time in id2 Program history that the esteemed international tour traveled to Belgium and France.
The first video journal introduced the roster, covered the first few days of a domestic camp in New Jersey and the arrival to Belgium. The second video journal features highlights and commentary from id2 Boys Program Director Gerry McKeown and several players after the squad's games against Belgian sides KV Mechelen (April 2) and KRC Genk (April 4).
In the opening match, the id2 National Selection team battled early nerves and rain, but prevailed, 6-2, after three 25-minute periods. Sebastian Carbajal (Napa United 1839 Academy) notched three goals, including two in the final frame. Anthony Castor (Soccer Nation KC Academy) assisted the first three goals and scored his own – all in the first period. Brooklyn Raines (Barca Academy AZ) and Dominic Dubon (Philadelphia Union Youth) added one goal apiece, and Haroun Conteh (Phoenix Rising FC) provided an assist. Joey Yakim (FC USA Maryland) and Noah Thomas (Ohio Premier SC) combined for the protection in goal.
+VIDEO: US Club Soccer id2 National Selection Team arrives in Belgium
The following day (April 3), the delegation visited the historic city of Brugge, walking the stone streets, touring cathedrals and enjoying a boat ride in the canals. These scenes are captured in the latest video journal and throughout social media, as well.
In the second contest on the morning of April 4, the id2 National Selection team was defeated, 4-1. After Carbajal found the back of the net in just 27 seconds, KRC Genk's 2005s regrouped to tie the game later that period and eventually prevailed with a second period goal and two more late in the third. KRC Genk is renowned for its developmental success, as seven of its 23 first-team players progressed through its academy.
"This is why we come," said McKeown. "If we want these kids to have an experience, I think they have to feel uncomfortable to get a better overall learning experience. In the games at home, they can have their 'B' or 'C' game and still get through it and manage to win. As far as education goes, this was a valuable lesson for all of our guys."
The roster features 18 players from 17 clubs. These athletes are following in the footsteps of some of the U.S.'s brightest stars in the game. Notable id2 National Selection alumni include: Christian Pulisic (2012), Jonathan Gonzalez (2013), Tyler Adams (2013), Corey Baird (2010) and Timothy Weah (2013). Last month, McKeown named his All-Time Best XI alumni of id2 boys programming.
The team is now transferring to Paris, France for the remaining two matches and additional sightseeing. The next game is against PSG tomorrow (Saturday, April 6). That game begins at 10:30 a.m. CET (4:30 a.m. ET), and you can follow along on Twitter and Instagram for live updates.
The remaining games are:
April 6 at 10:30 a.m. CET vs. PSG 2005s at Stade Municipal Georges Lefèvre (Paris, France)
April 8 at 11:30 a.m. CET vs. Reims 2005s at Centre de Vie Raymond Kopa (Bétheny, France)