VA State Cup U15-U18 Boys: Loudoun, McLean, SOCA win titles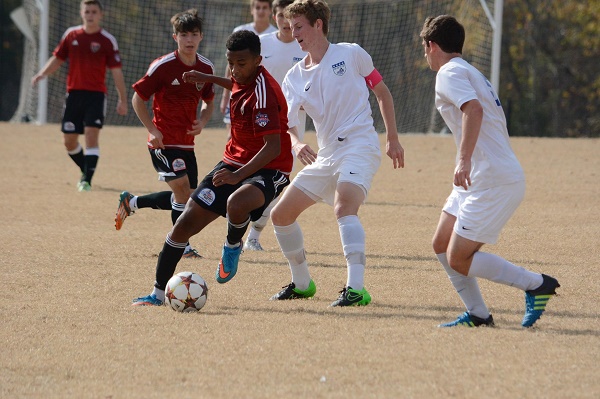 +Full Results: Semifinals | Finals
+VYSA State Cup Final Four Weekend Facebook Album
The U-15 to U-18 Virginia State Cup boys champions were crowned on Sunday in Fredericksburg at the Virginia Soccer Training Center. Teams representing McLean Youth Soccer, Loudoun Soccer Club and SOCA took home the state championship trophies. See below for a recap of the weekend.
U-15
Champion: McLean 00 Green | Finalist: SOCA Elite
Reigning Region 1 champion McLean 00 Green will return to West Virginia this spring for the 2016 US Youth Soccer Regional Championships, locking up their spot in the event this weekend by capturing the Virginia State Cup title. After gutting out a 2-1 win over Loudoun 00 Red in the semifinals, McLean edged out SOCA 1-0 on a late header by forward Yassine Elkahloun to clinch the team's second State Cup championship on Sunday.
Elkahloun's powerful upper-90 strike came with five minutes left in a physical battle which appeared to be headed for overtime, with both SOCA and McLean's back lines shutting down virtually every run. It was the only score allowed by SOCA all weekend, as the Charlottesville side blanked Arlington United Red 2-0 in the semifinals.
+Read: Players That Impressed: Week of October 26 – November 1, 2015
"SOCA is a very good team, they're tough in the back and they're a strong competitive team, this was a going to be a one goal game and I was proud that we were able to make the play at the end," said McLean coach Jamil Walker. "The back line held it down for us, SOCA has good forwards up top and we were able to shut them down, making tackles when we needed to most."
A Garrett Socas header with eight minutes left in the semifinal round against Loudoun 00 Red vaulted McLean into the title match, as the Green and White earned a 2-1 victory over their Club Champions League (CCL) mates. Socas also played a key role defensively throughout the weekend, breaking up counter attacks and covering significant ground in the midfield.
U-16
Champion: Loudoun 99 Red | Finalist: Arlington Eagles Red
Arlington Eagles Red stormed back to beat BRYC 99 Elite 2-1 in overtime of the semifinals after trailing late in regulation, but ended up on the wrong side of an overtime battle on Sunday in the final as Loudoun emerged with a 1-0 victory to take home the trophy.
After a physical contest came up scoreless after regulation in the final, it took less than five minutes of overtime for Loudoun's Chris Little to net the game-winner coming off a corner kick. From there, it became about preserving the lead against an Arlington squad which was relentless down the stretch despite going down to 10 men after a red card in the 70th minute. Loudoun goalkeeper Christian Andrade was flawless in net while Mark Gallagher, Nathan Durst, Zachary Hossenian and Chris DeBruyne anchored the defense in the extra periods.
+Read: VA State Cup U15-U18 Girls: Arlington, Vienna, Loudoun, BRYC win titles
"When these two teams come together it's always a battle, and there will be many more to come," said Loudoun coach John O'Hara during the team's trophy presentation.
Arlington's Giacomo Mecagni had a strong performance throughout the weekend, netting a late equalizer in the team's semifinal win over BRYC while also contributing to a stifling effort defensively. Loudoun reached the title match with a 1-0 shutout of CYA 99 Purple in the semifinal round.
U-17
Champion: Loudoun 98 Red | Finalist: BRYC 98 Elite
In the final match of the afternoon, US Youth Soccer National Competitive Coach of the Year Mark Ryan's Loudoun 98 Red squad defeated fellow CCL side BRYC 98 Elite 2-1 in comeback fashion to win their third State Cup title.
Harrison Mazanec showed superb athleticism on a first half goal for BRYC, perfectly timing a jump to outleap several defenders and knock in a header to put his team on top. However, Loudoun's Stephen Foss netted a vital equalizer just before the half and wasn't done yet.
Foss also set up the game-winner for Loudoun late in the second half, getting taken down from behind on a run into the box to earn a penalty kick. Ryan Pyszka converted the PK and Loudoun clamped down defensively the rest of the way, as future University of Virginia goalkeeper Colin Shutler and the back line held strong against BRYC's resilient attack. A BRYC free kick deep in Loudoun territory was shut down by a team effort in the waning seconds, and the defensive stand would be the final play of the match.
+Read: Dure – Age-group issue puts Development Academy in a time warp
Loudoun reached Sunday's championships match with a 3-1 win over SOCA on Saturday, finding the net three times in the first half. Giovanni Vasquez and Ian Mateer both scored in the opening 20 minutes after a SOCA own goal on a corner kick put Loudoun ahead in the first five minutes.
BRYC defeated Virginia Legacy 2-0 in the semifinals, receiving goals from Aaron Uribe and Michael Candelori along with a dominating effort by the back line. Ethan Lloyd and others controlled possession in the midfield for BRYC, while Grant Hughes, Robert Utech, Jacob Nash and Karim Azero locked down the defensive unit in front of goalkeeper Hunter Riddle.
U-18
Champion: SOCA Elite | Finalist: SYA Strikers Red
SOCA Elite overcame an SYA Strikers Red squad which entered Sunday's state championship with a great deal of momentum, churning out a 1-0 win against their CCL league mates whom they had lost to just a week earlier. James Kasak netted the only score of the match for SOCA, burying a shot into the right side of the goal.
SOCA beat Barca 97 Elite 4-2 on Saturday to reach the final, while SYA scored a late goal to eek past Virginia Rush Elite 2-1 in Saturday's other semifinal.