UWS and NISA announce launch of professional women's soccer league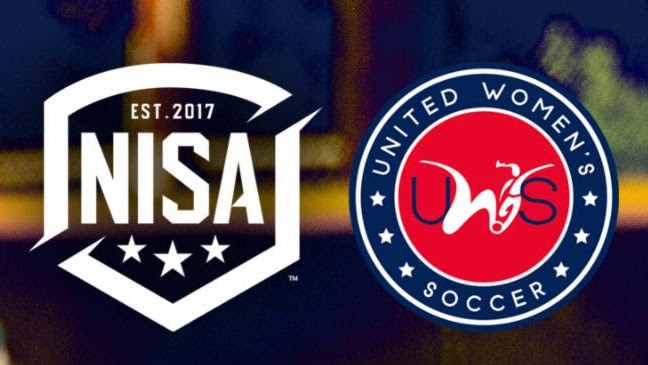 METUCHEN, NJ – United Women's Soccer (UWS) and the National Independent Soccer Association (NISA) have announced an alliance linking the two organizations.
The relationship between the national pro-am women's league and professional men's league will seek to reflect a combined vision of greater opportunity, improved operations and merit-based advancement for women's clubs, players and leadership.
The next step is the creation of a new women's professional league – centered on a launch in 2022 – that will widen the bridge for advancement from the amateur level. This united effort will be managed by Chicago-based management consulting firm Club 9 Sports, Inc. With the recent expansion of both organizations the past two years, an overlap of clubs that play in both NISA and UWS has already formed. Detroit City FC, Michigan Stars FC and the New Jersey Teamsterz will have teams in both leagues for the 2021 season.
"In a time where there are several professional and amateur leagues for men across North America, there still is a huge gap between the college and professional ranks on the women's side," said UWS Chief Operation Officer Roberto Aguas. "When UWS co-founders Joe Ferrara, Francisco Cleaves, and I started on this journey, we always had a goal to take this league to the highest level possible. Women deserve equal opportunities, and with the amount of talent and interest across women's soccer in the U.S. & Canada, it makes sense to expand the opportunities to play professionally. While UWS fills that gap by providing the highest pathway to pro for the amateur player, its efforts to foster talent development will be augmented through this alliance and the development of a new women's pro league."
"This alliance will provide women's clubs, athletes, coaches and staff a growth path to the highest levels of the game," said NISA Commissioner John Prutch. "We couldn't be more excited for how NISA is growing and finding allies like UWS in creating an open system based on merit. The need is critical, and the opportunity is evident to advance the men's and women's game together."
"This is a game changer for women's professional soccer, and I'm thrilled for young players and aspiring pros," said UWS Executive Director Stephanie Cleaves. "Two professional women's soccer leagues have never co-existed before in the United States. More professional opportunities will lead to the advancement of the women's game for organizations, players, their communities and supporters."
Even with the deepest pool of talent in the world, investment in the women's game in North America still lags way behind men's soccer. Options are few after a female player graduates from college. There are only 10 teams with limited rosters currently in the National Women's Soccer League (NWSL) while the rest of pro-eligible players have to consider a move abroad. Most countries, however, limit the number of foreign players on their respective club teams.
Another professional women's soccer league in the United States based on the tier below NWSL will address many of these challenges and allow players to continue their development state-side.
"We are excited, alongside NISA and Club 9 Sports, to announce the formation of a professional league," said UWS Commissioner Joe Ferrara, Jr. "This will provide opportunities for female players to achieve the dream of professional soccer. Furthermore, it will increase the community engagement in UWS markets across the nation."
In just five years, over 100 UWS alumnae have inked professional contracts that include: 2019 UWS Championship MVP Catarina Macario (Olympique Lyonnais), 2019 UWS Player of the Year Kate Howarth (Orlando Pride), 2018 All-UWS honoree Stephanie Labbé (FC Rosengård), 2017 UWS Player of the Year Deyna Castellanos (Atlético Madrid), 2017 All-UWS honoree Bethany Balcer (Reign FC), 2016 UWS Player of the Year Krystyna Freda (Apollon Ladies FC, Cyprus), five-time Bulgarian National Player of the Year Evi Popadinova (Napoli), Ashley Sanchez (Washington Spirit), Nicole Baxter (Sky Blue FC), Emily Dolan (Real Betis) and many more.
Stay tuned for more announcements from this new alliance in the coming weeks.