Hope Solo admits to 'horrible choice' in 'Good Morning America' interview with Robin Roberts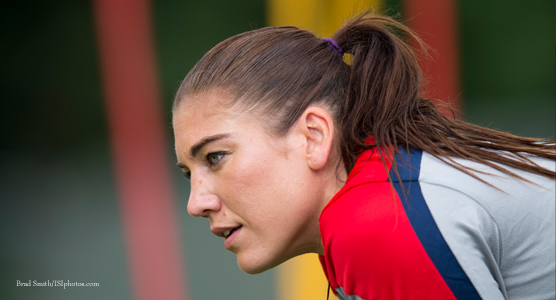 Controversy-dogged U.S. Women's National Team goalkeeper Hope Solo has discussed her recent troubles in a one-on-one interview with ABC's Robin Roberts on Good Morning America, admitting to "stupid" decision-making on the night she and her husband Jerramy Stevens were pulled over on suspicion of drunk driving in U.S. Soccer team vans during the USWNT's January camp in Southern California.
Stevens was arrested that night, and Solo did not inform USSF officials of the incident until it hit the news a day later, leading to her month-long suspension from the USWNT.
"Clearly, I wasn't thinking. I mean, it was a horrible choice," Solo told Roberts. "I just wasn't in a good place, emotionally, to even make good decisions. I mean, it's not an excuse but I just, it was stupid. Should've called a taxi."
+READ: USWNT: Hope Solo's latest drama goads U.S. Soccer officials into public warning
Longer segments of the high-profile interview are being aired on Wednesday morning's edition of GMA.
At age 33, Solo is one of the top goalkeepers in women's soccer and is seen as pivotal to the USWNT's hopes for a Women's World Cup championship run in Canada this summer.
But she has been dogged by off-field drama at several junctures in her career, and has rumored to have undergone alcohol counseling during the just-concluded suspension period.
Roberts apparently also delved into the domestic violence case that engulfed Solo, her sister and her nephew in her home state of Washington last year.
+READ: USWNT: Victory over England does not quell questions about Ellis's vision
Solo was allowed to continue appearing for the USWNT while her two counts of fourth-degree domestic violence proceeded through the legal system, and was eventually exonerated when the charges were dismissed by a judge in January.
"I know U.S. Soccer took a lot of heat," she told Roberts. "But I am very grateful that they let due process play itself out. Those eight months were some of the worst months of my entire life."
Solo was called back to head coach Jill Ellis' squad last week ahead of their participation in the Algarve Cup tournament in Portugal, which opens vs. Iceland on March 4 (2 p.m. ET, Fox Sports 1) and continues vs. Switzerland (March 6) and Iceland (March 9), plus a second-round match on March 11.