USWNT returning to action Saturday with friendly against Ireland in Austin, Texas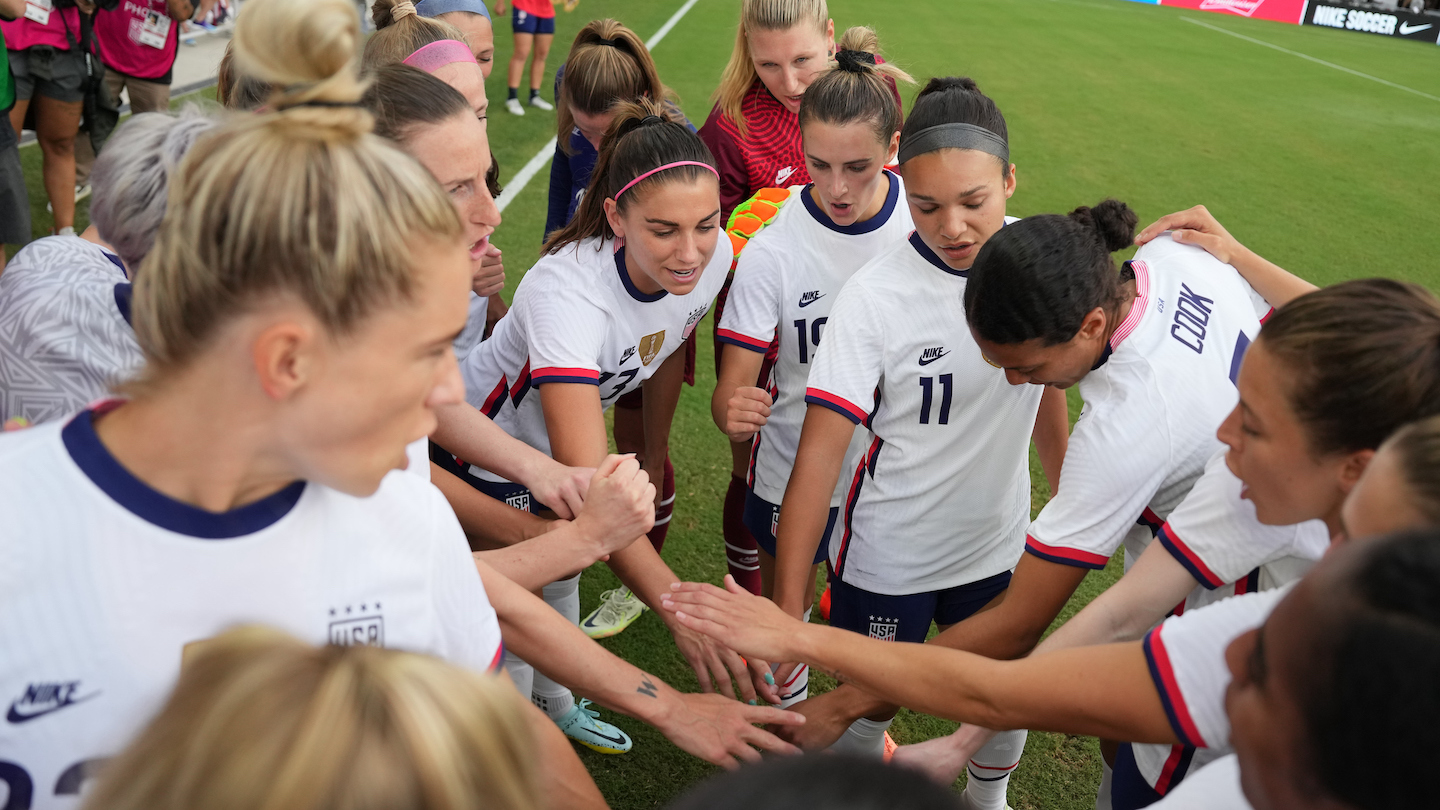 Coming off a convincing showing to win the 2023 SheBelieves Cup back in February, the U.S. Women's National Team returns to the field for two games against the Republic of Ireland with the FIFA Women's World Cup fast approaching and preparations for this summer's tournament heading into the homestretch.
The USA and Ireland will meet on Saturday, April 8 at Q2 Stadium in Austin, Texas. The game, which marks the USWNT's second ever at Q2 Stadium and first since playing the inaugural match at the venue in June of 2021, kicks off at 2:30 p.m. ET / 1:30 p.m. CT and will be broadcast on TNT, Universo and Peacock.
After the game in Austin, the teams will head to St. Louis to finish the two-game set on Tuesday, April 11 at brand new CITYPARK at 7:30 p.m. ET / 6:30 p.m. CT on HBO Max, Universo and Peacock.
The games against the Irish are the final for the USA before head coach Vlatko Andonovski and his staff will select the 23-player roster for the 2023 FIFA Women's World Cup. The four-time World Cup champions USA will kick off the World Cup campaign in just over 100 days in Auckland/Tāmaki Makaurau, New Zealand.
USWNT DETAILED ROSTER BY POSITION (CLUB; CAPS/GOALS)
GOALKEEPERS (3): Adrianna Franch (Kansas City Current; 10), Casey Murphy (North Carolina Courage; 13), Alyssa Naeher (Chicago Red Stars; 89)
DEFENDERS (10): Alana Cook (OL Reign; 23/0), Tierna Davidson (Chicago Red Stars; 48/1), Emily Fox (North Carolina Courage; 27/0), Crystal Dunn (Portland Thorns FC; 130/24), Naomi Girma (San Diego Wave FC; 14/0), Sofia Huerta (OL Reign; 28/0), Casey Krueger (Chicago Red Stars; 37/0), Kelley O'Hara (NJ/NY Gotham FC; 156/3), Becky Sauerbrunn (Portland Thorns FC; 214/0), Emily Sonnett (OL Reign; 73/1)
MIDFIELDERS (7): Julie Ertz (Unattached; 116/20), Lindsey Horan (Olympique Lyon, FRA; 126/26), Taylor Kornieck (San Diego Wave FC; 12/2), Rose Lavelle (OL Reign; 87/24), Kristie Mewis (NJ/NY Gotham FC; 50/7), Ashley Sanchez (Washington Spirit; 22/3), Andi Sullivan (Washington Spirit; 42/3)
FORWARDS (6): Ashley Hatch (Washington Spirit; 17/5), Alex Morgan (San Diego Wave FC; 204/121), Trinity Rodman (Washington Spirit; 15/2), Sophia Smith (Portland Thorns FC; 27/12), Mallory Swanson (Chicago Red Stars; 87/32), Lynn Williams (NJ/NY Gotham FC; 52/15)
On March 28, Andonovski announced the 26-player roster for the April Training Camp and matches against Ireland, where 23 players will be selected to suit up for each match. This roster features 21 of the 23 players who helped the USA to victory at the 2023 SheBelieves Cup as well as the return of five players following extended absences.
Forward Sophia Smith, the 2022 U.S. Soccer Female Player of the Year and 2022 NWSL MVP, returns after missing the first two USWNT events of the year due to injury. Two-time World Cup champion Julie Ertz returns for her first action since the Tokyo Olympics in 2021 and after giving birth to her first child, a son, in August of 2022. Olympian Casey Krueger also returns after giving birth to her first child, also a boy, in July of 2022, and is in her first USWNT camp since October of 2021.
Veteran defender and two-time World Cup winner Kelley O'Hara also returns from injury after not playing for the USA since last summer. Her most recent appearance was in the Concacaf W Championship in the final group match vs. Mexico on July 11. Fellow World Cup champion defender Tierna Davidson trained with the USWNT before the 2023 SheBelieves Cup in her first action since recovering from ACL surgery but now will be competing for a roster spot for the two matches against the Irish.
MOM GOALS
With Ertz and Krueger both back in their first USWNT camps post-pregnancy, the USA has an unofficial team record of five mothers in camp: Ertz, Krueger, Crystal Dunn, Adrianna Franch and Alex Morgan.
In November of 2020, Morgan returned to the field for the USA following the birth of her daughter in May of that year, becoming the 13th woman to play for the USWNT after becoming a mom. Dunn became the 14th such player in in October of 2022 when she came on against England just 140 days after giving birth to her son, joining Morgan, Boxx, Stephanie Cox, Tina Ellertson, Joy Fawcett, Danielle Fotopoulos, Sydney Leroux, Kristine Lilly, Kate Markgraf, Jessica McDonald, Carla Overbeck, Christie Pearce Rampone and Amy Rodriguez.
With her goal against Brazil on Feb. 22 in the SheBelieves Cup finale, Morgan moved past Fawcett to become the all-time leader in USWNT goals as a mom with 14.
JULIE100 CELEBRATED IN ATX
Ertz, one of just five players on this roster who was a part of both the USA's 2015 and 2019 FIFA Women's World Cup championships, will be honored before Saturday's match in Austin for her 100th cap, which she earned against England on March 5, 2020, right before the global pandemic shut down sports. The pandemic, combined with a few other factors, including the first of her first child last August which kept Ertz off the field for a while, means she will now get honored in Texas. Ertz enters these April games with 116 caps, 20 goals and six assists in her USWNT career. The USA has an overall record of 97 wins, 14 draws and five losses in Ertz's 116 international matches, good for a winning percentage of 83.6 percent. The only players in USWNT history with 115 or more caps and a better winning percentage are Tisha Venturini (84.3%; 113W-7D-14L) and Heather Mitts (83.9%; 115W-17D-5L).
The cap celebrations will also continue in St. Louis, where captain Becky Sauerbrunn, who earned her 200th cap against Czech Republic at the SheBelieves Cup on Feb. 17, 2022, will have the special honor of celebrating her 200th cap in her hometown.
LEGACY IN THE LONE STAR STATE
Saturday's game in Austin will be the USA's 32nd match all-time in the state of Texas and its second consecutive match in the Lone Star State after wrapping up the 2023 SheBelieves Cup with a 2-1 victory over Brazil in Frisco on Feb. 22. The USWNT has won all 31 of its matches played in Texas, outscoring opponents, 130-12. Alex Morgan has scored 15 goals in 18 career USWNT appearances in Texas, only Abby Wambach, who has 16 goals in California, has scored more in a single state in program history.
In 2021, the USWNT played the first-ever match at Q2 Stadium in Austin, defeating Nigeria 2-0 in front of a sold-out crowd in the lead up to the delayed Tokyo Olympics. This will be the USA's first match at Q2 since that historic night, which featured Christen Press and Lynn Williams scoring in the USA victory.
INSIDE THE SERIES: USA VS. IRELAND
Saturday's matchup in Austin will be the 14th meeting all-time between the USA and the Republic of Ireland and the first since the teams met on August 3, 2019, at the Rose Bowl in Pasadena, California in the USWNT's first match after winning the 2019 FIFA Women's World Cup. Played in front of a crowd of over 37,000 fans at the site of the historic 1999 Women's World Cup final, the USA topped Ireland 3-0 led by goals from Lindsey Horan, Carli Lloyd and Tobin Heath.
Prior to that match in the 2019 Victory tour, the Irish and Americans last squared off in San Diego on January 23, 2016. Lloyd tallied a hat trick in that match while Morgan earned her 100th cap and a 17-year-old Mallory Pugh (now Swanson) made scored in her international debut.
Overall, the USA leads the series against the Irish 13-0-0 and has scored five or more goals in seven of the 13 previous meetings. Morgan has scored in all three of her previous appearances against Ireland, tallying five goals in those games include a hat trick in her first match against the Irish in 2012. Ertz, Horan and Swanson have all also scored in previous meetings with Ireland.
COUNTDOWN TO DOWN UNDER
In just over 100 days, the U.S. Women's National Team will play its first match at the 2023 FIFA Women's World Cup, facing World Cup debutant Vietnam, 2019 World Cup runner-up the Netherlands and Portugal in Group E. The 2023 FIFA Women's World Cup will take place from July 20-Aug. 20 in 10 stadiums and nine host cities, five in Australia and four in New Zealand.
The USA will play the entirety of the group stage in New Zealand. The U.S. will open Group E play against Vietnam on July 22 at Eden Park in Auckland/Tāmaki Makaurau (1 p.m. local / 9 p.m. ET on July 21), which will also serve as the host venue for the Opening Ceremony of the 2023 World Cup on July 20 when New Zealand plays Norway. The USA then faces Netherlands on July 27 at Wellington Regional Stadium in Wellington/Te Whanganui-a-Tara (1 p.m. local / 9 p.m. ET on July 26), followed by Portugal – the Group A Playoff Winner – on Aug. 1 at Eden Park in Auckland/Tāmaki Makaurau (7 p.m. local / 3 a.m. ET).
USA ROSTER NOTES
The most capped player on this roster is Becky Sauerbrunn at 214, followed by Alex Morgan (204), Kelley O'Hara (156), Crystal Dunn (130), Lindsey Horan (126) and Julie Ertz (116).
The least capped players are Trinity Rodman (15), Naomi Girma (14), Casey Murphy (13), Taylor Kornieck (12) and Adrianna Franch (10).
Twelve of the 26 players on this roster were a part of the USA's 2019 FIFA Women's World Cup championship – Sauerbrunn, Morgan, O'Hara, Dunn, Horan, Ertz, Alyssa Naeher, Mallory Swanson, Rose Lavelle, Emily Sonnett, Tierna Davidson and Franch.
Morgan is the top scorer on the roster in international play with 121 goals. Swanson has 32, Lindsey Horan has 26, Dunn and Lavelle each have 24 and Ertz has 20.
Six different players have scored for the USA so far in 2023, led by seven goals from Swanson, two goals from Lavelle and Morgan, and one goal each from Lynn Williams, Ashley Hatch and Taylor Kornieck.
Swanson's goal against Brazil was the 32nd of her international career and her seventh of 2023, already tied for her most goals ever in a calendar year for the USA.
Dating back to the USA's final match of 2022, Swanson has now scored in six consecutive games for the USWNT, the longest scoring streak of her international career and the longest by any USWNT player since Christen Press scored in six straight games from November of 2019 to February of 2020. The 24-year-old Pugh is the first USWNT player under the age of 30 to have a scoring streak of five or more goals since a 22-year-old Alex Morgan achieved the feat in 2012, and her six-game scoring streak is tied for the fourth-longest all-time in USWNT history.
Emily Fox, who played all 270 minutes of the 2023 SheBelieves Cup, leads the team in total minutes played with 405 minutes of action. Swanson, the only player to start all five matches for the USA so far in 2023, is second with 385 minutes followed by Horan in third with 344.
Eleven of the USA's 14 goals this year have been assisted, with six different players tallying an assist in 2023. Lavelle land Trinity Rodman lead the way with three assists each, followed by two from Morgan, and one each from Ashley Sanchez, Sofia Huerta and Williams.
With her assist on Swanson's goal against Japan on Feb. 19, Alex Morgan now has 49 career assists and is tied with Carin Jennings-Gabarra for 10th place on the USA's all-time assists charts.
Nine players have been directly involved in a goal this year with either a goal or an assist, led by Swanson's seven goals. Lavelle is second with five total goal involvements (two goals and three assists) followed by Morgan with four goal involvements (two goals and two assists) and Rodman with three, all assists.
The USA posted four consecutive shutouts to open 2023 with Alyssa Naeher recording clean sheets against New Zealand (Jan. 18) and Canada (Feb. 16) and Casey Murphy pitching shutouts on Jan. 21 against New Zealand and Feb. 19 vs. Japan. The USA's shutout streak came to a close on Feb. 22 when Brazil scored in the 90th minute in Frisco.
Head coach Vlatko Andonovski is 47W-5L-6D in 58 games with the USWNT, 38 of which have been at home and 25 coming against teams ranked in the top-13 in the world.
IN FOCUS: REPUBLIC OF IRELAND | FIVE THINGS TO KNOW
FIFA World Ranking: 22
UEFA Ranking: 15
World Cup Appearances: 0 (Making debut in 2023)
Best World Cup Finish: N/A
Record vs. USA (W-D-L): 0W-0D-13L
Last Meeting vs. USA: Aug. 3, 2019 (3-0 win for USA in Pasadena, Calif.)
Head Coach: Vera Pauw (NED)
IRELAND DETAILED ROSTER BY POSITION
GOALKEEPERS (4): Courtney Brosnan (Everton F.C., ENG), Grace Moloney (Reading F.C., ENG), Megan Walsh (Brighton & Hove Albion F.C., ENG), Sophie Whitehouse (Lewes F.C., ENG)
DEFENDERS (9): Harriet Scott (Birmingham City F.C., ENG), Jessie Stapleton (Shelbourne F.C.), Louise Quinn (Birmingham City F.C., ENG), Aoife Mannion (Manchester United F.C., ENG), Diane Caldwell (Reading F.C., ENG), Claire O'Riordan (Celtic F.C., SCO), Hayley Nolan (London City Lionesses, ENG), Tara O'Hanlon (Peamount United), Áine O'Gorman (Shamrock Rovers)
MIDFIELDERS (8): Katie McCabe (Arsenal F.C., ENG), Denise O'Sullivan (North Carolina Courage, USA), Megan Connolly (Brighton & Hove Albion F.C., ENG), Jamie Finn (Birmingham City F.C., ENG), Ruesha Littlejohn (Aston Villa F.C., ENG), Lucy Quinn (Birmingham City, ENG), Ciara Grant (Hearts, SCO), Roma McLaughlin (Fortuna Hjorring, DEN)
FORWARDS (6): Heather Payne (Florida State University, USA), Abbie Larkin (Shamrock Rovers), Amber Barrett (FFC Potsdam Turbine, GER), Kyra Carusa (London City Lionesses, ENG), Marissa Sheva (Washington Spirit, USA), Alannah McEvoy (Shamrock Rovers)
REPUBLIC OF IRELAND ROSTER NOTES
Ireland qualified for the 2023 Women's World Cup – its first – in dramatic fashion. After finishing second in UEFA Women's World Cup Qualifying Group A behind Sweden, Ireland met rival Scotland in a one-game World Cup playoff at the famed Hampden Park in Glasgow. In front of more than 10,000 fans, a highly emotional goal in 72nd minute from Amber Barrett, who plays in Germany for Turbine Potsdam, sent The Girls in Green to Australia and New Zealand.
Goalkeeper Courtney Brosnan saved a penalty kick by Scotland's Caroline Weir in the 12th minute.
In Group A, Ireland drew with Sweden and Slovakia, but its only loss was to Sweden, by a 1-0 score, and they won all the rest of their matches as Arsenal's Katie McCabe leading all Group scorers with seven goals. Denise O'Sullivan of the NC Courage had six. Megan Connolly and Louise Quinn had two goals each in qualifying.
Ireland's roster is mixture of experience with a splash of younger players. Six players have 68 caps or more with veteran Aine O'Gorman leading the way with 115, followed by Louise Quinn with 101 and O'Sullivan will likely get her 100th against the USA in Austin.
On the flip side, 18 players have 23 caps or less including four players with one cap and three who are looking to make their international debuts.
One of the one-cappers is Washington Spirit forward Marissa Sheva, who hails from Sellersville, Pa. and played college soccer at Penn State. She initially signed with the Utah Royals in 2020 before making her way to the Spirit via a short stint in Spain.
The most experienced Irish players are in the back and the midfielder with Reading F.C. defender Diane Caldwell (93 caps), the six-foot Quinn (101 caps with 15 goals) and O'Gorman (115 with caps with 13 goals) leading the way. The well-traveled Caldwell, who played college soccer at Hofstra, played in seven games for the North Carolina Courage in 2021 among her seven different professional club stops, the longest of which were in Norway and Germany.
Connolly, who played college soccer at Florida State where she was the ACC Midfielder of the Year, ACC Defender of the Year and was a First-Team All-American.
Forward Heather Payne currently plays college soccer for Florida State where she has six career goals and seven assist over four seasons in a career that was impacted by the global pandemic. She helped FSU win the NCAA title in 2021.
Forward Kyra Carusa was born in San Diego and played collegiate soccer at Stanford and Georgetown. Carusa played three seasons at Stanford and helped the Cardinal win the 2017 NCAA Championship while playing alongside current USWNT call-ups Tierna Davidson, Alana Cook and Andi Sullivan. Her maternal grandparents emigrated to the USA in the 1950s.
For a long time, Ireland had a world class goalkeeper in Emma Byrne who amassed well over 100 caps for her country, but the current starter is Everton F.C.'s Brosnan, who has 19 caps. The 5-foot-9 Brosnan is an American who hails from Far Hills, N.J. and played her college soccer at Syracuse where she played in 67 matches. Brosnan saw some training time with the U.S. U-23 WNT before changing associations.
As Ireland does not have a strong domestic league, 22 of the 27 players on this roster play outside the country, including 15 in England, two in Scotland and three in the USA.
Barrett plays in the Germany Bundesliga with FFC Turbine Potsdam while midfielder Roma McLaughlin plays for one of Denmark's top clubs, Fortuna Hjorring.