USWNT roster selected for training camp ahead of April friendlies against Ireland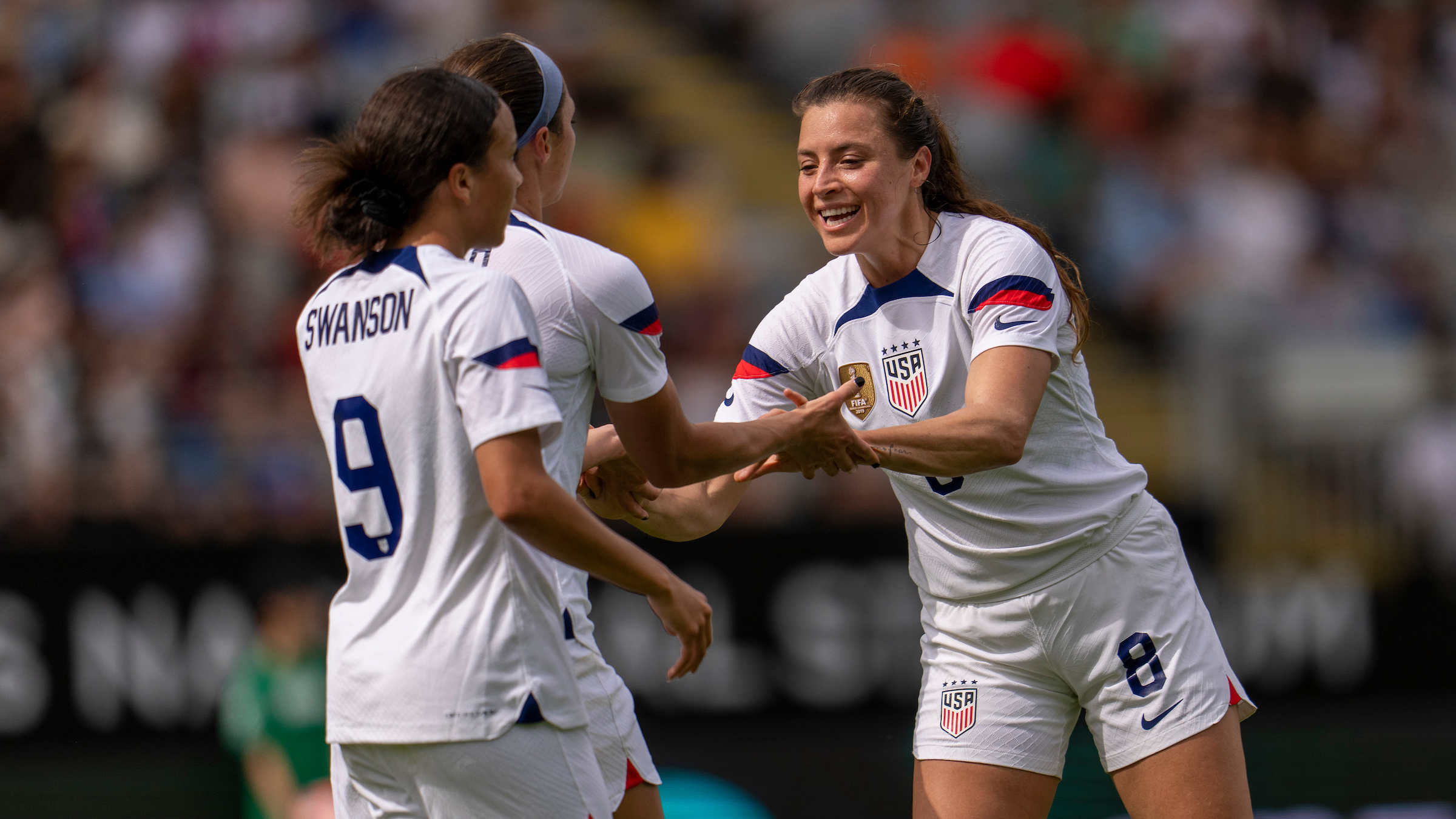 CHICAGO – U.S. Women's National Team head coach Vlatko Andonovski has named a 26-player roster for the USA's training camp ahead of its April friendly matches against the Republic of Ireland.
The USA and Ireland, both of whom are gearing up for the 2023 FIFA Women's World Cup, will meet on Saturday, April 8 at Q2 Stadium in Austin, Texas in a match presented by Truly Hard Seltzer (1:30 p.m. CT / 2:30 p.m. ET on TNT, Universo and Peacock) before finishing the two-leg set on Tuesday, April 11 at the brand new CITYPARK in St. Louis, Mo. (6:30 p.m. CT / 7:30 p.m. ET on HBO Max, Universo and Peacock).
These will be the final international matches for the USWNT players before Andonovski and his staff choose the USA's 23-player World Cup roster in early summer, but players will still have quite a few club games to state their cases for roster spots.
U.S. Women's National Team Roster by Position (Club; Caps/Goals) — April Friendlies vs. Republic of Ireland
GOALKEEPERS (3): Adrianna Franch (Kansas City Current; 10), Casey Murphy (North Carolina Courage; 13), Alyssa Naeher (Chicago Red Stars; 89)
DEFENDERS (10): Alana Cook (OL Reign; 23/0), Tierna Davidson (Chicago Red Stars; 48/1), Emily Fox (North Carolina Courage; 27/0), Crystal Dunn (Portland Thorns FC; 130/24), Naomi Girma (San Diego Wave FC; 14/0), Sofia Huerta (OL Reign; 28/0), Casey Krueger (Chicago Red Stars; 37/0), Kelley O'Hara (NJ/NY Gotham FC; 156/3), Becky Sauerbrunn (Portland Thorns FC; 214/0), Emily Sonnett (OL Reign; 73/1)
MIDFIELDERS (7): Julie Ertz (Unattached; 116/20), Lindsey Horan (Olympique Lyon, FRA; 126/26), Taylor Kornieck (San Diego Wave FC; 12/2), Rose Lavelle (OL Reign; 87/24), Kristie Mewis (NJ/NY Gotham FC; 50/7), Ashley Sanchez (Washington Spirit; 22/3), Andi Sullivan (Washington Spirit; 42/3)
FORWARDS (6): Ashley Hatch (Washington Spirit; 17/5), Alex Morgan (San Diego Wave FC; 204/121), Trinity Rodman (Washington Spirit; 15/2), Sophia Smith (Portland Thorns FC; 27/12), Mallory Swanson (Chicago Red Stars; 87/32), Lynn Williams (NJ/NY Gotham FC; 52/15)
Called up for the training camp are several players who are making the return to a USWNT roster after extended absences. Two-time World Cup champion Julie Ertz returns for her first action since the Tokyo Olympics in 2021 and after giving birth to her first child, a son, in August of 2022. Olympian Casey Krueger also returns after giving birth to her first child, also a boy, in July of 2022, and is in her first USWNT camp since October of 2021.
Forward Sophia Smith, the 2022 BioSteel U.S. Soccer Female Player of the Year and 2022 NWSL MVP, returns after missing the first two USWNT events of the year due to injury.
Veteran defender and two-time World Cup winner Kelley O'Hara also returns from injury after not playing for the USA since last summer. Her most recent appearance was in the Concacaf W Championship in the final group match vs. Mexico on July 11.
Fellow World Cup champion defender Tierna Davidson trained with the USWNT before the 2023 SheBelieves Cup in her first action since recovering from ACL surgery but now will be competing for a roster spot for the two matches against the Irish. If Davidson sees action, it will be her first appearance for the USA since the 2022 SheBelieves Cup.
Andonovski will name 23 players to suit up for each match.
"It's exciting to get the group back together and we're getting closer to how we want to look this summer," said Andonovski. "The team is gelling and getting these players back in camp, all who know the environment very well, is just going to make it more competitive and turn the intensity up a notch. I know there is a lot of pressure on the players as the competition for World Cup spots increases, but that's not something we shy away from. We talk about it, and we embrace it, as we all know these players make each other better."
Sauerbrunn, a St. Louis native and Ladue High School graduate, will be honored before the April 11 match in her hometown for earning her 200th cap, which came in the first match of the 2022 SheBelieves Cup a little more than a year ago in Carson, Calif. Sauerbrunn is currently at 214 caps.
Before the match in Austin on April 8, Ertz will be honored for earning her 100th cap, a milestone she achieved in March of 2020, just before the onset of the global pandemic.
In what is an unofficial record, the USWNT will have five mothers in camp: Krueger, Ertz, Crystal Dunn, Adrianna Franch and Alex Morgan.
Additional Notes:
The roster features six players with 100 caps or more in defender Becky Sauerbrunn (214), Alex Morgan (204), Kelley O'Hara (156), Crystal Dunn (130), Lindsey Horan (126) and Julie Ertz (116).
Forward Megan Rapinoe, who is on 199 caps, was ruled out of this camp as she recovers from a lower leg injury.
The roster features 11 players with fewer than 30 caps – Sofia Huerta, Sophia Smith, Emily Fox, Alana Cook, Ashley Sanchez, Ashley Hatch, Trinity Rodman, Naomi Girma, Casey Murphy, Taylor Kornieck and Adrianna Franch.
Morgan is by far the leading scorer on the roster with 121 career goals, good for fifth in U.S. history. Swanson has 32 goals and Horan has 26 while both Dunn and Rose Lavelle have 24.
Swanson, who was named the 2023 Visa SheBelieves Cup MVP, leads the USA with seven goals in five appearances so far in 2023 and is in the midst of a six-game scoring streak dating back to the USWNT's final game of 2022.
Eight of the 12 NWSL clubs are represented on this roster, led by four players from OL Reign, four players from the Washington Spirit and three players each the Chicago Red Stars, NY/NJ Gotham FC, San Diego Wave FC and Portland Thorns FC.
At the World Cup, which is taking place from July 20-Aug. 20 in 10 stadiums across nine host cities — five in Australia and four in New Zealand — the USA will open Group E play against Vietnam on July 22 at Eden Park in Auckland/Tāmaki Makaurau, which will also serve as the host venue for the Opening Ceremony of the 2023 World Cup on July 20 when New Zealand plays Norway. The USA then faces Netherlands on July 27 at Wellington Regional Stadium in Wellington/Te Whanganui-a-Tara, followed by the Group A Playoff Winner Portugal on Aug. 1 at Eden Park in Auckland/Tāmaki Makaurau.
In 2021, the USWNT played the first-ever match at Q2 Stadium, defeating Nigeria 2-0 in front of a sold-out crowd. This will the USA's first match at Q2 since that historic night, which featured Christen Press and Lynn Williams score in the USA victory.
The match at CITYPARK also carries some history as it will be the first game for the U.S. Women at the home of the newest franchise in Major League Soccer, St. Louis CITY SC, the first female majority-owned team in the league. This will be the USWNT's sixth match all-time in St. Louis, and most recently played at Busch Stadium in the lead up to both the 2015 and 2019 Women's World Cups.
Ireland qualified for the 2023 Women's World Cup – its first – in dramatic fashion. After finishing second in UEFA Women's World Cup Qualifying Group A behind Sweden, Ireland met rival Scotland in a one-game World Cup playoff at the famed Hampden Park in Glasgow. In front of more than 10,000 fans, a highly emotional goal in 72nd minute from Amber Barrett, who plays in Germany for Turbine Potsdam, sent The Girls in Green to Australia and New Zealand.