USSDA clubs have 278 college commitments on signing day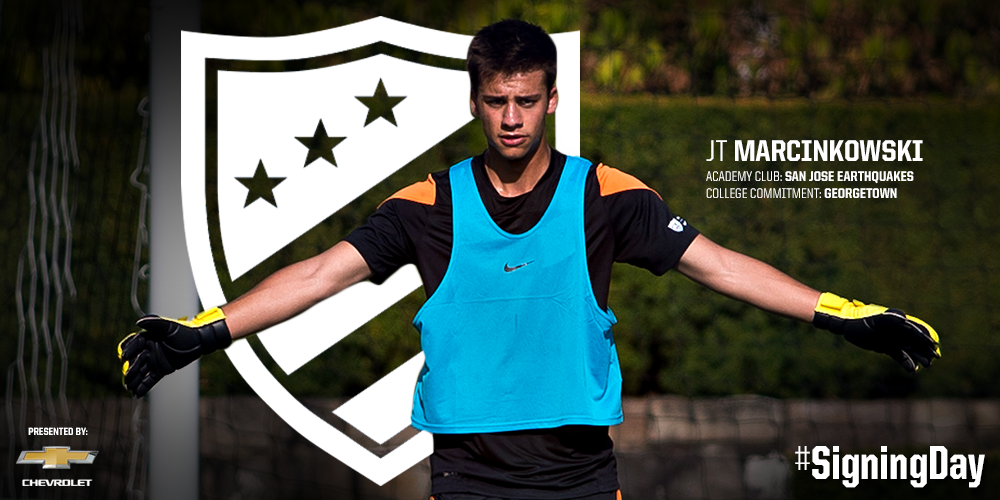 CHICAGO (Via U.S. Soccer) – National Signing Day took place on Wednesday, Feb. 4, as numerous players in U.S. Soccer's Development Academy announced their college choices starting this fall.
Of the 33 clubs that submitted their Academy college commitments, D.C. United heads the group with 16 players headed to the collegiate ranks. This 33-club group includes 278 college-bound players.
+Read: U.S. U-14 BNT travels to Madrid on Friday for February camp
Here is the breakdown by Academy club:
Andromeda FC (5): Landon Renner (Wofford), Milton Eneh (Midwestern State), Justin Kucera (Harding), Kwabena Sapon-Amoah (Niagara), Ryan Watters (Cornell)
BW Gottschee (9): Lasha Alkhazishvili (Rochester), Grant Burg (Lafayette College), Christian Casagranda (Quinnipiac), Donovan Cesar (Mercy College), Jonathan Epstein (Keynon College), Philip Fosie (Oberlin College), Nick Montgomery (Haverford College), Ryan Ott (Bucknell), John Pappas (Marshall)
Carolina Rapids (11): Alec Anselmo (Pittsburgh), Brandon Anselmo (Winthrop), Spencer Currier (Campbell), Trysten Innes (Lipscomb), Jamir James (Appalachian State), David Lozano (North Carolina-Wilmington), Brendan McDonough (Georgetown), Chris O'Grady (Appalachian State), Elliott Panicco (Charlotte), Tanner Roberts (N.C. State), Jaric Spath (Louisburg College)
Colorado Rush (4): Carter Auth (Oregon State), Noah Chapleski (Cal Polytech), Griffith Wesley (Colorado College), Garrett Wilson (Gonzaga)
Continental FC DELCO (8): Jansen Aoyama (Colby College), Kevin Bendesky (Yale), Peace Brandon (Duquesne), James Hueber (Grove City College), Rushawn Larmond (West Virginia), Cole Niggeman (Franklin and Marshall College), Marcelo Pernot (Stevens Institute of Technology), Kyler White (Providence College)
Crew SC Academy (9): Frankie Carsonie (Denver), Dominic Grida (Bowling Green State), Drew Krueger (Davidson College), Peyton Mowery (Cincinnati), Mohammed Mustafa (Bowling Green State), Carter Richardson (Wake Forest), Omar Salem (Bowling Green State), Parker Siegfried (Ohio State), Brett Smalley (Denver)
Crossfire Premier (10): Nathan Aune (Seattle), Jacob Bohl (Seattle Pacific), Alex Chung (Kenyon College), Hassani Dotson (Oregon State), Kevin Duan (Kenyon College), Ryan Hill (Haverford College), David Kim (Kenyon College), Joey Parish (Washington), Luke Postma (Seattle Pacific), Greydon Saunders (Western Washington)
D.C. United (16): Tyler Beaudoin (Loyola Maryland), Antonio Bustamante (William & Mary), Jorge Calix (Maryland), Alonzo Clarke (Akron), Jimmy Filerman (Old Dominion), Brennan Ireland (Penn State), Patrick Jean-Gilles (UMBC), James Knoebel (Old Dominion), Jean-Christophe Koffi (Virginia), Owen Marshall (Columbia), Timothy Oberg (Colgate), Austin Pelto (James Madison), Daniel Reeves (Maryland), Scott Rissler (Duquesne), Ibrahim Seye (Army), Eryk Williamson (Maryland)
De Anza Force (9): Brandon Gillingham (Santa Clara), David Heredia Hernandez (UC Riverside), Sam Junqua (UC Berkeley), Preston Kilwien (Florida Gulf Coast), Nick Kubler (Sacramento State), Brandon Monteiro Magpayo (UC San Diego), Andy Sartor (UC San Diego), Matthew Powell (UCLA), DJ Villegas (UCLA)
Georgia United (8): Nicholas Adamczyk (Elon), Josiah Baker (Furman), Nigel Blackwood (Pennsylvania), Peyton Ericson (South Carolina), Tanner Hummel (Kentucky), Matthew Morgan (North Carolina-Wilmington), Matthew Reynolds (Wofford), Andreas Suri (Wofford)
Indiana Fire (7): Nick Anderson (IUPUI), Rece Buckmaster (Indiana), Ryan Clark (Butler), Connor Corrigan (Michigan State), Will Lentz (Princeton), Janum Sailor (Spring Arbor), Zach Tom (IPFW)
Internationals (2): Jackson Crawford (Akron), Devin Hoffman (Slippery Rock)
LA Galaxy (12): Santi Digiuseppe (South Florida) , Dakota Havlock (UCLA), Malcolm Jones (UCLA), Robert Knights (UCLA), Élan Koenig (Wisconsin), Michael Lopez (UC Irvine), Rey Ortiz (UC Berkeley), Juan Orozco (Northridge), Bennett Sneddon (Duke), Chris Segovia (UC Berkeley), Dylan Smith (UC Riverside), Adrian Vera (Northridge)
Lonestar SC (7): Juan De Lima (Georgia Southern), Braeden Lennon (Incarnate Word), Noah Murphy (St. Louis), Ben Strozewski (Washington-St. Louis), Kenneth Wells (Our Lady of the Lake), Matt Woolf (Cal Poly), Jacob Yarnel (Air Force)
NJCSA (6): Nicholas Cousillas (Stevens Institute of Technology), Dylan Greenblatt (American), Richie Gutierrez (Colby College), Sean McSherry (Princeton), Nicholas Sheuerman (Drew), Kia Shirazi (Campbell)
N.C. Fusion (5): Tanner Beason (Stanford), Matteo Busio (North Carolina-Greensboro), Austin Kues Lynchburg College), Greg McNeer Kenyon College), Hassan Pinto (Elon)
PA Classics (10): Corey Burkhardt (Seton Hall), Spencer Burkhardt (Seton Hall), McKinley Curran (Penn State), Armin Efendic (Drexel), Soren Frost (Delaware), Matt Miller (Fordham), Nich Miller (New Hampshire), Alex Posesky (Seton Hall), Erik Rishell (Delaware), Andrew Slater (West Chester)
Pateadores (8): Hunter Allen (High Point), Hunter Ashworth (San Francisco), Pierce Ashworth (Stanford), Jack Kerins (UC Davis), Luis Leon (UC Irvine), Noah Leong (San Francisco), Blayne Martinez (UCLA), Cole Martinez (UCLA)
Philadelphia Union (11): William Campbell (North Carolina), Kevin Carvalho (Northeastern), Morgan Hackworth (Syracuse), Nick Jachwak (Loyola Maryland), Cameron Keys (La Salle), Garrett Keys (La Salle), Brandon Levano (Loyola Maryland), Everet Minchew (Wagner College), Zach Perez (Rutgers), John Schroeder (Delaware), Zach Zandi (Villanova)
Players Development Academy (15): David Bateman (LaSalle), Jalil Blalock (Monmouth), Joe Bruno (Lafayette), Jack Casey (Notre Dame), Scott Forbes (Penn), Chris Gomez (Syracuse), Elgin Grant (Manhattan College), Brian Hawkins (Rutgers), Max Lurie (Dartmouth), Derrick Lyons (Boston College), Justin O'Brien (Dartmouth), Moyinoluwa Opeyemi (Princeton), Rory Slevin (Virginia Tech), Eric Swenson (Penn), Jassiem Wahtuse (Monmouth)
Real Salt Lake AZ (10): Luis Barraza (Marquette), Leonardo Fuchs (Utah Valley) , Jose Hernandez (UCLA), Aaron Herrera (New Mexico), Erik Holt (UCLA), Chandler Maynes (South Florida), Adolfo Ovalle (Maryland), Tate Schmitt (Louisville), Amar Sejdic (Maryland), Evan Waldrep (Creighton)
Richmond United (6): Ryan Anderson (James Madison), Myles Brown (Notre Dame), Gary Foley (Mary Washington), Sawyer Gaffney (Davidson), Lyndsey Moreland (Virginia Commonwealth), William Zarco (George Mason)
St. Louis Scott Gallagher Missouri (11): Devin Boyce (New Mexico), Josh Burnett (Memphis), Alex Ciaramitaro (Bradley), Keegan Gordon (Bellarmine), Kaden Keller (Michigan State), Dennis Kluba (Belmont), Brendan McDonough (Eastern Illinois), Connor Openlander (Marshall), Austin Panchot (Indiana), Mark Skrivan (Southern Illinois-Edwardsville), Shane Strunk (Dayton)
San Diego Surf (6): Ian Aschieris (Notre Dame), William Blackburn (Cal State-Monterey Bay), Ryan Friedman (Tufts), Michael Lin (Carnegie Mellon), Diego Perez (Cal State-San Marcos), Justin Tesar (Cal State-San Marcos)
San Jose Earthquakes (14): Michael Anderson (Brigham Young), Amir Bashti (Stanford), Jamal Bernardez (CSU Chico), Yousef Diyab (CSU East Bay), Alex Fluitt (CSU Chico), Philip Hausen (Harvard), Jorge Lara (UC Irvine), Richard Leon (San Francisco State), Desmond Madrigal (CSU Stanislaus), JT Marcinkowski (Georgetown), Jonathan Partida (Cal Poly), Shane Penner (Loyola Marymount), Remi Prieur (St. Mary's), Miguel Ruiz (West Virginia)
San Juan Academy (4): Justin Moreno (UC Davis), Max Vallejo-Wolff (Saint Mary's College of California), Alexander Waldron (UC Irvine) , Jorden Wusstig (San Francisco State)
Seattle Sounders FC (10): Sean Bowman (San Francisco), MacArthur Clarke (San Diego State), Ryan DeGroot (Washington), Kasey French (Washington), Khalil Ibrahim (Highline), Saif Kerawala (Washington), John Magnus (Washington), Tosh Samkange (Denver), Ryan Schaefer (Denver), Kees Westra (Marquette)
Sockers FC (9): Frank Bak (Bradley), John Freitag (DePaul), Adrian Herrera (Southern Illinois-Edwardsville), Diego Lopez (Northwestern), Michael Marchionna (Valparaiso), Brian Pfaff (Olivet Nazarene), Jelani Pieters (North Carolina), Kyle Kopchak (Depauw), Zach Saltzman (Boston)
Solar Chelsea SC (6): Noah Crise (Central Arkansas), Alex Greene (Lehigh), Oscar Greene (Lehigh), Alfonso Ochoa (Georgia Southern), Nathanael Rennhack (Wake Forest), Caleb Smith (Southern Methodist)
Sporting Kansas City (8): Andrew Blalock (Drake), Jack Freeman (Ohio State), Bryce Gibson (Creighton), Nic Jaimes (Army), Ryan Krutz (Notre Dame), Zane Moxley (Air Force), Hector Solorio (Niagara), Tucker Stephenson (West Virginia)
Strikers FC (11): Devin Anderson (Sonoma State), Anthony Badea (Mass Institute of Technology), Halil Beqaj (UC Riverside), Justin Carpenter (Loyola Marymount), Indiana Fuller (Point Loma Nazarene), AJ Harb (UC Riverside), Noah Lasutschinkow (Bradley), Shinya Kadono (UC Berkeley), Jonathan Klinsmann (UC Berkeley), Cameron Mardan (Northwestern), Evan Williams (San Francisco)
Texans SC Houston (6): Devon Grant (Central Arkansas), Daltyn Knutson (Central Arkansas), Owen Lawrence (Fordham), Keith Nutter (High Point), Andrew Ramsey (Southern Methodist), Kenneth Shittu (Spring Hill College)
Texas Rush (5): Eduardo Cedeno (Harvard), Jeremy Colvin (Princeton), Alberto Carmona Garcia (Kenyon College), Kristian Martinez (IUPUI), Dylan Waugaman (Oregon State)