Former World Cup champion Berti Vogts appointed USMNT Technical Advisor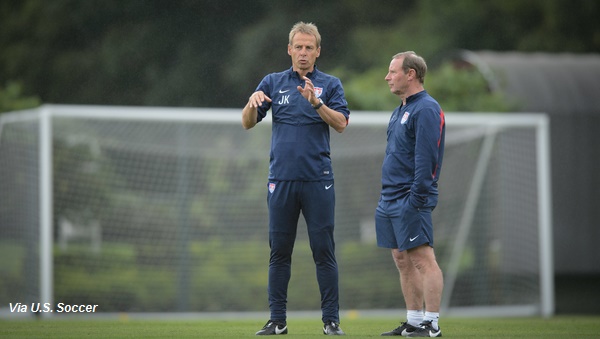 CHICAGO (Via U.S. Soccer) – U.S. Soccer has appointed former World Cup winner Berti Vogts to be a Technical Advisor to the U.S. Men's National Team.
A member of the German team that won the 1974 FIFA World Cup, Vogts brings a tremendous track record of success to the Men's National Team. Additionally, he coached the German squad to the 1996 European Championship – on which U.S. Men's National Team head coach Jurgen Klinsmann was team captain – and is one of only three coaches to lead Germany to a trophy in the last 25 years.
"We had a fantastic experience with Berti during the 2014 FIFA World Cup," said Klinsmann. "His knowledge and experience is a tremendous asset for us. With Andi Herzog having a big focus on qualifying the U-23 team for the Olympics in Rio de Janeiro, Berti will make an even more important contribution."
In his role as Technical Advisor, Vogts will oversee the development of players in Europe, working with Herzog and Matthias Hamann on scouting, building and improving club relationships and identifying talent. Vogts will serve as a resource for technical development initiatives and coaching education.
Vogts earned 96 caps for Germany, playing a total of 19 matches in three World Cups. Nicknamed "Der Terrier," he famously marked Dutch legend Johan Cruyff in the 1974 World Cup final that Germany won 2-1 in Munich. He served as team captain from 1977-79, taking over for Franz Beckenbauer.
During a 14-year professional career in which he was twice named Germany Footballer of the Year, Vogts was an integral part of the Borussia Moenchengladbach squad that won five Bundesliga titles (1969-70, 1970-71, 1974-75, 1975-76, 1976-77) and two UEFA Cups (1974-75, 1978-79).
Vogts coached Germany from 1990-98, compiling a record of 66-12-24. In addition to the title in 1996, he had a second-place finish in the 1992 European Championship and led the Germans to the quarterfinals in consecutive World Cups in 1994 and 1998.
Having coached the national teams of Scotland (2002-04) and Nigeria (2007-08), he served as the manager for Azerbaijan from April of 2008 to the end of 2014.