USMNT defeats Mexico 2-0 on goals by Morris, Agudelo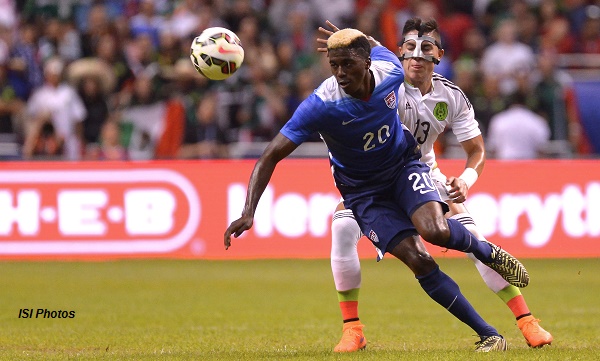 SAN ANTONIO, Texas (Via U.S. Soccer) – The U.S. Men's National Team defeated archrival Mexico by a score line of 2-0 behind goals from Jordan Morris and Juan Agudelo in front of a sell-out crowd of 64,369. The win extended the USA's unbeaten streak against Mexico to a record six games (3-0-3), pushed the U.S. MNT's current unbeaten streak on home soil to 21 games (18-0-3) and marked the ninth USA victory over Mexico by that familiar score line since 2000.
Twenty-year-old Morris, a sophomore at Stanford University, put the U.S. ahead after running onto a deflected ball and finishing under a sliding goalkeeper in the 49th minute.
In the 65th minute, Juan Agudelo replaced Morris, and on a Michael Bradley assist doubled the American lead. It was Agudelo's first appearance since he last came on as a sub in the U.S.'s game against Ukraine on March 5, 2014 and his first goal since he scored against Argentina on March 26, 2011.
The result pushed the USA's all time record against Mexico to 18-32-14. The U.S. MNT will be in Europe next time it convenes, facing off with the world's No. 6-ranked team, Netherlands, in Amsterdam on June 5. The match kicks off at 2:30 p.m. ET on ESPN, WatchESPN, UniMas and Univision Deportes Network.
Goal Scoring Rundown:
USA – Jordan Morris, 49th Minute: Michael Bradley played the ball into the middle of the Mexico defense to Gyasi Zardes whose return pass deflected off a Mexico defender into the stride of Morris. On his first MNT start, Morris took a touch and slotted a shot under sliding Mexico goalkeeper Cirilo Saucedo for his first international goal. USA 1, MEX 0 (SEE GOAL)
USA – Juan Agudelo (Michael Bradley), 72nd minute: Minutes after entering for previous goal scorer Jordan Morris, Agudelo expertly brought down a long ball from Michael Bradley at the top of the box. He cut to his right, got past his defender and blasted a shot that squeezed between Saucedo and the left post to double the USA lead. USA 2, MEX 0 (FINAL) (SEE GOAL)
Key Saves and Defensive Stops:
MEX – Cirilo Saucedo, 26th minute: Michael Bradly played a dangerous free kick into the box where Gyasi Zardes and Jordan Morris were converging. Saucedo jumped into traffic and was able to deflect the ball out of danger.
USA – Rimando (Save), 42nd minute: Mexico captain Luis Montes quickly brought the ball down from the right side. Near the top of the box Montes made a quick cut toward the center and hooked a left-footed shot towards the goal. The ball took one spinning hop before Rimando secured it.
USA – Yarbrough (Save), 58th minute: Erick Torres took a pass off of a Mexican counter and found himself in a spot with an opportunity to score, but he was unable to put a clean hit on the ball and Yarbrough simply scooped up the shot.
Milestone Watch:
Michael Bradley inched closer to the century cap mark with his 96th appearance

tonight

. The appearance pushed his him past Brian McBride and into a tie with Alexi Lalas for the 16th on the U.S. MNT's all-time list.
Bradley's assist was the 13th of his USA career and ties him for eighth all-time alongside DaMarcus Beasley and Clint Dempsey.
Ventura Alvarado and 20-year-old Jordan Morris made their first starts for the USA.
In his first start, Morris scored his first international goal.
Next on the Schedule:
The U.S. MNT faces Netherlands, on June 5 at 2:30 p.m. ET at the Amsterdam Arena in Amsterdam, Netherlands.
Broadcast information: ESPN, WatchESPN, UniMas, Univision Deportes Network
Additional Notes:
The U.S. MNT began the game in a diamond 4-4-2 formation.
In his first action with the U.S. MNT of 2015, Kyle Beckerman made the start at midfield. It was his first appearance since he started for the U.S. against Ireland on November 18, 2014.
It was the first time since the World Cup game against Germany on June 26, 2014 that Michael Bradley and Beckerman have started together.
Bradley has played every minute of the USA's five matches so far in 2015. In addition to Bradley, goalkeeper Nick Rimando is the only other player to start all five games. Two other MNT players have appeared in all five games in 2015: Gyassi Zardes and DeAndre Yedlin
In his first appearance since he was subbed on in the second half of the game against Ukraine on March 5, 2014, Juan Agudelo came on for the game's first goal scorer Jordan Morris and netted his third career goal for the U.S. MNT. It was his first goal with the National Team since scoring against Argentina on March 26, 2011.
Texas native Greg Garza started the game at left back. He played in the last five games of 2014 starting three following the World Cup and also started in the match against Denmark on March 31, 2015.
Joe Corona made his first start for the U.S. since the Sept. 3, 2014 match in Prague vs. the Czech Republic. It was his first appearance since the game against Honduras on Oct.14, 2014.
Corona and Garza both started on the left side for the U.S. The pair are teammates in Liga MX, with Club Tijuana.
Omar Gonzalez made his first start since the 2014 FIFA World Cup match against Belgium and his first appearance since coming on in the 62nd minute of the USA's October 10, 2014 match against Ecuador.
Michael Bradley recorded his third-straight start as captain. He also wore the armband for the MNT on March 25 against Denmark and March 31 versus Switzerland.
Kyle Beckerman left the game in the 63rd minute with a left thigh contusion.
– U.S. Men's National Team Match Report –
Match: U.S. Men's National Team vs. Mexico
Date: April 15, 2015
Competition: International Friendly
Venue: Alamodome; San Antonio, Texas
Kickoff: 7:30 p.m. CT
Attendance: 64,369 (sellout)
Weather: 73 degrees; Indoor
Scoring Summary: 1 2 F
USA                       0 2 2
MEX                       0 0 0
USA – Jordan Morris                             49th minute
USA – Juan Agudelo (Michael Bradley)   72
Lineups:
USA: 1-Nick Rimando (22-William Yarbrough, 46); 2-DeAndre Yedlin, 3-Omar Gonzalez, 19-Ventura Alvarado, 14-Greg Garza (11-Brek Shea, 46); 15-Kyle Beckerman (21-Perry Kitchen, 63), 10-Mix Diskerud (6-Brad Evans, 80), 7-Joe Corona (9-Miguel Ibarra, 46), 4-Michael Bradley (capt.); 20-Gyasi Zardes, 8-Jordan Morris (17-Juan Agudelo, 65)
Subs Not Used: 5-Matt Besler, 13-Lee Nguyen, 16-Julian Green, 18-Chris Wondolowski
Head Coach: Jurgen Klinsmann
MEX: 12-Cirilo Saucedo; 21-Hiram Mier (3-Oswaldo Alanis, 46), 2-Francisco Rodriguez (8-Luis Rodriguez, 60), 13-Carlos Salcedo (4-Julio Cesar Dominguez, 46); 7-Efrain Velarde, 17-Mario Osuna, 18-Carlos Esquivel, 15-Gerardo Flores (6-George Corral, 67); 10-Luis Montes (capt.) (5-Antonio Rios, 79), 9-Erick Torres, 20-Eduardo Herrera (19-Marco Bueno, 83)
Subs Not Used: 1-Jonathan Orozco, 16-Adrian Aldrete
Head coach: Miguel Herrera
Stats Summary: USA / MEX
Shots: 6 / 13
Shots on Goal: 4 / 3
Saves: 2 / 2
Corner Kicks: 5 / 4
Fouls: 13 / 13
Offside: 1 / 0
Misconduct Summary:
None
Officials:
Referee: Ricardo Montero (CRC)
Assistant Referee 1: Leonel Leal (CRC)
Assistant Referee 2: Octavio Jara (CRC)
4th Official: Walter Quesada (CRC)
Man of the Match: Ventura Alvarado