USMNT continues Gold Cup vs. Haiti on Friday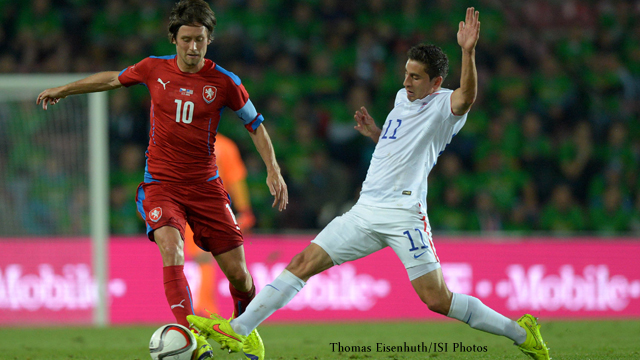 U.S. Men's National Team vs. Haiti
Gold Cup Group A Play
Gillette Stadium; Foxborough, Massachusetts
July 10, 2015
The United States Men's National Team's title defense continues against Haiti on Friday, July 10 at Gillette Stadium in Foxborough, Massachusetts. Kickoff is set for 8:30 p.m. ET and the match will be broadcast live on FOX Sports 1, UniMás and Univision Deportes Network.
After opening the tournament with a 2-1 win against Honduras, the MNT sets it sights on Haiti, who is coming from a 1-1 draw against Panama in its first match of the tournament. Haiti and the USA have squared off twice before in the tournament, the last time being in 2009. That game, which was also played at Gillette Stadium, marked the second time a team drew that U.S. in Gold Cup group play. The pair also previously squared off at the 2000 CONCACAF Gold Cup, a 3-0 U.S. win.
The teams have met 16 times overall, with the MNT holding an all-time record of 5-6-5 against the Caribbean nation. Haiti is one of only two CONCACAF teams to hold a winning record against the United States, along with Mexico.
The U.S. is riding a five-game winning streak and is unbeaten in its last six games. Four of those games were against opponents ranked in the top 20 in the world (3-0-1), including current FIFA World Cup champion Germany and No.6-ranked Netherlands.
Haiti will be the fourth CONCACAF team that the U.S. faces in 2015. The MNT is 4-0-0 on the year against its region rivals, having defeated Panama, Mexico, Guatemala and Honduras.
LAST TIME OUT #USAVHON: The USA began its run in the 2015 CONCACAF Gold Cup with a 2-1 win against Honduras on July 7 in front of a sell-out crowd of 22,357 fans in Frisco, Texas.
Michael Bradley became the fourth youngest U.S. MNT player to earn 100 caps.
With his two goals

on Tuesday's

Gold Cup opener against Honduras, Clint Dempsey moved to fourth on the U.S. MNT's all-time goal list in the regional championship with seven.
Eight MNT players made their Gold Cup debuts: Brad Guzan, Timmy Chandler, Ventura Alvarado, John Brooks, Fabian Johnson, DeAndre Yedlin, Gyasi Zardes and Graham Zusi.
U.S. ROSTER NOTES:
Clint Dempsey scored a pair of goals against Honduras to push his career total to seven Gold Cup Goals. Chris Wondolowski (5), Kyle Beckerman, Michael Bradley, and Mix Diskerud have all scored goals in previous Gold Cups. All five of Wondolowski's goals came in the 2013 Gold Cup, where he tied for the tournament's Golden Boot.
Sixteen players on this roster were a part of the 2014 FIFA World Cup squad, marking the highest return rate of players between the two rosters in years that the Gold Cup has followed the FIFA World Cup (1991, 2003, 2007, 2011, 2013).
Six players were a part of the USA team that won the Gold Cup in 2013: Kyle Beckerman, Alejandro Bedoya, Diskerud, Omar Gonzalez, Nick Rimando and Wondolowski.
The USA has reached the Gold Cup Final in five straight tournaments and six out of the last seven. The team finished in third place in 2003 after losing to a Kaka-led Brazil.
Dempsey (16), Bradley (12) and Beckerman (12) have all played in more than 10 Gold Cup games. Wondolowski (9) and Bedoya (8) have also seen their share of Gold Cup action.
Twelve players on the roster have previously played in a Gold Cup, of which nine have lifted the trophy.
The 23 players on the roster average 30 international appearances with 14 having played in a minimum of 20 matches for the U.S. MNT.
The USA has won the Gold Cup five times (1991, 2002, 2005, 2007, 2013) and finished as the runner-up four times (1992, 1998, 2009, 2011). The MNT has finished outside of the top four only once (2000).
Dempsey is the only two-time winner (2005, 2007) and the only four-time participant on the roster.
Nine different players from this roster have scored for the USA in 2015: Jozy Altidore, Bradley, John Brooks, Timmy Chandler, Dempsey, Diskerud, Aron Johannsson, Wondolowski and Gyasi Zardes.
Michael Bradley will captain the MNT for the USA's run in the Gold Cup. Bradley has started as the team's captain in seven straight matches.
Brad Evans assisted on the game-winning goal in the team's 2-1 win against reigning World Cup champion Germany on July 10 in Cologne.
Tim Ream has earned honors as the Bolton Wanderers Player of the Year in each of the last two seasons.
Against Netherlands on

June 5

, Brad Guzan made his first appearance since he played against Colombia on Nov. 14, 2014. It was his first start of 2015. Also picking up wins against Germany, Guatemala and Honduras, Guzan is a perfect 4-0-0 in 2015.
Fabian Johnson helped lift Borussia Mönchengladbach to a third-place finish in the Bundesliga that earned the club a spot in the 2016 UEFA Champions League group stage. The German side went 10-0-2 with Johnson in the starting lineup this season.
Johannsson recorded four goals in his final three matches as AZ Alkmaar snatched the third spot in the Dutch Eredivisie and a place in the 2016 UEFA Europa League.
Alfredo Morales played a key role in FC Ingolstadt securing first place in the second division in Germany and subsequent promotion to the Bundesliga.
Bradley has played every minute of the USA's nine matches so far in 2015. In addition to Bradley, two other MNT players have appeared in all nine games this year: Zardes and DeAndre Yedlin.
Zusi was both part of the team that represented the U.S. in the World Cup last summer and this year's Gold Cup roster. He made his first appearance of 2015 in the match against Guatemala on July 3 in Nashville.
William Yarbrough, 26, was born and raised in Mexico to two American parents. He has marshaled the backline for Club Leon to the 2013 Apertura and 2014 Clausura titles.
Ventura Alvarado, who is now cap-tied to the U.S. after starting in the match against Honduras on July 7, has appeared in seven straight matches since making his debut in a U.S. uniform on

March 25

against Denmark. Alvarado is a regular starter for the Club America team that captured the CONCACAF Champions League title and a trip to the FIFA Club World Cup. He has started four of the last five games for the U.S. MNT, in which the team is 4-0-0.
Seven leagues from six countries are represented on the roster: Canada, England, Germany, Mexico, Netherlands and the United States.
Dempsey leads the team in points with eight in 2015 on four goals.
USA vs. HAITI:
Haiti holds a 5-6-5 all-time winning record over the United States. The Caribbean nation joins Mexico as the only two CONCACAF countries to hold an all-time advantage over the U.S. All six of Haiti's wins against the U.S. came from 1968-73. The U.S. has gone 2-0-5 in the seven matches since.
The U.S. MNT is 1-0-1 all-time against Haiti in CONCACAF Gold Cup play.
The two teams last met in their final group match of the 2009 CONCACAF Gold Cup at Gillette Stadium in Foxborough. With the U.S. MNT already qualified for the quarterfinals, Haiti ran out to a 2-1 lead before Stuart Holden's 92nd minute goal salvaged a 2-2 draw to ensure the USA's first place finish in the group.
The teams' first Gold Cup meeting came in a 2000 group stage match played at Miami's Orange Bowl. The U.S. won 3-0 with goals from Jovan Kirovski, Eric Wynalda and Cobi Jones.
IN FOXBOROUGH:
The U.S. MNT has played in Foxborough a total of eight times in CONCACAF Gold Cup play, with the side going 6-0-2 all-time in matches at Gillette Stadium.
Both Gold Cup draws at Foxborough mark the only ties the U.S. has ever had in Gold Cup group stage.
Three players on the current roster have previously played in Gold Cup matches in Foxborough. Michael Bradley and Clint Dempsey played in the team's 4-0 win against El Salvador and 2-1 quarterfinal victory against Panama in the 2007 Gold Cup. Brad Evans appeared in the team's 2-2 draw with Haiti in the 2009 Gold Cup.
All-time U.S. MNT leading goal scorer Landon Donovan became the fourth player in National Team history to score four goals in a match during the team's 5-0 Gold Cup quarterfinal win against Cuba on July 19, 2003 at Gillette Stadium.
SPOTLIGHT: JOZY ALTIDORE: It will be a special moment for Jozy Altidore when he steps on the field against Haiti in the USA's second Gold Cup match at Gillette Stadium. Altidore, who grew up in Boca Raton, Florida, is the son of Haitian immigrants. Over the years he has become an attacking pillar for the MNT, scoring 27 goals in 80 appearances, and all the while he's carried along the Haitian roots passed to him by his parents.
IN FOCUS: Haiti
Fédération Haïtienne de Football
Founded: 1904
FIFA Affiliation: 1934
Head Coach: Marc Collat
FIFA World Ranking: 76
Best World Cup Finish: Group Stage (1974)
Best Gold Cup Finish: Quarterfinals (2002, 2009)
Leading Cap-Winner: Pierre Richard Bruny (87)
Leading Goalscorer: Emmanuel Sanon (19)
Haiti Roster By Position:
GOALKEEPERS (3): Steward Ceus (Atlanta Silverbacks/USA); Jaafson Orgine (Don Bosco/Haiti); Johny Placide (Stade de Reims/France)
DEFENDERS (8): Judelin Aveska (Gimnasia de Jujuy/Argentina); Frantz Bertin (Aiginiakos FC/Greece); Reginal Goreux (FC Rostov/Russia); Bitielo Jean Jacques (Kraze United/USA); Kim Jaggy (FC Aarau/Switzerland); Mechack Jerome (Charlotte Independence/USA); Kevin Lafrance (Miedź Legnica/Poland); Jean Jacques Pierre (SCO Angers/France)
MIDFIELDERS (9): Jean Sony Alcenat (Petrolul Ploiesti/Romania); Jean-Marc Alexandre (Negeri Sembilan/Malaysia); Wilde-Donald Guerrier (Wisla Krakow/Poland); Jeff Louis (Standard Liege/Belgium); James Marcelin (Fort Lauderdale Strikers/USA); Pascal Millien (Jacksonville Armada FC/USA); Soni Mustivar (Sporting Kansas City/USA); Sony Norde (Mohun Bagan/India); Sebastien Thuriere (Charleston Battery/USA)
FORWARDS (3): Kervens Belfort (Ethnikos Achnas/Cyprus); Jean Eudes Maurice (Nea Salamis Famagusta/Cyprus); Duckens Nazon (Stade Lavallois/France)
HAITI NOTES:
Haiti is 3-7-4 all-time in CONCACAF Gold Cup.
The Haitians have played two games previous to the tournament in 2015, going 0-0-2.
The roster is very diverse, with 13 different countries represented by the clubs.
Midfielder Soni Mutivar joined MLS with Sporting Kansas City this year and has made six appearances. He is one of five players on the roster that plays for USA-based clubs.
Marc Collat is an experienced manager. This will be his first big tournament at the Haitian helm. He began his managerial career in 1983 as a player coach for La Celle-Saint-Cloud.
Three players are 23-years old or younger: Belfort (23), Louis (22), Nazon (21).
On the field against Haiti:  
July 11, 2009 – Gillette Stadium – Foxborough, Mass. – CONCACAF Gold Cup – Group Stage
USA                 2         Arnaud 6, Holden 90+2
HAI                   2          Sirin 46, Chery 48
USA: 18-Luis Robles; 21-Brad Evans, 12-Jimmy Conrad (capt.), 14-Michael Parkhurst, 6-Jay Heaps; 20-Santino Quaranta (5-Kyle Beckerman, 63), 10-Stuart Holden, 15-Sam Cronin, 13-Colin Clark (11-Brian Ching, 76); 17-Kenny Cooper (9-Charlie Davies, 63), 22-Davy Arnaud
Subs not used: 1-Troy Perkins, 2-Heath Pearce, 3-Clarence Goodson, 7-Robbie Rogers 
Head Coach: Bob Bradley
HAI: 18-Jean Dominique Zérphirin; 3-Frantz Gilles, 6-Frantz Bertin, 13-Pierre Bruny (capt.), 19-Vaniel Sirin; 15-Ednerson Raymond, 12-James Marcelin, 8-Judelin Aveska, 14-Mones Chery; 9-Leonel Saint-Preux (16-Markorel Sampeur 84), 11-Fabrice Noel (23-Abel Thermueus, 79)
Subs not used: 1- Peterson Ocennat, 4- Paulin Jean, 5- Lesly Fellinga, 10-Robin Jerome, 7-Brunel Fucien 
Head Coach: Jairo Rios