USMNT, archrival Mexico meet in massive CONCACAF Cup clash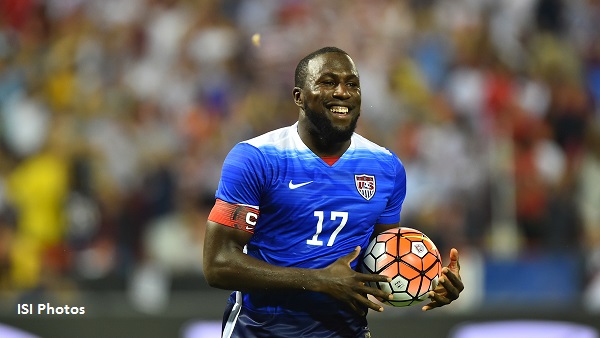 ASADENA, Calif. (Via U.S. Soccer – A sold out crowd of 90,000 fans awaits the marquee matchup for the U.S. Men's National Team this year. On Saturday at the Rose Bowl in Pasadena, California, the MNT faces off with its archrival Mexico in the winner-take-all CONCACAF Cup, which grants the victor a spot in the 2017 FIFA Confederations Cup in Russia.
The match will kick off at 6:30 p.m. PT and will be broadcast live on FOX Sports 1, FOX Sports GO, Univision and the Univision Deportes Network.
U.S. MNT head coach Jurgen Klinsmann has called a 23-player roster loaded with experience to Pasadena, which includes seven players with 50 or more caps and four – DaMarcus Beasley, Michael Bradley, Clint Dempsey, Tim Howard – that have surpassed 100 appearances for the United States. Sixteen of the 23 players were a part of the USA's 2014 World Cup Roster.
Klinsmann, as a player and coach, has never lost to Mexico in 11 games (5-0-5 all time), while the U.S. MNT is unbeaten in the last four years with a 3-0-3 record against Mexico under Klinsmann's guidance, including the team's first victory against El Tri on Mexican soil in 2012.
This CONCACAF Cup could not have come against a fiercer rival for the USA. The teams have a history that dates back to 1934 . While Mexico leads the series all time, the U.S. has seized the momentum in recent years and has dominated at home, amassing a 10-2-4 record against El Tri on U.S. soil since 2000. The teams most recently met in April in San Antonio, where the U.S. triumphed 2-0, a score line that the MNT has matched nine times and spawned the famous boast "Dos a Cero".
The USA's place in the CONCACAF Cup was secured when it won the 2013 CONCACAF Gold Cup. Mexico won the 2015 edition of the Gold Cup to qualify for this weekend's playoff that will send the winner to the 2017 Confederations Cup, which serves as a dress rehearsal for the 2018 World Cup. The U.S. has participated in the Confederations Cup four times, finishing as the runner-up in 2009 after defeating then No. 1-ranked Spain in the semifinal.
Oct. 10 offers an especially large opportunity for U.S. Soccer. Along with the Mexico game, the Under-23 Men's National Team will face Honduras in the semifinal of the 2015 CONCACAF Men's Olympic Qualifying Championship. The USA can clinch a berth in the 2016 Olympic Games in Rio de Janeiro with a win. The U-23s got off to a strong start in the tournament, topping their group with a perfect 3-0-0 record with a +11 goal differential. Their critical game against Honduras kicks off at 1 p.m. MT and will be broadcast on Telemundo.
U.S. Roster By Position:
GOALKEEPERS (3) : Brad Guzan (Aston Villa), Tim Howard (Everton), Nick Rimando (Real Salt Lake)
DEFENDERS (9) : Ventura Alvarado (Club America), DaMarcus Beasley (Houston Dynamo), Matt Besler (Sporting Kansas City), Geoff Cameron (Stoke City), Brad Evans (Seattle Sounders FC), Fabian Johnson (Borussia Mönchengladbach), Michael Orozco (Club Tijuana), Tim Ream (Fulham), Jonathan Spector (Birmingham City)
MIDFIELDERS (7) : Kyle Beckerman (Real Salt Lake), Alejandro Bedoya (Nantes), Michael Bradley (Toronto FC), Jermaine Jones (New England Revolution), Danny Williams (Reading), DeAndre Yedlin (Sunderland), Graham Zusi (Sporting KC)
FORWARDS (4) : Jozy Altidore (Toronto FC), Clint Dempsey (Seattle Sounders FC), Chris Wondolowski (San Jose Earthquakes), Gyasi Zardes (LA Galaxy)
U.S. Roster Notes
Jozy Altidore has appeared in nine games for the MNT this year. The forward scored a pair in the team's 2-1 win against Peru in September, which was the fourth multi-goal game of his international career. With four goals in 2015, he is now just one goal behind Brain McBride (30) for fourth on the MNT's all-time goal-scoring list.
Clint Dempsey led the way for the U.S. at this summer's Gold Cup where he won the Golden Boot; his seven goals are the most scored by an American player in a single Gold Cup in the 13 editions of the tournament. The Seattle Sounders FC forward has nine goals in nine games this year, and holds second place on the USA's all-time scoring list with 48 total.
DaMarcus Beasley is the leading cap-winner on the roster with 122 international appearances. He has scored 17 goals, including the clincher in the USA's 2-0 win in the World Cup qualifier against Mexico in 2005 that secured the team's place in the 2006 World Cup.
Michael Bradley moved over the 100-cap mark this year. The midfielder has punched in three goals while recording five assists in 2015. Bradley has the most goals against Mexico (4) of any U.S. player on the roster, including both in the USA's 2-0 win against El Tri in February of 2009 that began the final round of 2010 World Cup Qualifying.
Brad Guzan earned Golden Glove honors as the top goalkeeper at this summer's Gold Cup and has posted a 9-3-3 record since September of last year. Guzan shut down Mexico and helped the U.S. earn a 0-0 draw in its away World Cup Qualifier with El Tri in 2013 at Estadio Azteca.
Alejandro Bedoya has seven matches under his belt for the United States this year. The French Ligue 1 midfielder tallied an assist in the USA's 1-1 draw against Panama in the Group Stage of the Gold Cup.
Fabian Johnson is the only player on the U.S. roster currently competing in the UEFA Champions League. He has started four straight matches for Borussia Monchengladbach after being out five weeks due to injury, and scored a goal in his first match back.
Jermaine Jones has also been on the road to recovery, making his return from injury for the USA in September in starts against Peru and Brazil.
Gyasi Zardes was called in for his first MNT camp last January and has appeared in 15 games, starting in 13. The LA Galaxy forward has scored twice and assisted on four goals.
Kyle Beckerman has appeared in eight matches with the MNT this season, recording six starts. Beckerman started and contributed to the USA's 2-0 win against Mexico in April.
Danny Williams closed last month's Brazil game off on a high note, scoring a stunning long-range goal to put the USA on the scoreboard. Williams also scored a clutch goal that helped the U.S. knock off then sixth-ranked Netherlands in Amsterdam earlier in the year.
Matt Besler returned to the MNT fold last month, making his first appearance since February in the match against Peru. In just his second appearance for the United States, Besler earned a start in the MNT's 2013 road World Cup qualifier against Mexico at Estadio Azteca, where the U.S. earned a point for only the second time in team history.
Michael Orozco started against Peru and Brazil in September, taking up both the right back spot and then center back. Orozco – who moved to Club Tijuana this summer – owns a piece of history as the scorer of the game-winning goal in 2012 that led to the USA's first victory at Estadio Azteca.
Ventura Alvarado has appeared in 12 matches this year. The Club America defender made his debut in a U.S. uniform on

March 25

against Denmark, and he became cap-tied to the U.S. after starting in the first match of the Gold Cup against Honduras on

July 7

.
Geoff Cameron has started and played 90 minutes in all of Stoke City's 2015 Premier League matches. Cameron returned to action for the U.S. after last appearing in November 2014, making appearances against both Peru and Brazil.
Brad Evans has played in six games this year, coming on as a late sub in the MNT's 2-0 win against Mexico in April.
Tim Ream, who recently completed a transfer to Fulham, earned honors as the Player of the Year for his former club Bolton in each of the last two seasons. Ream has started in the last three MNT matches.
Nick Rimando is back in the mix after missing the September matches. The MLS All-Star has started five games in goal for the MNT this year.
Jonathan Spector returns to the squad after being a late add to the roster for the Peru and Brazil friendlies.
Chris Wondolowski is one of the top five scorers in MLS this year with 15 goals. He has scored double-digit goals in six straight MLS seasons.
DeAndre Yedlin has appeared in 15 of the 16 MNT matches in 2015 and tallied three assists, which puts him third on the team behind Michael Bradley (five) and Gyasi Zardes (four).
USA VS. MEXICO:
The United States is unbeaten in the last six games between the two teams (3-0-3), which is its longest unbeaten streak in the series.
Since 2000, the USA has posted a 13-5-5 record against Mexico. Overall, the U.S. is 18-32-14 all-time against Mexico dating back to 1934.
The most recent encounter came

April 15

in San Antonio, where goals from Jordan Morris and Juan Agudelo paced the U.S. to a 2-0 win.
The U.S. has gone 3-0-3 against Mexico during Jurgen Klinsmann's tenure as head coach, including the USA's first victory against Mexico at Estadio Azteca , and the 0-0 draw away in qualifying for the 2014 FIFA World Cup .
It has been almost four full years since the U.S. last loss to El Tri. That defeat came in the final of the 2011 Gold Cup when Mexico defeated the USA 4-2. Michael Bradley and Landon Donovan scored goals for the U.S., which jumped to an early 2-0 lead in the first 25 minutes. Mexico would rally to score the next four goals, a pair from Pablo Barrera and goals from Andres Guardado and Giovani dos Santos.
Michael Bradley has scored four goals against Mexico, his most against any country.
Jozy Altidore, DaMarcus Beasley, Michael Orozco, Chris Wondolowski have each scored one goal against Mexico.
Brad Guzan earned a clean sheet in his previous match against Mexico, a 0-0 draw at Estadio Azteca in World Cup Qualifying on March 26, 2013. That draw marked only the second time the United States has earned a point on the road in Mexico.
IN FOCUS: MEXICO
Federacion Mexicana de Futbol (FMF)
Founded: 1927
FIFA affiliation: 1929
Head Coach: Ricardo Ferretti
FIFA World Ranking: 18
Best World Cup Finish: Quarterfinal, 1970, 1986
Leading Cap-Winner: Claudio Suarez (178)
Leading Goalscorer: Jared Borgetti (46)
MEXICO ROSTER BY POSITION:
GOALKEEPERS (3) : Moises Munoz (Club America/Mexico); Alfredo Talavera (Toluca/Mexico); Jonathan Orozco (Monterrey/Mexico)
DEFENDERS (8) : Paul Aguilar (Club America/Mexico); Israel Jimenez (Tigres/Mexico); Miguel Layun (Porto/Portugal); Rafael Marquez (Hellas Verona/Italy); Hector Moreno (PSV Eindhoven/Netherlands); Diego Reyes (Real Sociedad/Spain); Arturo Rivas (Tigres/Mexico); Jorge Torres Nilo (Tigres/Mexico)
MIDFIELDERS (8): Javier Aquino (Tigres/Mexico); Andres Guardado (PSV Eindhoven; Netherlands); Jesus Manuel Corona (Porto/Portugal); Jonathan Dos Santos (Villarreal/Spain); Carlos Esquivel (Toluca/Mexico), Javier Güémez (Club America/Mexico); Elias Hernandez (Club Leon/Mexico); Hector Herrera (Porto, Portugal)
FORWARDS (4): Javier Hernandez (Bayer Leverkusen/Germany); Raul Jimenez (Benfica/Portugal); Oribe Peralta (Club America/Mexico); Carlos Vela (Real Sociedad/Spain);
MEXICO ROSTER NOTES:
2015 marked the seventh Gold Cup title for Mexico, the most of any country. The U.S. has won the second most with five Gold Cups.
Mexico is coming off of a 2-2 draw with FIFA's No. 1-ranked Argentina in Dallas.
A total of seven players are on teams competing in the prestigious UEFA Champions League.
Three players on Mexico's roster have scored vs. the United States: Carlos Vela, Andrés Guardado and Oribe Peralta.
Javier Hernández has 41 international goals, five shy of Jared Borgetti's record of 46. Hernández has played 90 minutes in all four of his games against the United States, but never scored a goal.
Juan Carlos Osorio has been named as Mexico's new coach, but interim manager Ricardo Ferretti will manage Mexico for this match. Osorio will be the eighth different manager that Mexico has had since the 2010 World Cup, including interim managers.
Eleven players on the roster play for Liga MX Clubs.

Jurgen Klinsmann Fact File

Jurgen Klinsmann became the 35th head coach in the history of the U.S. Men's National Team on July 29, 2011. Here is a look at the program's achievements since that time:
Overall, Klinsmann has a 42-19-14 record, third on the U.S. MNT's all-time coaching wins list. The top five include: Bruce Arena (71), Bob Bradley (43), Klinsmann (42), Bora Milutinovic (30) and Steve Sampson (26).
He won a record-setting 13 straight games at home from June 2, 2013 to Feb. 1, 2014, and has guided the team to an unbeaten record of 17-0-3 in its past 20 matches on home soil.
He led the MNT to a 12-game winning streak in 2013, the longest in program history.
The U.S. finished 2013 with a 16-4-3 record. The 16 victories and .761 winning percentage are all-time U.S. MNT records for a calendar year.
The U.S. finished the final round of 2013 CONCACAF World Cup qualifying atop the Hexagonal with a 7-1-2 overall record, including an unblemished 5-0-0 home record that was achieved by pitching clean sheets in all five matches.
The team won six straight games en route to capturing the 2013 CONCACAF Gold Cup, during which the squad scored a tournament-record 20 goals.
Committed to challenging the group against the best, under Klinsmann, the United States has a 4-3-2 record against teams ranked in the top 10 in the world. With Klinsmann at the helm, the U.S. has also collected six historic victories:

Beating four-time World Cup champion Italy for the first time
Earning the first win against Mexico on Mexican soil
Defeating Jamaica on the road for the first time in World Cup Qualifying
Topping second-ranked Germany in U.S. Soccer's Centennial Celebration Match
Beating Netherlands and Germany on the road this June

Klinsmann's U.S. coaching debut was a 1-1 draw against Mexico on Aug. 10, 2011, at Lincoln Financial Field in Philadelphia. During Klinsmann's abbreviated 2011 tenure, the USA's two victories included a 1-0 win against Honduras (Oct. 8) and a 3-2 victory against Slovenia (

Nov. 15

).
Klinsmann was named Germany's National Team manager in 2004 and guided Germany to a 20-6-8 record and a third-place finish in the 2006 FIFA World Cup. He earned Coach of the Year honors in Germany, and two years later, he took over the head coaching position at Germany's most high-profile club, Bayern Munich.
As a player, Klinsmann played 17 club seasons from 1981-98 with the following teams: Stuttgarter Kickers (1981-84), VfB Stuttgart (1984-89), Internazionale (1989-92), Monaco (1992-94), Tottenham Hotspur (1994-95, 97-98), Bayern Munich (1995-97) and Sampdoria (1997-98). During that time, he scored 226 goals in 506 appearances. He was named German Player of the Year in 1988 and 1994 and FWA Footballer of the Year in 1995.
Klinsmann earned 108 caps with the German National Team, scoring 47 goals. He participated in three World Cups (1990, 1994 and 1998) and won the 1990 FIFA World Cup.
Klinsmann was born on July 30, 1964, in Goppingen, Germany.