USA roster announced for 2019 FIFA U-20 World Cup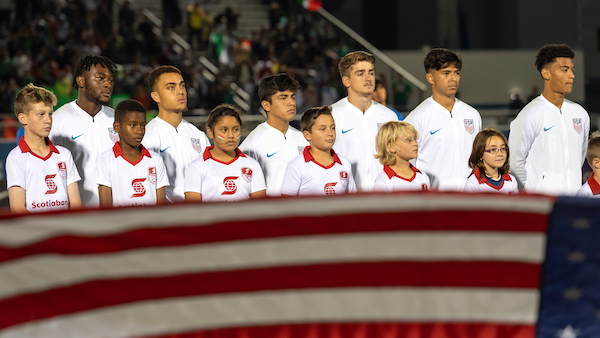 CHICAGO (Via U.S. Soccer) – U.S. Under-20 Men's National Team head coach Tab Ramos has selected the 21 players who will represent the United States at the 2019 FIFA U-20 World Cup, to be held in Poland from May 23 to June 15.
The USA kicks off the tournament Friday, May 24 against Ukraine (2:30 p.m. ET; FS1), faces Nigeria on Monday, May 27 (2:30 p.m. ET; FS1) and wraps up the group stage on Thursday, May 30 vs. Qatar (2:30 p.m. ET; FS2).
"I am excited for the players who will get the chance to be able to participate in a World Cup. It's an unforgettable experience and one that they will value forever," Ramos said. "This is always an extremely tough decision to make as a coach. There were an additional four or five players who also really deserve to go this time."
Nineteen of the 21 players on the roster have spent at least one season in the U.S. Soccer Development Academy. Twelve players are currently playing internationally, while nine are based domestically.
Players born on or after Jan. 1, 1999 are eligible for the 2019 U-20 World Cup. The U.S. roster is made up of six players born in 1999, 12 born in 2000 and three born in 2001.
"This team has excellent leadership and competitiveness on and off the field," Ramos said. "We are all looking forward to taking advantage of this opportunity which was earned with unprecedented focus, consistency and determination at the Concacaf U-20 Championship."
2019 FIFA U-20 World Cup Roster by Position (Club; Hometown; U-20 Caps/Goals)

GOALKEEPERS (3): C.J. Dos Santos (Benfica/POR; Foxchase, Pa.; 2/0), David Ochoa (Real Salt Lake; Oxnard, Calif.; 4/0), Brady Scott (Köln/GER; Petaluma, Calif.; 9/0)
DEFENDERS (6): Sergino Dest (Ajax/NED; Almere-Stad, Netherlands; 8/1), Chris Gloster (Hannover 96/GER; Montclair, N.J.; 11/0), Aboubacar Keita (Richmond Kickers; Columbus, Ohio; 2/0), Mark McKenzie (Philadelphia Union; Bear, Del.; 10/3), Matthew Real (Philadelphia Union; Drexel Hill, Pa.; 10/0), Chris Richards (Bayern Munich/GER; Birmingham, Ala.; 8/0)
MIDFIELDERS (6): Edwin Cerrillo (FC Dallas; Frisco, Texas; 0/0), Chris Durkin (D.C. United; Glen Allen, Va.; 2/0), Richard Ledezma (PSV Eindhoven/NED; Phoenix, Ariz.; 4/0), Alex Mendez (Freiburg/GER; Los Angeles, Calif.; 15/8), Paxton Pomykal (FC Dallas; Highland Village, Texas; 9/3), Brandon Servania (FC Dallas; Dallas, Texas; 8/2)
FORWARDS (6): Ayo Akinola (Toronto FC/CAN; Brampton, Ont.; 12/9), Konrad De La Fuente (Barcelona/ESP; Miami, Fla.; 2/1), Ulysses Llanez (Wolfsburg/GER; Lynwood, Calif.; 11/7), Justin Rennicks (New England Revolution; South Hamilton, Mass.; 13/6), Sebastian Soto (Hannover 96/GER; San Diego, Calif.; 5/2), Tim Weah (Celtic FC/SCO; Rosedale, N.Y.; 0/0)
Since the start of the cycle in January 2018, the U-20s have put together a 13-2-0 international record, testing themselves against 12 different national teams during the course of eight training camps.
Fourteen players return from the squad that won the USA's second-consecutive confederation title at the 2018 Concacaf U-20 Championship. Alex Mendez took home the Golden Ball as the tournament's best player, while Brady Scott won the Golden Glove as its best goalkeeper. Eight players on the World Cup roster made the Best XI at the regional championship: Scott and Mendez, defenders Sergino Dest, Chris Gloster and Mark McKenzie, midfielder Brandon Servania and forwards Ayo Akinola and Ulysses Llanez.
On the back of his standout performance at the Concacaf U-20 Championship, Mendez also took home 2018 U.S. Soccer Young Male Player of the Year honors. The midfielder scored eight goals and added six assists in the tournament and delivered in the team's most critical moments, netting the opener against Costa Rica to clinch a World Cup berth and then bagging a brace in the championship match against Mexico.
Scott is the lone returnee from the 2017 FIFA U-20 World Cup roster, while six players represented the USA at the 2017 FIFA U-17 World Cup in India: Ayo Akiniola, Dest, Gloster, C.J. Dos Santos, Chris Durkin and Tim Weah. All except Dos Santos started games for the U.S. during the team's run to the quarterfinals. Weah is the lone player capped by the senior MNT, appearing in eight matches for the full team in 2018.
The 2019 FIFA U-20 World Cup features 24 nations divided into six groups of four teams. The top two finishers in each group, as well as the four best third-placed teams advance to the knockout round. All 52 matches of the tournament will be played in six venues across Poland.
2019 FIFA U-20 World Cup – Group D Schedule – USA
| | | | | |
| --- | --- | --- | --- | --- |
| Date | Match | Kickoff (ET) | Venue | TV Info |
| Friday, May 24 | USA vs. Ukraine | 2:30 p.m. | Bielsko-Biala Stadium; Bielsko-Biala, Poland | FS1 |
| Monday, May 27 | USA vs. Nigeria | 2:30 p.m. | Bielsko-Biala Stadium; Bielsko-Biala, Poland | FS1 |
| Thursday, May 30 | USA vs. Qatar | 2:30 p.m. | Tychy Stadium; Tychy, Poland | FS2 |
The United States is one of just two countries to reach the quarterfinals of the last two
FIFA U-20 World Cups, and one of five nations to qualify for the last four tournaments. The USA has qualified for 16 of 22 all-time U-20 World Cups, tied for second-most in the world.
ROSTER NOTES:
This will be the fourth World Cup for Ramos as U-20 MNT head coach. One of the most accomplished figures in U.S. Soccer history, this summer's tournament will see Ramos become the first male to go to 11 FIFA world championships as a player or coach.
The roster breakdown by age: 20 (three players), 19 (eight players) 18 (eight players), 17 (one player).
The USA roster consists of nine players based domestically, and 12 based internationally in Germany (six), Netherlands (two), Canada, Portugal, Scotland and Spain (one each).
Ayo Akinola enters the World Cup as the team's leading scorer with nine goals. The Toronto FC forward scored seven of those goals at the 2018 Concacaf U-20 Championship.
Alex Mendez is the team's most experienced player with 15 appearances at the U-20 level. Nineteen of the 21 players on the roster have earned caps with the U-20 MNT.
Forward Tim Weah helped Celtic take home its eighth-straight Scottish Premier League title last week, starting in a 3-0 win at Aberdeen to clinch the championship. Celtic will also take part in the Scottish Cup Final against Hearts on May 25.
Forward Sebastian Soto made his Bundesliga debut for Hannover 96 last month as a substitute against Wolfsburg. Last week, Soto registered his 15th and 16th goals of the season for Hannover's U-19s in a 2-0 win at Dynamo Dresden.
Midfielders Edwin Cerillo and Paxton Pomykal have become fixtures for FC Dallas this season. In the club's 10 matches, they have made eight and nine appearances, respectively. Pomykal has made MLS Team of the Week three times in 2019.
Completing a comeback from injury, midfielder Richard Ledezma made his first start for PSV Eindhoven's U-19s last week, scoring a goal against NAC Breda.
After returning from injury, goalkeeper Brady Scott earned his first start of 2019 for FC Köln II last week, keeping a clean sheet in a 5-0 win against Fortuna Düsseldorf.
Goalkeeper C.J. Dos Santos made his debut with Benfica's U-23 team last month against Estoril Praia.
Midfielder Brandon Servania has played every minute for USL League One club North Texas SC so far this season.
The three players born in 2001 — goalkeeper David Ochoa as well as forwards Konrad De La Fuente and Ulysses Llanez — are also age-eligible for the 2021 FIFA U-20 World Cup.
The roster's 19 U.S.-born players hail from 12 different states, with the most coming from California (five).
ACADEMY TIES
Nineteen of the 21 players have spent at least one season in the U.S. Soccer Development Academy.
In addition to the nine players from MLS teams that came up through their respective academies, the remaining 11 players last played for the following DA teams: Dos Santos (Philadelphia Union), Gloster (New York Red Bulls), Keita (Columbus Crew SC, currently on loan from Columbus), Ledezma (Real Salt Lake), Llanez (LA Galaxy), Mendez (LA Galaxy), Richards (FC Dallas), Scott (De Anza Force), Soto (Real Salt Lake), Weah (New York Red Bulls).
Three players won Conference Player of the Year Honors in the 2017-18 season: Ledezma (U-18/19, West Conference), Llanez (U-16/17, West Conference) and Richards (U-18/19, Central Conference).
Seven players were named to Academy Best XIs last season: Keita (Central U-18/19), Ledezma (West U-18/19), Llanez (West U-16/17), Mendez (West U-18/19), Ochoa (West U-16/17), Richards (Central U-18/19) Soto (West U-18/19).
Pomykal and Servania were part of the FC Dallas U-15/16 team that won the 2016 Development Academy Championship. Pomykal was also part of the club's U-17/18 team that also won the championship that year.
Richards won the 2017 U-17/18 Academy Championship with Texans SC Houston.