USA facing Ghana in U-20 Women's World Cup Group C finale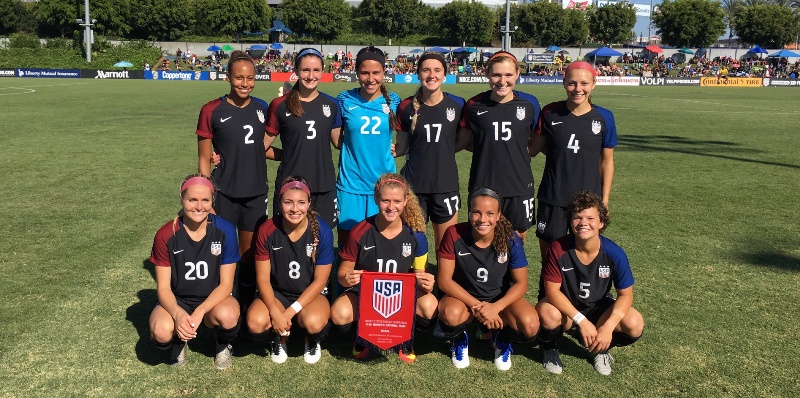 U.S. U-20 Women's National Team vs. Ghana
2016 FIFA U-20 Women's World Cup
Sir John Guise Stadium; Port Moresby, Papua New Guinea
Nov. 21, 2016
(Via U.S. Soccer) – After taking four points from its first two 2016 FIFA U-20 Women's World Cup games with a draw and a win against France and New Zealand, respectively, the USA will finish Group C play against Ghana on Nov. 21at Sir John Guise Stadium (1 a.m. ET on FS1).
While the USA played its first two group games at PNG Football Stadium, Sir John Guise Stadium will not be unfamiliar ground as the majority of the U.S. roster played two matches at the venue last May during a pre-World Cup test trip to PNG. Like all the matches of the tournament, USA vs. GHA can also be watched on FOX Sports GO and FOXSoccer2Go. The match will also be broadcast in Spanish on NBC Universo (1 a.m. ET and delayed until 3 a.m. PT). The clash is a critical one for both teams as a win or a tie for the USA will ensure qualification to the quarterfinal round. Ghana needs to win to have a chance to go through.
WATCH THE USA U-20 WNT ON FOX SPORTS; FOX PROVIDING FREE WEB STREAM OF 2016 FIFA U-20 WOMEN'S WORLD CUP: All of the USA's group games are being broadcast live on FS1 and all 32 matches of the tournament are being broadcast across the FOX platforms. A total of 19 matches will air on FS1 and 12 will be on FS2. All four of the quarterfinals, both semifinals, the third-place match and the championship game will be shown on FS1. All matches are also available for live and on-demand streaming via the FOX Sports GO app, the FOX Soccer 2GO app and online at FOXSportsGO.com and on-demand at FOXSoccer2GO.com . Fans can enter a free promo code to watch the games on the FOXSoccer2Go.com registration page. The promo code is "U20WNT" and is valid for entry on foxsoccer2go.com/buy until December 3 for 14 days of free access to FOX Soccer 2Go without credit card payment required. In addition, the NBC family of networks will show all 32 matches in Spanish on TelemundoDeportes.com and the En Vivo App or on NBC Universo.
2016 U.S. U-20 FIFA WOMEN'S WORLD CUP SCHEDULE
Date
Opponent
Time (ET)
TV/Goal Scorers
Venue
Nov. 14
France
0-0 T
—
PNG Football Stadium;
Port Moresby, PNG
Nov. 17
New Zealand
3-1 W
Sanchez, Pugh, Watt
PNG Football Stadium;
Port Moresby, PNG

Nov. 21

Ghana

1 a.m.

FS1, FOX Soccer 2GO, FOX Sports GO, NBCU
Sir John Guise Stadium;
Port Moresby, PNG
Group C Schedule
Monday, Nov. 14
France 0, USA 0
Ghana 0, New Zealand 1
Thursday, Nov. 17
France 2, Ghana 2
New Zealand 1, USA 3
Monday, Nov. 21
New Zealand vs. France
USA vs. Ghana
Group C Standings
| | | | | | | | |
| --- | --- | --- | --- | --- | --- | --- | --- |
| Team | W | L | T | GF | GA | GD | Pts |
| USA | 1 | 0 | 1 | 3 | 1 | +2 | 4 |
| NZL | 1 | 1 | 0 | 2 | 3 | -1 | 3 |
| FRA | 0 | 0 | 2 | 2 | 2 | 0 | 2 |
| GHA | 0 | 1 | 1 | 2 | 3 | -1 | 1 |
ADVANCEMENT SCENARIOS: The USA currently sits atop Group C and will advance to the quarterfinal round with:
1) A win. A win against Ghana would clinch first place in the group.
2) A tie. A tie with Ghana would see the USA finish first in the group IF France and New Zealand draw or if France beats New Zealand by just one goal. A tie with Ghana would see the USA finish second in the group IF France defeats New Zealand by more than one goal or if New Zealand defeats France.
3) A loss by one goal. If the USA loses to Ghana by just one goal, the USA would finish tied with Ghana on points, but would still be ahead on goal difference (+1 to 0) and thus would finish ahead of Ghana. If France and New Zealand tie, the USA would win the group based on a better goal difference than Ghana and New Zealand. If France vs. New Zealand produces a winner, the USA would finish in second place.
TOURNAMENT FORMAT: The FIFA U-20 Women's World Cup – which is staged every two years – features 16 nations divided into four groups of four teams each. The top two teams in each group advance to the quarterfinal stage being held Nov. 24 and 25. After two matches in each group, only host PNG and Canada have been eliminated from the quarterfinals with much left to play for in all four groups during over third and final match days. The semifinals will take place Tuesday, Nov. 29, and the Final and Third-Place matches are on Saturday, Dec. 3. All the matches are being staged on grass surfaces over the four stadiums, which are all in the capital of Port Moresby. Players eligible for this age group tournament must have been born on or after Jan. 1, 1996. The tournament will be played in smaller venues than in previous editions. Bava Park and PNG Football Stadium seat 5,000 fans while Sir John Guise Stadium and the National Football Stadium seat 15,000.
U.S. ROSTER BY POSITION – DETAILED
GOALKEEPERS (3): Rose Chandler (Penn State; Atlanta, Ga.), Brooke Heinsohn (New England FC; Norfolk, Mass.), Casey Murphy (Rutgers; Bridgewater, N.J.)
DEFENDERS (7): Madeline Elliston (Penn State; Omaha, Neb.), Emily Fox (FC Virginia; Ashburn, Va.), Sabrina Flores (Notre Dame; Livingston, N.J.), Ellie Jean (Penn State; Coventry, Conn.), Natalie Jacobs (Notre Dame; Coto de Caza, Calif.), Taylor Otto (UNC; Apex, N.C.), Kaleigh Riehl (Penn State; Fairfax Station, Va.)
MIDFIELDERS (7): Marley Canales (San Diego Surf; San Diego, Calif.), Katie Cousins (Tennessee; Forest, Va.), Savannah DeMelo (Beach FC; Bellflower, Calif.), Kelcie Hedge (Washington; Post Falls, Idaho), Emily Ogle (Penn State; Strongsville, Ohio), Courtney Petersen (Virginia; Canton, Mich.), Parker Roberts (Florida; Leawood, Kan.)
FORWARDS (4): Ashley Sanchez (So Cal Blues: Monrovia, Calif.), Mallory Pugh (Real Colorado; Highlands Ranch, Colo.), Jessie Scarpa (North Carolina; Lakeland, Fla.), Ally Watt (Texas A&M; Colorado Springs, Colo.)
U.S. ROSTER NOTES
With the game's opening goal against New Zealand, Ashley Sanchez became the first U.S. Youth Women's National Team player to score in both a FIFA U-17 and U-20 World Cup in the same year. She scored against Paraguay and twice against Japan in group play at the 2016 FIFA U-17 Women's World Cup held in Jordan this past October.
Kristie Mewis is the only other U.S. player to score in both a U-17 and U-20 Women's World Cup, but she did it two years apart. Mewis' two goals in the FIFA U-17 Women's World Cup came in 2008 in New Zealand and her goal in the FIFA U-20 Women's World Cup came in Germany in 2010.
Sanchez's goal vs. New Zealand was her fifth at the U-20 level while Mallory Pugh's strike was her 18th for the U-20 WNT in 25 caps.
Ally Watt's goal was her sixth at the U-20 level. She scored just three minutes after entering the match in the 79th minute.
In the New Zealand match, neither team made a change at halftime in the hot conditions, but the USA made all three of its subs in the second half as head coach Michelle French brought on attackers Jessie Scarpa in the 57th minute, Ally Watt in the 79th and defender Natalie Jacobs in the 90th.
Fifteen of the 18 field players on the U.S. roster have seen action through the first two games.
Seven players have played all 180 minutes: Maddie Elliston, Ellie Jean, Casey Murphy, Emily Ogle, Taylor Otto, Kaleigh Riehl and Ashley Sanchez. Mallory Pugh has played almost the whole two games coming out in the 90th minute of the New Zealand match.
The USA entered the 2016 FIFA U-20 Women's World Cup having compiled a record of 15-4-3 over this two-year cycle in international matches. Two of the four losses were to youth WNT power Japan.
In the USA's first Group C match vs. France, the USA made its first substitute when Savannah DeMelo replaced Parker Roberts in the 64th minute. U.S. head coach Michelle French used her second sub to send on Emily Fox for Courtney Petersen in the 76th minute and the final change was Ally Watt for Jessie Scarpa in the 79th.
Team captain Mallory Pugh, in her second U-20 WNT cycle, is the most capped player on the roster with 25 U-20 international matches and the top scorer with 18 goals, but 19 players on the roster have 10 or more U-20 caps.
Pugh was the youngest player on the 2014 U-20 Women's World Cup Team, where she started all four games, and is age-eligible to play in the 2018 tournament as well.
Pugh currently has 17 caps and four goals for the full WNT, which includes her goal against Colombia in the 2016 Olympics that made her the youngest American soccer player to score in an Olympic Games.
Pugh led the team with seven goals and four assists in CONCACAF U-20 qualifying, where she won the Golden Boot as top scorer and the Golden Ball as the best player.
Thirteen players on the roster have scored international goals, including Jessie Scarpa (6), Ally Watt (6), Ashley Sanchez (5), Marley Canales (4), Kelsey Hedge (4), and Emily Fox (3).
Of the 20 players who helped the USA win the 2015 CONCACAF U-20 Women's Championship and qualify for the World Cup last December (a tournament that was held during the college season, making several players unavailable), French chose 13 for the World Cup roster. Those players are: Canales, Chandler, DeMelo, Flores, Fox, Hedge, Heinsohn, Jacobs, Otto, Pugh, Roberts, Sanchez and Scarpa.
The age cut-off date for this Women's World Cup is players born on or after Jan. 1, 1996. Eight of the 21 players selected by French were born in 1996, eight were born in 1997, four in 1998 and one in 1999. The four '98s – DeMelo, Heinsohn, Fox and Pugh, as well as Sanchez, are age-eligible for the 2018 FIFA Under-20 Women's World Cup in France.
Sanchez, who captained the USA at the FIFA Under-17 Women's World Cup in Jordan while scoring three goals, is the youngest player on the team and the only one born in 1999. Sanchez had three goals with five assists at the CONCACAF U-20 qualifying tournament and scored the game-winning goal in the championship game win against Canada.
Fourteen different states are represented, led by California with four players and Virginia with three. New Jersey and Colorado have two each.
Nine different colleges are represented on the roster, led by Penn State with five players. Notre Dame and North Carolina each have two players.
The roster includes five players who helped Penn State win the NCAA Championship in 2015 in defenders Kaleigh Riehl, Madeline Elliston and Ellie Jean, midfielder Emily Ogle, and Rose Chandler, who was a back-up 'keeper.
Just five players on the roster have yet to start college with the rest having played at least one season so far (aside from Taylor Otto, who has started college but has yet to play a college match). The players who have yet to start college are UCLA commits Mallory Pugh and Ashley Sanchez, goalkeeper Brooke Heinsohn, who is headed to Duke, midfielder Savannah DeMelo (USC) and defender Emily Fox (UNC).
Besides Pugh, two other players were on the 2014 U-20 Women's World Cup roster in defender Kaleigh Riehl and goalkeeper Rose Chandler, but neither played in the tournament.
Chandler earned the Golden Glove as the best goalkeeper during the qualifying tournament and Riehl has been a steady leader of the backline during 2016.
Goalkeepers Casey Murphy and Brooke Heinsohn, who are both 6-foot-1, are the tallest GKs to represent the USA in a Women's World Cup.
Murphy has played the most games in goal for the USA this year with 10, starting nine, Chandler has played six times this year, starting four.
Nine members of the U.S. team that won the 2015 FIFA Women's World Cup also won a U-20 Women's World Cup. They are Lori Chalupny, Ashlyn Harris and Heather O'Reilly (2002), Meghan Klingenberg, Sydney Leroux, Alex Morgan and Alyssa Naeher (2008), and Julie Johnston and Morgan Brian (2012). Current U.S. WNT players Samantha Mewis, Kealia Ohai and Crystal Dunn also won a U-20 WWC in 2012.
U.S. U-20 WNT – USA vs. GHA Pre-Game Quotes
U.S. head coach MICHELLE FRENCH
On moving through group play:
"I think the players have done a tremendous job sticking with the game plan that we put in front of them considering the two different (styles of) opponents and it's going to be the same heading into the Ghana game. The ability and willingness of our players to compete every single game from the first minute until the very end has been extremely impressive. We were under a lot of pressure against France and we were able to hold them without a goal and that was a big first point for us. Then against New Zealand, we wanted to come out really aggressive and put some more pressure on them. The goal was to score in the first five minutes so getting two in eight minutes was tremendous. It was a really good start for this group, but we know the job isn't close to being done as we head into the Ghana game."
On facing Ghana in the third and final group match:
"Ghana is athletic, they are tricky, they are unorthodox and they are unpredictable and that's not something we see very often in the States, whether it's in club or college. It's going to be extremely tricky and new for our players, but as a staff, if we can do the right things and show them the right pictures, hopefully we will give ourselves a good chance in the match."
On not looking forward to the quarterfinals:
"It is step-by-step for us. The quarterfinal is not something that is in our minds right now as a coaching staff or the players. Our focus is on Ghana. It was good to get the three points (against New Zealand), but now we have to focus on our third group game."
U.S. forward MALLORY PUGH
On getting the win vs. New Zealand in the USA's second group match:
"We knew New Zealand was going to be a great team heading into the game, but we stuck to the game plan, trusted in each other, grinded it out and got the job done."
U.S. midfielder EMILY FOX
On getting the win vs. New Zealand in the USA's second group match:
"I think it was a great three points for us. We knew that in order to move on that we needed to win. We knew that New Zealand was going to be a hard-working team and we were able match their mentality."
On facing Ghana in the third and final group match:
"From watching Ghana and the results that they've had, we definitely know they are a dangerous team. I think that it's going to be a hard game but we have the mentality and we'll do everything we have to win. I'm excited to see how it will go for us."
On playing in her first World Cup:
"I try not to get it in my head too much and treat it like any other soccer game. But the crowd going crazy when you do something good or when your team scores, it's a good feeling."
On many players playing in their first World Cup:
"Everybody is always going to be a little nervous to play in a World Cup, but the way we are very family-oriented and very team-oriented and knowing everybody has each other's back makes it a lot easier to come into the game or start a game as we know we are all together as a unit."
On the crucial third Group C match vs. Ghana:
"We come in with the mentality that we want to and need to win every game. But we always take it one game at a time because that's how it works."
U.S. forward ASHLEY SANCHEZ
On playing in the U-17 Women's World Cup earlier this year, and on the first two group games and looking forward to the third:
"I think coming from the seventeens World Cup and getting a feel for the intensity of a World Cup meant less stress for me getting used to this environment here. After two good games, I think we are really confident and now we just want to get three points against Ghana and get first in the group."
U.S. midfielder KATIE COUSINS
On the results of the first two matches:
"We came in prepared for the tournament and once we got our nerves out a little bit, we just know we were ready and that we could do it."
On facing Ghana in the third and final group match:
"I think Ghana is going to be a really tough game, but I know we are so ready for it. We are very excited and we're in a good position. I think we are going to come out with some fire and ready to go get three points."
BY THE NUMBERS
1.17 Goals allowed per international match by the U.S. U-20s this year
2.33 Goals scored per international match by the U.S. U-20s this year
7 Goals scored by Mallory Pugh in CONCACAF qualifying to lead the team
8 U-19/U-20 Women's World Cups for which the USA has qualified
18 U-20 International goals for Mallory Pugh
25 Career U-20 caps for Mallory Pugh, the most on this Women's World Cup roster
31 Players to see action in a U.S. U-20 international match this year
28 Goals scored by the USA in 12 international matches this year
990 Minutes played in international matches this year by Kaleigh Riehl, most on the team
IN FOCUS: GHANA
Ghana Football Federation
Head Coach: Mas-Ud Dramani
Best FIFA U-20 Women's World Cup Finish (fourth appearance): Group Play
USA VS. GHANA SERIES
The USA will face Ghana in group play at the FIFA U-20 Women's World Cup for the third time. In 2010, the teams played to a 1-1 draw in Dresden, Germany as Sydney Leroux scored the USA's lone goal. In 2012, the USA won 4-0 as Maya Hayes scored a hat trick and Ghana scored an own goal.
GHANA ROSTER
GOALKEEPERS (3): 1-Azume Adams (Ange IF, SWE), 16-Victoria Agyei (ZFK Obilic, SRB), 21-Rose Baah (Samaria Ladies, GHA)
DEFENDERS (2): 5-Belinda Anane (Fabulous Ladies FC), 4-Adu Agyemang (Ash Town Ladies)
MIDFIELDERS (13): 2-Vida Opoku (Lady Strikers (GHA), 6-Patience Adjetey (Inter Royal Ladies FC (GHA), 7-Ernestina Abambila (unaffiliated), 8-Wasila Diwura-Soale (Hasaacas Ladies FC), 10-Princella Adubea (Ampem Darko Ladies), 11-Rita Darko (GT Mawena Ladies), 12-Vinoria Kuzagbe (Ideal Ladies), 13-Samira Abdul-Rahman (Lepo Stars Ladies FC), 14-Lily Niber-Lawrence (Hasaacas Ladies FC), 15-Faustina Ampah (Blessed Ladies), 18-Rasheda Abdul-Rahman (Lepo Stars Ladies FC), 19-Sandra Boakye (Fabulous Ladies FC), 20-Fatima Alhassan (ZFK Obilic, SRB)
FORWARDS (3): 3-Jane Ayieyam (Police Ladies), 9-Sandra Owusu-Ansah (Supreme Ladies), 17-Veronica Appiah (Hasaacas Ladies FC)
GHANA NOTES
The sometimes cruel nature of soccer has been very apparent to Ghana so far in the tournament and if not for several late game defensive breakdowns, Ghana's World Cup so far could have been much different. Ghana gave up an 89th-minute goal to New Zealand in its first match to lose 1-0 despite having far more dangerous chances and then despite getting dominated by France possession-wise and in total shots, carried a 2-1 lead into the fifth minute of second half stoppage time before giving up an equalizer on a brilliant header from Clara Mateo with just seconds left.
Ghana had just four shots on target against a France team that made six changes from the lineup that faced the USA, but scored on two of them, getting a 44th minute goal from Player of the Match Sandra Owusu-Ansah and a 65th minute goal against the run of play from Jane Ayieyam.
In addition, Samira Abdul-Rahman saw her 82nd-minute penalty kick well-saved by France goalkeeper Mylene Chavas.
Ghana has played 14 field players in the tournament with seven playing all 180 minutes.
Ghana is competing in its fourth consecutive FIFA U-20 Women's World Cup, but the West Africans have yet to advance to the quarterfinals.
In 2010 in Germany, Ghana beat Switzerland and tied the USA, but did not advance after losing to the Korea Republic. In 2012, Ghana was in the Group of Death with Germany, USA and China PR and lost all three matches.
At Canada 2014, Ghana were one of three teams in Group A that finished on six points, but Canada and Korea Republic advanced on goal difference and Ghana became the first team ever not to advance out of group play in a FIFA women's tournament after earning six points.
Unlike the qualifying road to Canada 2014 when the Ghana made it to the finals having played just one match and scored a single goal, this team played six times during qualifying and scored 17 times with Sandra Owusu Ansah scoring four times.
Ghana had few problems in overcoming Senegal 8-0 on aggregate in the first round of African qualifying and then added a 3-0 victory against Equatorial Guinea in the second round. In the final round of playoffs for a place in Papua New Guinea, Ghana faced Ethiopia and after being held to a 2-2 draw in Addis Ababa, they made no mistake in the return leg, winning 4-0.
Bashir Hayford, who was in charge of the team at Canada 2014, resigned shortly before the start of the qualifiers, and Mas-ud Didi Dramani to the helm. The former Black Stars international made history in 2012 when he took the Ghana to the bronze medal at the FIFA U-17 Women's World Cup. He then won the men's Ghana Premier league with Asante Kotoko in the next two seasons.
LAST TIME
On the field for the USA:
Nov. 17, 2016 – PNG Football Stadium; Port Moresby, Papua New Guinea
2016 FIFA U-20 Women's World Cup – Group C
USA 3       Sanchez 3; Pugh 8; Watt 82
NZL 1       Coombes 76
Lineups:
USA: 1-Casey Murphy; 5-Madeline Elliston, 6-Taylor Otto, 3-Kaleigh Riehl, 14-Ellie Jean; 16-Emily Fox (11-Ally Watt, 79), 10-Emily Ogle, 20-Katie Cousins, 7-Savannah DeMelo (15-Jessie Scarpa, 57), 9-Mallory Pugh (capt.) (19-Natalie Jacobs, 90); 18-Ashley Sanchez
Subs Not Used: 2-Parker Roberts, 4-Sabrina Flores, 8-Courtney Petersen, 12-Rose Chandler, 13-Marley Canales, 17-Kelcie Hedge, 21-Brooke Heinsohn
Head Coach: Michelle French
NZL: 21-Nadia Olla; 2-Sarah Morton, 3-Sophie Stewart-Hobbs, 4-Elizabeth Anton, 6-Meikayla Moore (capt.); 7-Isabella Coombes, 10-Daisy Cleverley, 18-Grace Jale (16-Tayla Christensen, 69); 8-Jasmine Pereira, 9-Martine Puketapu (11-Emma Rolston, 80), 13-Paige Satchell (19-Jacqui Hand, 87)
Subs Not Used: 1-Tessa Nicol, 5-Samantha Murrell, 12-Malia Steinmetz, 14-Jade Parris, 15-Hannah Blake, 17-Eileish Hayes, 20-Emily Couchman
Head Coach: Leon Birnie