US Youth Soccer Region IV Presidents Cup Day 2 Recap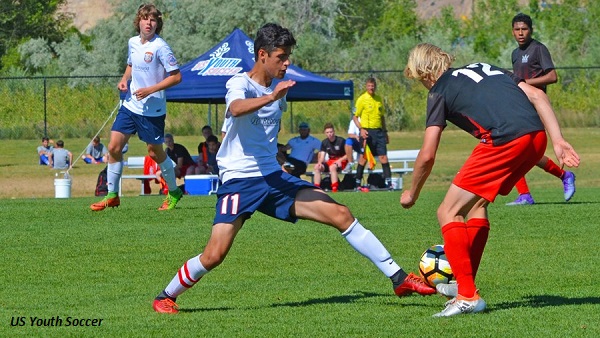 Day 2 of 6
Schedules, Scores and Standings
Facebook | Twitter | Instagram | #PresidentsCup
SALT LAKE CITY (Via US Youth Soccer) — The 2017 US Youth Soccer Region IV Presidents Cup continued with its second day of play on Wednesday in Salt Lake City, Utah, as group standings began to take shape. Teams advancing to the quarterfinals in the 13U through 17/18U Boys and Girls age groups will be decided following Thursday's action at the Salt Lake City Regional Athletic Complex.
The tournament features more than 120 US Youth Soccer boys and girls teams competing for a regional title and a chance to advance to the 2017 US Youth Soccer National Presidents Cup, July 12-16 in Auburndale, Fla.
Each point can prove to be crucial in group play, which 17/18U Boys CGA Academy Elite (ID) coach George Hahui told his players after their match on Wednesday — when they held on for a draw while playing a man down.
"This is a fantastic level of competition with great teams with very good athletic abilities," Hahui said. "This will help our players to be able to maintain their calm and stay in the game until the final whistle. At this level, any team can come back from any score.
"We're happy to represent Idaho. We love the competition. It's teaching these boys to play the right way. We're very thankful to be part of this event."
Utah Youth Soccer Association is hosting the event, and 12 other State Associations represented include Alaska, Arizona, California-South, California-North, Colorado, Hawaii, Idaho, Montana, Nevada, Oregon, Utah, Washington and Wyoming.
The US Youth Soccer Presidents Cup offers teams the challenge of experiencing different types of play by competing from state to regional to national levels. The Presidents Cup provides teams with a progressive, competitive experience that highlights competition, camaraderie and community.
Day 2 | Age Group Recaps
13U Boys
NSC B04 Green (WA) used a 3-0 victory on Wednesday to jump into a Group A first-place tie with Rush 04B Nero (HI), but CV San Jose Earthquakes 04B Gold (CA-N) is lurking just one point back of the leaders. A Kevin Menjivar hat trick helped Barcelona NV 04 Academy (NV) capture its second win of the tournament — giving the Nevada side quarterfinals berth. Meanwhile, TFA SFV 04 (CA-S) won in dominant fashion to set the pace in Group C, where the Cal South side has yet to concede a goal.
13U Girls
A three-goal performance from Hallie Tripp helped WFC Rangers (WA) get into the win column and move into a first-place tie with FC Nova Gold – GK (ID). Meanwhile, stingy defense and timely scoring has allowed Real Colorado Olympico (CO) to secure a pair of 1-0 victories, which puts Real alone atop Group B with one day of preliminary games remaining. Beach FC LB G04 Nunes (CA-S) is in a similar position in Group C, where it has picked up two wins by way of offensive firepower — outscoring opponents, 4-2, in each contest.
14U Boys
Just one point separates the top three teams in Group A and Group B. In Group A, AZ Hammers (AZ) and Heat FC 03 NPL (NV) are tied for first, while Visalia Galaxy Strikers (CA-N) are right behind them. Eastside FC B03 White (WA) and 4-H 03B Chelsea Pedro (OR) played to a 1-1 draw to remain tied for first in the Group B, just one point ahead of Fire FC 03 Blue Liverpool IA (UT). Meanwhile, the only remaining question in Group C is whether Downtown Los Angeles Soccer Club B03 (CA-S) or Boise Nationals Timbers Blue (ID) will finish first, as both enter Thursday with six points. Cameron Robinson, Julian Hernandez and Keegan Oyler each scored twice on Wednesday to help their respective teams stay in the hunt for quarterfinal berths.
14U Girls
The advancing teams are set in Group A, but Thursday will decide whether Arsenal FC 03 (CA-S) or WA Premier FC G03 Black (WA) — both 2-0 and yet to concede a goal — finishes on top of the standings. Colorado Rapids Youth 03G Select (CO) and Eagles SC G2003 (CA-S) have also picked up two clean sheet victories and sit in first in Group B and Group C, respectively, after Wednesday's action. Meanwhile, just two points separate the top three teams in Group D, as Spokane Sounders (WA), Real Colorado Olympico (CO) and Players 03 Girls Elite (NV) are all in the hunt to move on to the quarterfinals. Arsenal's Kolo Suliafu scored four times on Wednesday to extend her tournament count to seven tallies, and Taylor Buckingham registered a hat trick for Magic City SC White 03 PR (MT).
15U Boys
In Group A, an Eric Church hat trick helped power California Rush 02 Nero (CA-S) to a decisive win that allowed the Cal South side to keep pace with Catalunya FC 2002B Tsunami (CO) at six points in the standings. There is also a tie atop Group B, where STU Chelsea Academy 02 (WA) and HG Eagles SC (CA-S) each have two wins. Barcelona (NV) is alone in first place in Group C thanks to some strong attacking play in its first two games.
15U Girls
There is a lot to play for in the 15U Girls groups, as each of the standings features two teams with three points. Barca Cantera (CA-S) currently holds the top spot in Group A after a convincing win on Wednesday, while Idaho Rush Premier (ID) had used smothering defense to earn two clean sheets and spot atop Group B after two days of play. Local side Impact United TA (UT) also holds a top spot, as it has control of Group C with six points. Sara Tolliver, of Blitzz FC Gold (MT), maintains her scoring lead in the age group, as she has recorded each of her team's five goals through two games.
16U Boys
Santos Laguna White (CA-S) put on a dominant performance to pick up its second win of the week and remain on top of Group A. It doesn't get much closer than Group B, where all teams have either plus-one or minus-one goal differential. Washington Premier White (WA) and SCLS CV Aztecas 01 (UT) lead the group with four points each. And in Group C, a 2-0 shutout win helped Players Academy Blue 2001 (NV) remain in first place entering the final day of preliminary play. Caleb Wydick was the age group's leading scorer on Wednesday, as he netted three goals in a span of just six minutes to help CGA Academy Elite (ID) overcome a two-goal deficit and win, 3-2.
16U Girls
In Group A, Harbor Premier G01 Green (WA) and Broomfield Blast SC Magista (CO) played to a 1-1 draw on Wednesday to remain in a tie for first place. Elsewhere in 16U Girls action, Pacific FC 01G Ice (OR) recorded a shutout victory to pick up its second win and stay at the top of Group B. Lady Nomads '01 Red (NV) and L30 Crush G01 (UT) have each averaged five goals per game in Group C play to pick up six points apiece through two days of action. Ashlyn Hall paced L30's attack with two goals on Wednesday, and Ava Seelenfreund added a pair for the Lady Nomads to push her total to four for the week.
17/18U Boys
A quick start helped F.C Deportivo UdeG (CA-S) cruise to a 4-0 win on Wednesday — giving the team a solid hold on first place in Group A. Deportivo's Alexis Vladimir scored twice in the victory to give him three goals on the week. Another Cal South side, Inter America Halcones FC (CA-S), sits atop Group B after holding both of its opponents scoreless during the first two days of play. A goal in first-half stoppage time helped propel NCU Manchester United (CA-N) to its second win of the week to give it the lead in Group C. Angel Lopez Lujan and Jesus Valenzuela each scored twice on Wednesday to help TFA Barcelona AZ (AZ) remain on the hunt for a quarterfinals berth.
17/18U Girls
Rampage Black LH (UT) has enjoyed playing in front of a local crowd — picking up two wins in as many days to take a hold of first place in Group A. Meanwhile, defensive prowess has helped IE Surf G00 Kooiman (CA-S) secure two shutouts and a spot at the top of the Group B standings. Using the opposite approach, Cook Inlet S.C. 00G (AK) has worn out the back of the nets, as it has recorded two wins thanks to 13 goals. Corina Froehle led the way for Cook Inlet with three goals on Wednesday, while teammate Jordan Foraker added two strikes to push her total tally to an age group-best five goals.