ECNL Player Development Program Year in Review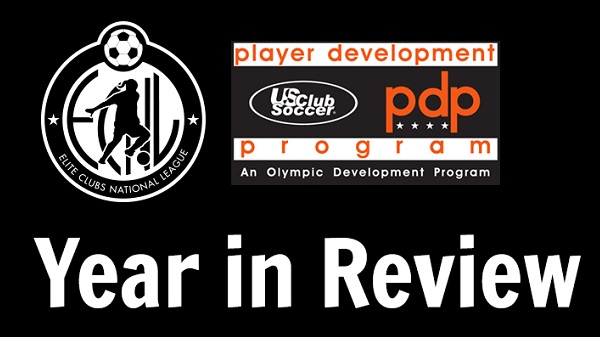 RICHMOND, VA (Via ECNL) – The Elite Clubs National League has posted a 'Year in Review' on the league's slate of Player Development Program (PDP) events held all over the country during the 2017 season.
PDPs are identification and development programs within US Club Soccer's id2 Program with three primary goals: (i) provide top players with an opportunity to be identified and evaluated for higher levels of play; (ii) provide a high quality developmental experience; and (iii) recognize and reward individual performance and achievement.  PDPs are operated in conjunction with elite leagues sanctioned by US Club Soccer.
Players are selected for PDPs based on their performance in ECNL competitions, and by objective recommendations from ECNL Directors and scouts across the country. The ECNL hosted eleven PDP events across the country over the past five months, with players representing every ECNL member club.
| | | | |
| --- | --- | --- | --- |
| Date | PDP and Location | Member Clubs | Rosters and Schedule |
| Feb 11-12, 2017 | PDP Midwest (North)University of Wisconsin – Madison | Eclipse Select SC, FC Wisconsin, Minnesota Thunder Academy, SLSG-IL, SLSG – MO, Sockers FC and Sporting Blue Valley | CLICK HERE |
| Mar 5, 2017 | PDP Midwest (East)Central Michigan University | Indiana Fire, Internationals SC, Ohio Elite SA, Ohio Premier, Michigan Hawks, Vardar | CLICK HERE |
| Mar 10-12, 2017 | PDP MountainUniversity of Nevada – Las Vegas | Colorado Rush, Colorado Storm, Heat FC, Real Colorado, SC Del Sol, Sereno SC, Utah Avalanche | CLICK HERE |
| Mar 11-12, 2017 | PDP So CalSan Diego Polo Fields | Arsenal FC, Eagles SC, Irvine Strikers, Real So Cal, San Diego Surf, Slammers FC, West Coast FC | CLICK HERE |
| Mar 11-12, 2017 | PDP Northwest (Bay Area)Trione Fields and Sonoma Academy | De Anza Force, Mustang SC, MVLA, Pleasanton Rage, San Juan SC, Santa Rosa United | CLICK HERE |
| Mar 11-12, 2017 | PDP Northwest (Pacific) | Crossfire Premier, Crossfire United, FC Nova, FC Portland, Seattle Reign, Washington Premier | CLICK HERE |
| Mar 11-12, 2017 | PDP TexasSouthern Methodist University | AHFC, Challenge SC, Dallas Texans, D'Feeters SC, FC Dallas, Lonestar SC, Solar Chelsea SC, Sting Austin, Texas Rush, TSC Hurricane | CLICK HERE |
| Mar 18-19, 2017 | PDP SoutheastMESA Soccer Complex | Atlanta Fire, BUSA, Boca United, CASL, CESA, Concorde Fire, GSA, Orlando City, Richmond United, Tampa Bay United, Tophat SC, West Florida Flames, Weston FC | CLICK HERE |
| Mar 18-19, 2017 | PDP Northeast (Metro)422 Sportsplex | Continental FC, FC Bucks, Match Fit Academy, PDA, Penn Fusion SA, World Class FC, Western NY | CLICK HERE |
| May 6-7, 2017 | PDP Mid-AtlanticWest Creek Soccer Complex | Bethesda SC, Charlotte SA, FC Virginia, Maryland United, McLean YS, NC Fusion | CLICK HERE |
| June 10, 2017 | PDP Northeast (New England)FC Stars Soccer Complex | Albertson Fury, Boston Breakers, FC Boston, Connecticut FC, East Meadow SC, FC Stars, FSA FC | CLICK HERE |
The ECNL PDPs listed above included a training session and two 11 vs. 11 games. There are no costs for participation in Player Development Programs. The ECNL covers all staffing, facility rental and equipment costs for the ECNL PDPs. The only responsibility for participating players will be the cost of travel and accommodation (where necessary).
Top players from each ECNL PDP, along with other players scouted in ECNL competition throughout the year, will be considered for invitations to the ECNL / id2 National Training Camp at the University of Portland July 27-31, 2017.