US Youth Soccer Region IV Presidents Cup Day 1 Recap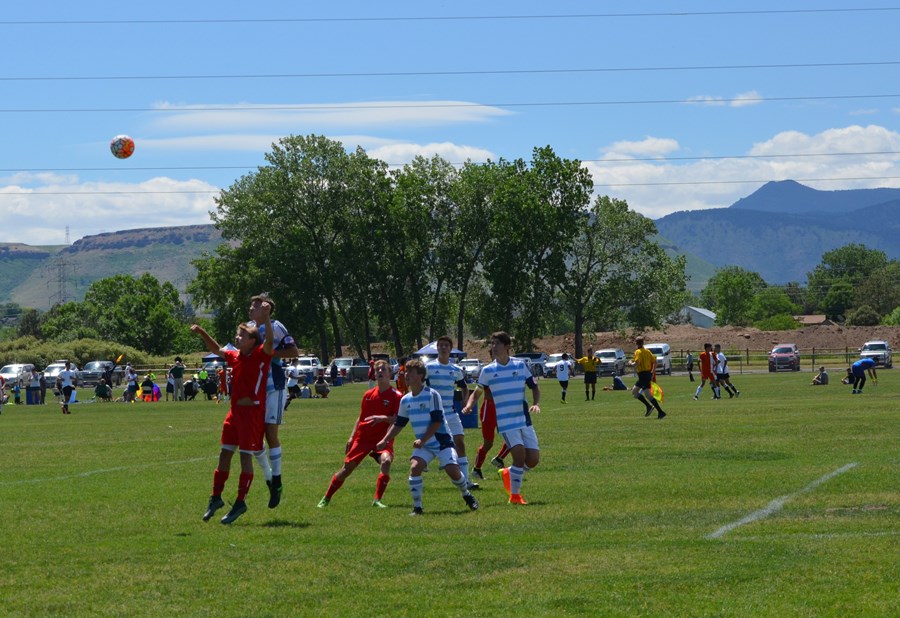 Day 1 of 6
Schedules, Scores and Standings
ARVADA, Colo. (Via US Youth Soccer) – The 2016 US Youth Soccer Region IV Presidents Cup is now underway in Arvada, Colo. The six-day tournament, which takes place June 14-19, kicked off Tuesday with the Under-13 through Under-17 Boys and Girls age groups starting the action at Stenger Soccer Complex. The 2016 US Youth Soccer Region IV Championships in the Under-12 Boys and Girls age groups are also being held at this tournament.
The tournament features 120 US Youth Soccer teams from US Youth Soccer Region IV (West) competing for a regional title, and a berth to the 2016 US Youth Soccer National Presidents Cup, July 14-17 in Tulsa, Okla.
Preliminary games will take place Tuesday, June 14 through Thursday, June 16. Quarterfinal matches will be held Friday, June 17 with semifinal matches taking place on Saturday, June 18. Regional champions will be crowned following final matches on Sunday, June 19.

Colorado Soccer Association  will host the event, and the other 13 State Associations represented include Alaska, Arizona, California-North, California South, Hawaii, Idaho, Montana, Nevada, New Mexico, Oregon, Utah, Washington and Wyoming.
The US Youth Soccer Presidents Cup is designed for teams seeking additional challenges to play for a national title against teams of similar abilities. The cup provides a progressive, competitive experience to teams that might not otherwise get the opportunity to participate in a series of unique experiences highlighting competition, camaraderie and community from the state to regional to national levels of US Youth Soccer.
2016 Region IV Presidents Cup Match Highlights:
Under-13 Girls
San Juan SC Nevada (NV) took care of business against Missoula Strikers Black PR (MT) 3-0 to move to the top of Group A. Ava Milner began the scoring just five minutes into the match, and Lauren Tanner would add a brace to make the score 3-0. Joining San Juan SC at the top of Group A is Wasatcha Elite SP (UT) after a 2-0 win over Colorado Storm South 03 Elite (CO). Grace Nicol scored a pair of goals within the first 10 minutes, and the scored would cease afterwards.
Group C is still very much up for grabs as both of today's ended in draws. Challenge FC 03 Dahl (AZ) and CV San Jose Earthquakes 02 White (CA-N) fought to a 1-1 tie when Sydney Slater scored for Challenge FC 18 minutes into the match, only for Paige Maier to equalize for SJ Earthquakes in the 64thminute. Hawks Academy (CA-S) and Crossfire Premier 02 B traded goals twice before the match concluded in a 2-2 draw. Kylie Mayer gave Hawks Academy a 1-0 lead in the 21st minute, but seven minutes later it was Crossfire's Maia Lowell tying things back up. Emma Thrapp earned Hawks' second lead with a goal in the 38th minute, but while Lowell's response took a bit longer the second time around, her equalized did eventually come in the 61st minute.
Under-13 Boys
Pride Copa 03 (CO) and AZ Hammers 03 (AZ) used convincing day-one victories to move into a first-place tie in Group B. Pride used goals from Ashaun Frazier, Nathan Van Keulen and Sam Reynolds to earn a 3-0 win over Bozeman Blitzz (MT), while Ray Martinez's hat trick powered AZ Hammers to a 4-1 win over PVSC Sounders (ID). Ari Joshua Pe also scored for Arizona Hammers, while PVSC's goal came courtesy of Ramadan Newman.
Group C featured LVSA 03 Red (NV) and Visalia Galaxy Strikers (CA-N) each earning three points on the first day of play. LVSA used goals from Matthew Markham, Alexander Kiss, Erik Marquez and an Ethan Boone brace to defeat CO Storm South 03 Premier (CO), whose goal came from Yves-Boris Yapi.
Visalia Galaxy defeated Academia Leon FC 02 (OR) 3-2 in a back-and-forth thriller. Just nine minutes into the match, Aldo Becerra Mejia put Academia up 1-0, but Marco Jasso responded for Galaxy in the 24th minute. Bryant Lopez-Mejia would regain the lead for Academia Leon in the 33rd minute, but just two minutes later it was Adrian Lopez netting Galaxy's second equalizer. Jasso would be the hero for Galaxy as his second goal of the match would be the final one scored, with the match ending 3-2.
Under-14 Girls
Pacific FC 01 Ice (OR) notched a 3-1 win over Arizona Hammers 02 (AZ) thanks in large part to Shalece Easley's hat trick. After Easley's first goal in the eighth minute, Khari Price responded five minutes for Arizona Hammers, but the Hammers didn't have a response to Easley's pair of second-half goals, and the match ended 3-1. Real Colorado joins Pacific FC at the top of Group A after a 2-1 win over FC Warriors Red 02 (WA). Like its Group A co-leader, Real Colorado also got a strong individual effort in the goal-scoring department, as Molly Shea McEowen would net both goals for Real Colorado, while Marisol Ballesteros scored for the Warriors.
CO Storm Castle Rock Select's (CO) impressive performance on day one has the hometown side in sole possession of first place in Group B after a 5-0 win over Bozeman Blitzz FC (MT). As opposed to the games in the Group A, Storm had a diverse scoresheet as Hannah Mares, Tatum Pflamer, Rylan Lee and Andrea Tinkler all found the back of the net for the Colorado squad. The other match in Group B saw Pateadores Irvine White (CA-S) and Pacific Northwest 01 Blue (WA) battle to a scoreless draw.
Under-14 Boys
AVSC Storm (CA-S) got its tournament off to a solid start with a 4-0 win over Fire FC Premier 02 MH (UT). Justin Biendara, Elmer Ajtun and Luis Roque all scored for the Southern California side, and joining AVSC Storm at the top of Group A is Cook Inlet SC 02 (AK) thanks to a tough 3-2 victory over Bozeman Blitzz (MT). Cook Inlet's Charles Norman scored first in the seventh minute, but Nathan McOmber would knot the score at one with a goal in the 19th minute. Lawrence Burke and Logan Fletcher added goals for Cook Inlet, and while Zach Springer was able to bring Blitzz back within one goal, the comeback attempt would fall short with the match ending 3-2.
Sagebrush SC United Red 01 (NV) became the second team in the age group to earn a 4-0 win after defeating Arsenal United Pumas (ID). Jaime Rodriguez struck first in the 15th minute, and Benjamin Vega doubled United's lead in the 40th minute. Diego Corral Mejorado added a second-half brace to put United's total at four. OUSL Crusaders FC 01 White (CA-S) edged out CASA Thunders (CO) in a match that featured all three goals in the second half. OUSL's Roman Gutierrez got the Southern California side on the board in the 49th minute, and Jonnathan Santos doubled OUSL's lead seven minutes later. Victor Leal's goal pulled CASA back within one, but the hometown side was unable to find an equalizer before the final whistle.
Under-15 Girls
Heat FC 01 BM (UT) and SoCal Rush (CA-S) both found the back of the net five times in their first matches, and as a result claim first place in Group A. Heat FC's Shailee Stewart netted a brace in the first seven minutes to go with goals from Drew Morby, Kelcee Call and Madelyn McNary to secure the 5-0 win over Washington Timbers 00 Green (OR). Not to be outdone, Melody Landphear scored a pair of goals just two minutes into the game and added a third in the 42nd minute for the hat trick against Spokane Shadow Ogami (WA). Rush would also get goals from Sinailsabella Guzman and Mikayla Campbell, while Spokane Shadow's goal came courtesy of Marisa Karns.
West Coast FC Murphy (CA-S) and Players 01 Elite (NV) edged out one-goal wins to claim the top spots in Group B. Alaska Eclipse 01's Grace Marks broke the scoreless stalemate in the 46th minute, but West Coast would respond with Miranda Diaz Casarrubias equalizing in the 61st minute and Ryanne Molenaar netting the game-winner in the 72nd minute.
Players 01 Elite also had its hands full with Meridian United Purple (ID). Rylee Clark struck first for the Idaho side in the 24th minute, only for Players to counter with goals from Carmen Endicott and Nadia Campbell in the 47th and 59th minutes respectively. It was Clark again scoring for United to knot things up at two, but two minutes into extra time, Endicott scored the game-winner to move Players to the top of Group B.

Under-17 Boys
Fire FC Blue 99 (UT) sits alone at the top of Group B thanks to a last-minute goal against WPFC 98 White (WA). Things looked to be ending in a 0-0 draw after a scoreless 88 minutes, but Kaden Wittwer scored the game-winner in the 89th minute, giving WPFC very little time to respond as the match ended 1-0. The other match in Group B saw Real Colorado Olympico and Academy (CA-S) fight to a 1-1 draw. Jason Olcott gave Real Colorado the 1-0 lead in the 29th minute, and the lead would last almost 50 minutes before Academy's Teague Anderson equalized in the 76th minute.
Rampage 99 Black SC/TL (UT) and Las Vegas Mobsters (NV) are tied for first place in Group C after earning 3-0 wins against Visalia Galaxy Red (CA-N) and Bozeman Blitzz FC (MT) respectively. Rampage received goals from Tyler Malan, Madison Clark and Paulo Saavedra, while Juan Rodriguez scored all of the goals for the Mobsters.
2016 Region IV Championships Match Highlights:
Under-12 Girls
Group A saw Eastside FC 03 Red (WA) and Alaska Rush 04 (AK) rise to the top off dramatic one-goal victories. After 50 minutes of scoreless play, Izee Butcher broke through for Eastside against La Roca RH (UT). With just 10 minutes left, Eastside was able to hold off the Utah side for the 1-0 win. Alaska Rush looked to be in control of its match against Santa Clara Sporting 03 Green (CA-N) thanks to a seventh minute goal from Talhia Turner and an early second-half goal  from Frida Vargas put the Alaska squad up 2-0. However, Sporting would break through with a goal from Alyssa Zahiralis in the 43rdminute, but Rush would hold on for the 2-1 win and a spot at the top of Group A.
Rush 04 (HI) and Scottsdale Soccer 04 Blackhawks Chapman (AZ) both claimed shutout victories on the first day of play. Lauren Tapper and Tiani Oliveira scored braces, while Raine Komata, Jacey Jicha, Kailee Wilson and Shelby Hopeau all added goals as Rush defeated Rock Springs Avengers (WY) 8-0. Scottsdale defeated in-state rival CCV 04 Black (AZ) 2-0. Kate Faasse broke the scoreless stalemate in the 26th minute, and Farrah Walters would double Scottsdale's lead in the 49th minute after finishing a corner-kick that bounced around in the box.

Under-12 Boys
Albion SC White (CA-S) and Seattle United 03 Copa (WA) took different paths to the top of Group C, but both ultimately earned a victory on day one. Albion took care of business against Alaska Rush 04 (AK) 8-0 thanks to four goals from Evan Rotundo, a Jack Bowers hat trick and an additional goal from Angel Jaimes. Seattle United had a little more drama in its match against Heat 04 ET (NV). Charlie Holmes began the scoring for Seattle United in the 28th minute, only for Heat's Donald Kiernan to respond in the 34th minute. Claudio Vaughn would score minutes before the final whistle to allow Seattle to re-gain the lead and ultimately secure its first win.
Group D has a similar look to Group C with two teams on top after victories on Tuesday. Santa Clara Sporting 03 Green rode Andrew Huerta's hat trick and a goal from David Arenas for a 4-1 win over Arsenal Colorado Gold (CO). Arsenal's goal would come from Samuel Ovesen. Harry Maldonado Ruiz's 28th minute goal would be the only goal in the other Group D match as NM Rush Barcelona Black (NM) defeated Fremont Colts 03 Green (CA-N) 1-0.
For complete tournament results for Region IV Presidents Cup, click here.