US Youth Soccer Region IV Championships Day 2 Recap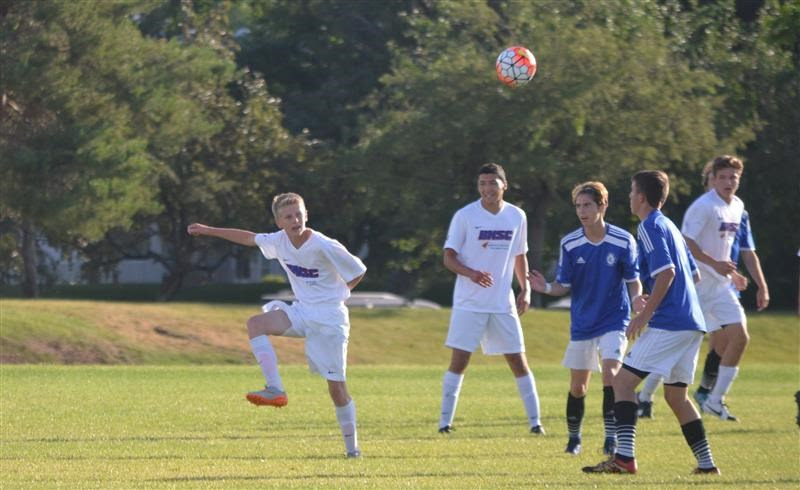 Standings / Scores 
Boise, Idaho (Via US Youth Soccer) – The US Youth Soccer Region IV Championships continued on Tuesday at the Simplot Sports Complex in Boise, Idaho. More than 200 games have been played in the first two days, and Wednesday's action will decide who stays alive to advance to the knockout rounds.
Teams that earned their way to the US Youth Soccer Region IV Championships are not only competing for a regional title and a chance to move on to the US Youth Soccer National Championships, but players are also showcasing their talents in front of college coaches.
The top 210 US Youth Soccer boys and girls teams from the 14 State Associations that make up US Youth Soccer Region IV compete for the regional title. States represented including host, Idaho, are Alaska, Arizona, California North, California South, Colorado, Hawaii, Montana, New Mexico, Nevada, Oregon, Utah, Washington and Wyoming.
Notes from a few of today's games…
Under- 13 Boys
Eastside Timbers Chelsea (OR) and Heat FC 03 CR (NV) remained tied at the top of Group E after a 1-1 draw. Grant Embree broke through for Eastside Timbers with a goal in the 51st minute, but Heat's Nathan Zamora would equalized for the Nevada side in the 60th minute. After two goals in the span of 10 minutes, neither team was able to find the back of the net again, with the match ending 1-1.
After falling to Heat FC on a last minute goal, Strikers FC Chingirian (CA-S) earned its first win of the tournament with a 3-0 win over Vegas All Boys FC 03 MT (NV). Strikers received goals from Paul Son, Malachi Wright and Noah Mangosing to defeat the US Youth Soccer Far West Regional League (FWRL) Desert Premier champs.
Under-14 Girls
Fullerton Rangers 01 White (CA-S) and HSC Bulls Academy I 02 (HI) earned wins for the second straight day in Group E. Fullerton Rangers defeated Rio Rapids 02 (NM) 1-0 thanks to Zoe Ip's goal in the first minute and a clean sheet. HSC used a Mia Wantanabe brace combined with goals from Rylee Kayla Cockett and Kelsey Wong to defeat Santa Clara Sporting 01 Green (CA-N). Julia Alvarez would find the back of the net for Sporting.
Under-15 Girls
Utah Celtic 01 Premier (UT) sits alone at the top of Group D after a 2-0 win over Northbay WNB Timbers (CA-N). Amanda Bryan broke the scoreless stalemate shortly into the second half, and Anna Pickering would double the US Youth Soccer Utah State Cup champion's lead in the 68th minute.
Scottsdale Blackhawks 01 Taylor, who on the 2015-16 FWRL Desert title over Utah Celtic, defeated Rogue Valley Timbers 00 Red (OR) 6-0 thanks to Emily Chiao's first-half brace and goals from Allison Broderick, Haley Willibey, Keeley Bond and Caitlin Johnston.
Under-16 Boys
Rangers 00 Premier (UT) defeated hometown Boise Nationals Arsenal (ID) 1-0 to move into contention for a spot in the quarterfinals. Eight minutes into the match, Ryan VandenBos sent a free-kick below the wall and past the Nationals keeper to score the match's only goal.
WPFC 99 Black took the lead in Group D after a 3-2 win over Santa Clara Sporting 99 Green (CA-N). Sporting opened the scoring with Richard Licon's goal in the seventh minute, but Washington Premier's Ethan Carlson would equalize just a minute later. The Washington side would score two more goals in quick succession as 2016 US Youth Soccer ODP Region IV Championships All-Tournament team member RJ Stretch scored in the 15th minute and Teagan Eldridge added a third goal in the 20th minute. Harrison Kepp pulled Sporting back within one goal in the 79th minute, but it was too little too late as the match ended 3-2.
Under-16 Girls
Legends FC 99 (CA-S) and La Roca Premier PO (UT) battled to a 1-1 draw in a 2015 National Championships finals rematch. Both players who scored have experience playing with the Under-17 U.S. National Team as Olivia Wade, who led all scores on the girl's side of the 2015 Region IV Championships with 10 goals, got the defending regional champs La Roca on the board with a goal in the 17th minute. 2013 and 2015 National Championships Best XI player, Denae Antoine would tie things up for the two-time national champs in the 35th minute. While both sides have displayed plenty of offensive firepower in previous regional and national tournaments, it was the defenses that prevailed in the second half, with the match ending 1-1.
Eastside FC 99 Red (WA) secured a spot in the quarterfinals with a 2-1 win over Players 00 Elite (NV). Sydney Dennis got the Nevada side off to strong start with the opening goal in the 25th minute. However, Andrea Jiminez Gonzalez would level the score for the FRWL Northwest champs just three minutes later. Jiminez Gonzalez added the eventual game-winner in the 51st minute to punch Eastside's ticket to the quarterfinals.
BNSC Premier (ID) leads the race for the second quarterfinal spot in Group A after a 2-2 draw with Crossfire Premier 99 (WA).  Regan Schenck got Crossfire off to a dream start with a goal in the first minute. Crossfire's lead would stand for almost 60 minutes of game time until Victoria Sloan equalized in the 60th minute for Boise Nationals. Ashley Askevold would regain Crossfire's lead with a goal just two minutes later, but Boise Nationals was up to the task again as Kassandra Phillips netted the Idaho side's second equalizer and ultimately the last goal of the match.
Under-18 Boys
Las Vegas Gunners 98 (NV) remains at the top of Group A after a 4-0 win over Sunnyvale Alliance Impact 97 Red (CA-N). Brandon Vargas's brace in addition to goals from Alejandro Jimenez and Gustavo Ortega gave the Nevada side its second straight win.
Classic FC Toros (NM) earned its first win of the tournament by defeating Missoula Strikers Black PR (MT) 4-2. Sergio Ramirez got the US Youth Soccer New Mexico State Cup winners on the board in the 15th minute, and 15 minutes later Ramirez would score again to make it 2-0. Next it was Missoula's Ryan Sayler's turn to find the back of the net twice with goals in the 45th and 54th minutes to knot the score at two. Danny Araujo gave Toros its second lead of the match in the 85th minute, and Ramirez would secure the win by completing his hat trick in the 90thminute.
Under-18 Girls
2014 Region IV and National Champions Beach FC 97 Academy Joyner (CA-S) took care of business against fellow Cal South team Albion USA 97/98 USA (CA-S) 7-0. Beach, who was without 2014 National Championships Golden Ball award winner Savannah DeMelo due to a U.S. Under-20 Women's National Team camp, received goals from Kaitlyn Freguila scored four goals to go with Taylor Bistline's brace and Carley Brown's goal.
98 Celtic FC Premier (UT) sits alone at the top of Group A after a 4-3 win over FC Nova 97/98 (ID). Nova grabbed an early 2-0 lead after goals from Raimee Sherle and Madison Roache in the 17th and 18th minutes respectively. Elizabeth Smith would pull Celtic within one with a goal in the 35th minute, but HanSena DiNoia's 39th minute goal put the halftime score at 3-1. The second half would belong to Elise Flake however, as her hat trick would turn the tides and give Celtic the 4-3 win.
Under-19 Girls
So Cal Blues Dodge (CA-S) held off a second-half surge from Rio Rapids SC 97 (NM) to earn its first victory of the tournament. Nikole Rosen began the scoring in the eighth minute before Hannah Stammer and Jocelyn Orejel added goals in the 39th and 52nd minutes for the 3-0 lead. Rio Rapids refused to go down without a fight when Audriana Chavez scored in the 80th minute, and Cassie Boren brought the New Mexico side within one. However, that was as close as the Rapids would get as the match ended 3-2.
Colorado Rush (CO) took control of the Under-19 Girls age group with a 7-3 win over BNSC Premier (ID). Abigail Boswell and Under-20 U.S. Women's National Team player Betsy Brandon got Rush off to a 2-0 lead within the first 10 ten minutes, only for Jennifer De Boer and Johanna DiLuio to respond for the hometown team with goals to bring the score to 2-2. Brandon netted her second goal in the 36th minute before Kristina Fisher, Brianna Curtis, Madeline Flom and Jastin Redman all added goals for Rush to make the score 7-2. Sierra Smith would add another goal for BNSC in the final minute of the match.
The US Youth Soccer National Championships will consist of US Youth Soccer Regional Champions in the Under-13 through Under-19 Boys and Girls age groups as well as the US Youth Soccer National League qualifiers in the Under-15 through Under-18 Boys and Girls age groups to complete the field of 96 teams.