US Youth Soccer Region III Championships kick off in South Carolina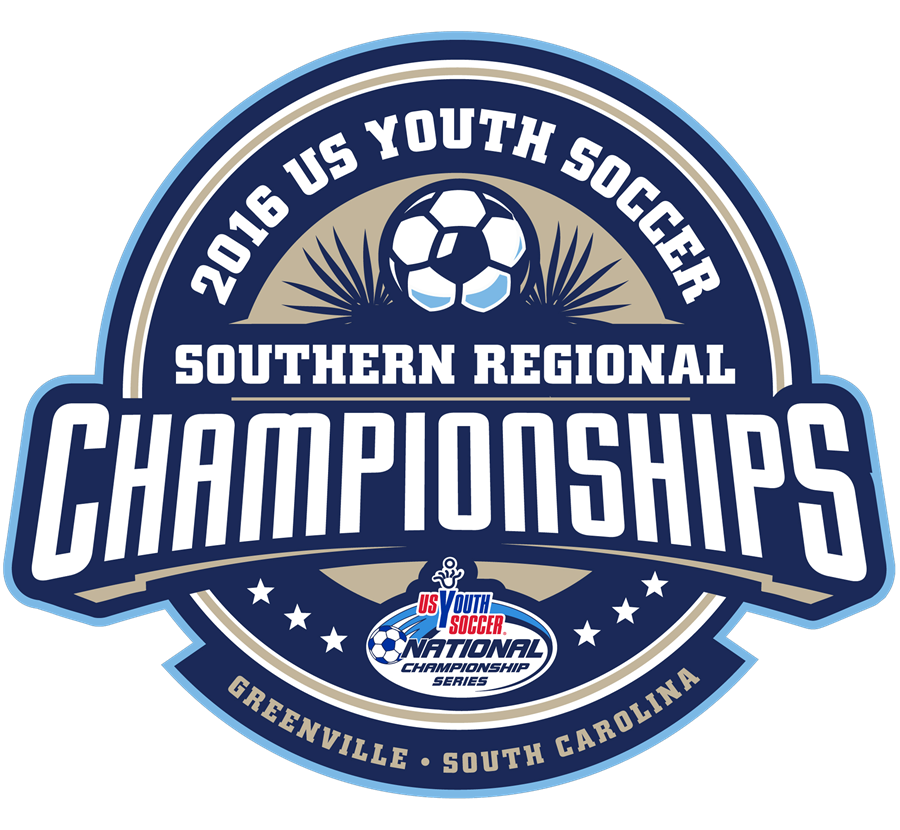 Preliminary Games, Day 1 of 3
Box Scores
GREENVILLE, S.C. (Via US Youth Soccer) — More than 200 teams, including six former US Youth Soccer National Champions or finalists, kicked off the 2016 US Youth Soccer Region III (South) Championships Friday at the MeSA Soccer Complex in Greenville, S.C., and the Carolina FC Soccer Complex in Wellford, S.C.
Teams from all over the southern United States took the field with the goal of taking the next step toward claiming the coveted US Youth Soccer National Championship in their respective age group.
Friday's action saw two of the six defending Region III Champions fall, as the difficulty of each game was made evident. Under-14 Boys South Carolina United FC 01 Elite (SC) lost, 1-0, to West Pines United Carrillo (FL), and defending National Champion Tampa Bay United 97 Premier (FL) fell in a close match, 2-1, to South Carolina United FC 97 Elite (SC) in Under-18 Girls play.
One of the defending regional champions who managed to come away with a win on Friday was local side Under-17 Boys CESA 98 Premier (SC). Head coach Nick Finotti said his team knows the challenges the Region III Championships bring from year to year, and his players know they can't rely on what happened in 2015.
"It's extremely difficult to win the Regional Championship," Finotti said. "Everyone is here for a reason. They've earned their way here, and the competition is difficult."
For coaches, Finotti said playing at the club's home complex brings some positive and negative factors. But the CESA coach said he and the club are proud to be hosting and appreciate the opportunity to play — and potentially defend their title — in front of friends and family.
"It would be incredible to win here," Finotti said. "In 2012, we had four champions and a finalist. On the last day, to have that many CESA teams playing and winning championships, it was great to see. Hopefully, we'll have some experience that this year."
Here are a few recaps from the first day of group play…
Girls Recaps
MS Rush 03 Premier (MS) is off to a good start in Under-13 Girls play, as it recorded a 1-0 victory on Friday against Atlanta Fire 02/03 Elite Black (GA). It didn't take long for MS Rush to grab an advantage, as Graciella Falla found the back of the net in the 10th minute. Atlanta pushed for an equalizer throughout the final hour of play, but the Mississippi side ensured that its early strike would stand as it held on for the shutout victory. Rush enters Saturday in second place in its group after Sting Gutierrez (TX-N) posted a big opening win.
With the competitive level of teams at the Region III Championships, each point in group play matters. While MS Rush 02 Premier (MS) and Lonestar SC 02 Red NTH (TX-S) would have liked to come away with a win, both sides will be happy to come away with a point from their matchup on Friday. Each team's back line was up to every challenge it faced, as the two Under-14 Girls Group B sides played to a scoreless tie — keeping them in the early hunt for berths to the quarterfinals.
In Under-15 Girls play, 2015 National finalist Dallas Kicks SC 01 (TX-N) started its week with a 3-1 win against 00 TFCA Alliance (NC). The Kicks jumped out to a 2-0 lead with first-half goals from Adrienne Arriaga and Carli Hernandez. TFCA pulled within one early in the second half when Alexa Wojnovich got on the end of a corner kick and finished at the back post. However, Dallas responded with some great build-up play in the attacking end. Samantha Meza slipped Jaida Thomas in behind the TFCA defense, and Thomas slid her shot inside the far post to seal the 3-1 win.
CSC Rage 00 (LA) picked up a 2-0 win over Blitz United 00 Red (OK) to take an early place atop the Under-16 Girls Group A standings. After an even opening half, Bailey Cary found the back of the net in the 43rd minute to put CSC in front. The score remained unchanged until the final minutes, when Hailey Daigle added an insurance goal to seal the Louisiana side's 2-0 victory.
South Carolina United FC 97 Elite (SC) withstood a barrage of first-half chances from defending National Champion Tampa Bay United 97 Premier (FL) and came away with a key 2-1 win to open group play. Tampa Bay had a decided edge in shots and chances in the first half but was unable to break through, as the game went to halftime in a scoreless tie. South Carolina made the most of its chances, as it took a lead at the hour mark when Jordan Dawsey found the back of the net. Tampa Bay responded 10 minutes later with a strike from Samantha Betters, but South Carolina's Allison Crossland put her side back on top with an 80th-minute tally. The defending champions couldn't produce an equalizer in the closing minutes, and South Carolina held on to earn three big points in Group A.
Boys Recaps
In Under-13 Boys Group A play, Florida Elite Soccer Academy (FL) and Solar Chelsea Red 03 Stricker (TX-N) played to a 1-1 draw in an exciting opening-day matchup. After a scoreless first half, Florida Elite grabbed a 37th-minute advantage on Jackson Alligood's strike. Solar applied pressure for much of the latter portion of the game as it looked for the equalizer. The North Texas side capitalized on one of its late chances, as Michael Myers received a perfectly-placed through ball and confidently struck his shot inside the near post. Solar continued to press in the final few minutes, but Florida Elite fought off any moments of danger to preserve the 1-1 tie and split the points. Both teams are two points behind group leader Oklahoma FC 03 (OK) after a day of play.
After conceding an early goal, Under-15 Boys TSCH 01 Miller (OK) stormed back to earn a 4-1 win over Arkansas Comets 01 Premier (AR). The Comets grabbed a 6th-minute lead when Sandro Ramirez beat the keeper, but TSCH provided a quick response. Brooks Rogers scored a pair of goals in the next 10 minutes of action to erase the deficit and put TSCH on top. Graham Chapple extended the lead 3-1 later in the half, and William Edwards added a late insurance goal to cap the Oklahoma side's 4-0 win.
One of the game's most exciting games came from Under-16 Boys Group B, as Oklahoma FC 2000 (OK) held on for a 5-4 victory against BUSA 00 Elite (AL). Lane Gilbert put OFC in front with a pair of early goals, as the Oklahoma side grabbed a 2-0 advantage within the first 17 minutes. OFC's Matthew McLaws and BUSA's David Wrona exchanged goals in the 23rd minute before Wrona added another four minutes later to pull BUSA within a goal at 3-2. McLaws had a quick answer, as he buried two more goals within the next five minutes to extend the OFC advantage to 5-2. Wrona added a couple of goals — bringing his total to four — after the half to once again bring BUSA within a goal. However, the defenses settled in over the last 25 minutes of action, and OFC managed to preserve the 5-4 victory.
Defending Region III Champion CESA 98 Premier (SC) earned a hard fought three points in the Under-17 Boys Group A standings with a 1-0 win over GSA Force 99 White (TX-S). The hometown team went up in the 56th minute on a goal from Dante Andre. GSA created some dangerous situations, but CESA showed its experience and did well to close out the game over the final half-hour of play. The South Carolina side recorded the clean sheet to start its week and begin its pursuit of a second straight title.
After two straight trips to the Region III semifinals, KSA 98 Premier (GA) is looking to get over the hump this year in Greenville. The Georgia side is on the right track after pulling out a 1-0 win over Tennessee SC 2016 Showcase (TN) in Under-18 Boys Group C action. Neither side managed to grab ahold of the game until Nicholas Amoako put KSA in front in the 78th minute. KSA carried the momentum of the late breakthrough goal all the way to the final whistle to earn three points in the group standings.
The 2016 US Youth Soccer Region III Championships feature 206 of the top boys and girls teams from the 12 State Associations that make up US Youth Soccer Region III, with each squad competing for the 2016 regional title. Preliminary games will be held June 24-26, with quarterfinals, semifinals and finals taking place June 27-30. Games will be played at the MeSA Soccer Complex in Greenville, S.C., while all Under-19 preliminary games will take place at the Carolina FC Soccer Complex.
Regional winners of the Under-13 through Under-19 age groups earn a berth to the 2016 US Youth Soccer National Championships, which will be played July 25-31 at the Toyota Soccer Center in Frisco, Texas.
The US Youth Soccer National Championships will consist of US Youth Soccer Regional Champions in the Under-13 through Under-19 Boys and Girls age groups, as well as the US Youth Soccer National League qualifiers in the Under-14 through Under-18 Boys and Girls age groups to complete the field of 96 teams.