US Youth Soccer ODP Interregional Showcase kicks off on Saturday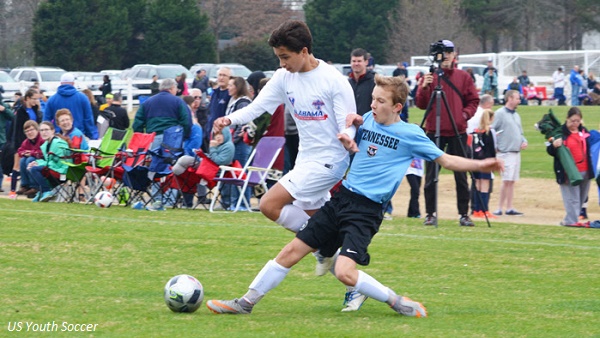 DAY 1 of 3 | Schedule 
MEMPHIS, Tenn. (Via US Youth Soccer) – The inaugural US Youth Soccer Olympic Development Program (ODP) Interregional Showcase, featuring boys and girls teams in the 2000-2005 age groups from Region II (Midwest) and Region III (South), kicked off Saturday at the Mike Rose Soccer Complex in Memphis, Tenn.
With nearly 100 teams among nine states, the event allows players to compete in a competitive showcase environment in front of several college coaches. The participating Region II states include Illinois, Iowa, Kansas, Kentucky, Missouri and Nebraska, while the participating Region III states include Alabama, Arkansas and Tennessee. The event also provides players the opportunity to attend classroom sessions and panel discussions.
As this is the first ODP interregional event among the two regions, the idea came to fruition with the help of Kansas State Youth Soccer Association's Director of Coaching, Nathan Hunt, who was searching for something different.
"I came to Region II from Region III about a year ago, and I knew DOC's from both regions," Hunt said. "We wanted something for our kids to play in and play some different teams than what they normally do inside their own regions. We started talking and decided to put something together, and it avalanched from there."
According to Hunt, the main goal for this event is to get players to play in an ODP environment.
"There's a difference between the club environment and the ODP environment," Hunt said. "We thought it would be a great idea: a single game a day, not keeping track of the scores, making sure everybody knows it's about development but also getting identified."
In this showcase atmosphere, there are a variety of benefits for everyone—players, parents and coaches.
"For players, they get to play against players of like-caliber or better," Hunt said. "There are also scouts here from the region, from U.S. Soccer. For the parents, they get to intermingle, see what it's like at the next level and see where their kids are at. Everyone gets to experience different coaching terminology and philosophies that they may or may not get at home."
Hunt can see the event growing by adding more states, especially more Region III states. While there are several existing interregional events, there is also the possibility of getting all the regions involved.
Images from Saturday's games:

2005 Boys Missouri vs. Arkansas 06

2005 Girls Alabama vs. Kansas

2004 Boys Alabama vs. Tennessee Red

2002 Boys Iowa vs. Illinois

2001 Girls Alabama Red vs. Iowa

2001 Boys Kansas vs. Composite 01 (multiple states)

2001 Girls Missouri vs. Tennessee

2001 Boys Nebraska vs. Alabama

2000 Girls Tennessee vs. Kansas