US Youth Soccer ODP Girls Thanksgiving Interregional Day 3 Recap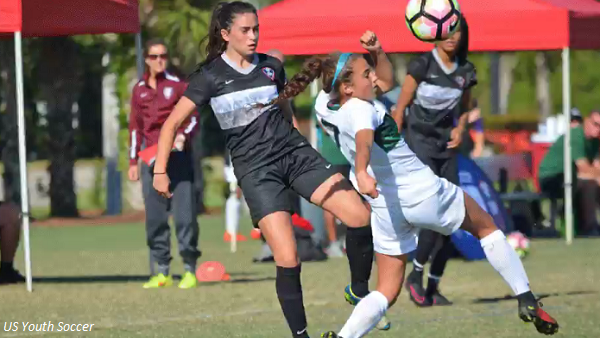 Day 3 of 6
Schedules, Scores & Standings
Rosters: 1999 | 2000 | 2001 | 2002 | 2003
BOCA RATON, Fla. (Via US Youth Soccer) — The annual US Youth Soccer ODP Girls Thanksgiving Interregional continued Tuesday in Boca Raton, Fla., as teams in the 2002 and 2003 age groups competed on the third day of play.
The six-day tournament, which runs through Nov. 25 at Spanish River Athletic Park and Florida Atlantic University, features teams in the 1999-2003 age groups comprised of the top female players in the country.
+Read: US Youth Soccer ODP Girls Thanksgiving Interregional Day 1 Recap
In addition to facing top competition, players receive training and instruction from several experienced coaches. Among them is World Cup and Olympic champion Brandi Chastain, who is part of the Region IV coaching staff.
"I feel that ODP experience offers a competitive environment, good coaches, awesome facilities," Chastain said. "It's another opportunity for these girls to stretch themselves a little bit and to really be aware of who they are, what they contribute and how they can improve.
"I've always felt that ODP is important for the players. It gives an opportunity to a player who maybe doesn't normally get to be exposed to these college coaches."
+Read: US Youth Soccer ODP Girls Thanksgiving Interregional Day 2 Recap
Highlights from Day 3:
2002s | Region III 1, Region IV 1
In the 2002 age group, Region III and Region IV each picked up their first point of the week after playing to a 1-1 draw. After a few unsuccessful early build-ups from either side, Region III managed to break through in the 26th minute. Amber Nguyen made a darting run to back post and got on the end of a nice low cross to finish the opportunity and put her side in front, 1-0. Shortly after the hour mark, Katherine O'Kane equalized for Region IV when she found the back of the net. Neither team managed to create a second goal, as the sides finished level at 1-1.
2002s | Region II 2, Region I 0
The Region II 2002 squad picked up its second clean sheet of the week, as it defeated Region I, 2-0, on Tuesday. It didn't take long for Region II to grab an advantage, as Joyelle Washington gathered the ball inside the box and sent her shot inside the right post to put her side in front. In the 54th minute, Brooklyn Harris forced a turnover and struck her shot to the far upper-90 to double the Region II advantage. Region I applied pressure and earned a few corner kick opportunities in the final 25 minutes, but the Region II defense remained organized and recorded its second shutout in Boca.
2003s | Region I 0, Region IV 0
An evenly-matched contest between Region I and Region IV in the 2003 age group ended in a scoreless draw. Region I appeared to have an advantage in time spent in the attacking half of the field, but the Region IV defense did well to eliminate any significant scoring opportunities. With the point, Region I moved to 4 points in the standings with no goals conceded after two games. Meanwhile, Region IV picked up its second draw of the week — giving it 2 points in the table.
2003s | Region II 3, Region III 2
In an entertaining 2003 matchup, Region II came back from an early two-goal deficit to claim a 3-2 win over Region III. Chloe Luliano and Isabel Kimberly each scored for Region III in the opening 10 minutes to give their side a quick lead. Region II began to fight back and pulled within one in the 28th minute. Region IV keeper Maria Kemp tipped a shot from distance off the bar and made a nice save on a point-blank follow-up. However, Sarah Weber slid home the third attempt to put Region II on the board. Just three minutes later, a long throw in sent Brookelyn Steere in on goal, and she slid her shot inside the near post to level the game at 2-2. Steere wasted little time after halftime to put Region II in front, as she scored what proved to be the game-winner in the 36th minute.