US Youth Soccer ODP Girls Thanksgiving Interregional Day 2 Recap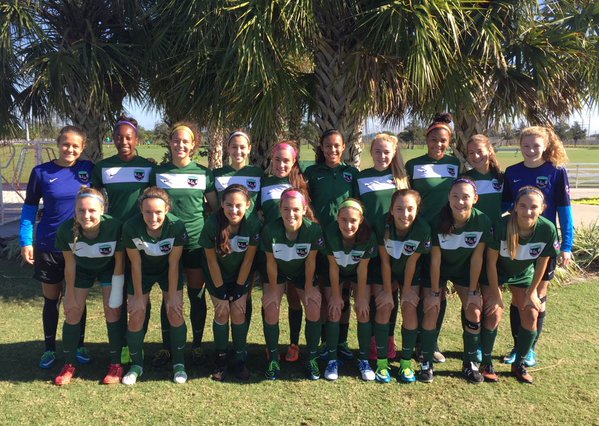 Day 2 of 6
Schedules, Results and Standings
Rosters: 1998 | 1999 | 2000 | 2001 | 2002
BOCA RATON, Fla. (Nov. 23, 2015) – The 2015 US Youth Soccer Olympic Development Program (US Youth Soccer ODP) Girls Thanksgiving Interregional continued its second day of play on Monday in Boca Raton, Fla., and featured the 1998-2001 age groups. The six-day tournament is taking place November 22-27 at Spanish River Athletic Park and Florida Atlantic University, and features elite girls teams in the 1998-2002 age groups from each of the four US Youth Soccer Regions.
The nearly 400 participating players were selected from US Youth Soccer State Association and Regional level evaluations. Throughout the week, players will attend training sessions and compete in matches against other Regions, in front of U.S. Soccer national staff and collegiate coaches to maximize their exposure for selection to the next level of play.
+Read: US Youth Soccer ODP Girls Thanksgiving Interregional Day 1 Recap
With programs in all 55 US Youth Soccer State Associations, US Youth Soccer ODP, the original Olympic development program, is available to any player. US Youth Soccer ODP is the only elite player development program that can claim members of Major League Soccer, the National Women's Soccer League, and the majority of current and past national and youth national team members, as alumni.
Highlights from Day 2:
2001 Girls: Region II v. Region IV
Region II picked up their second consecutive win with a 4-0 win over Region IV. Region II kept their foot down from the very beginning with a 6th minute goal by Ellie Podojil. Katie Druzina and Bridget Mitchell both scored one minute apart in the 27th and 28th minutes with teammate Kalyssa Van Zanten adding the final goal in the 67th minute.
2001 Girls: Region I v. Region III
Region I won their first game of the event with a 3-0 win over Region III. Phoebe Canoles scored the lone goal of the first half in the 30th minute. Alyssa Fleming added insurance goals in the 50th and 60th minutes to bring the final score to 3-0.
2000 Girls: Region II v. Region III
Region II and Region III played to a 1-1 draw in the opening game in the 2000 age group. Addison Clark struck first for Region II in the 30th minute of play to give her team a 1-0 lead. Region III's Cameron Hall scored in the 79thminute to pull her side level just before the end of the match.
2000 Girls: Region IV v. Region I
The 2000 Region I Girls kicked off their first game with a bang scoring five unanswered goals against Region IV for a 5-0 win. Jenna Devine started the scoring in the 17th minute followed by a Marykate McGuire brace, with goals in the 29th and 37th minutes, to finish off the half with a score of 3-0. Taylor Kofton scored early in the second half and Region I teammate Brice McInroy finished the scoring to bring the final score to 5-0.
1999 Girls: Region I v. Region IV
Region I grabbed a 2-0 win over Region IV in their opening game. A late first half goal by Starland White in the 40th minute proved to be the game winner. Teammate Aline Stahl added an insurance goal late in the second half to seal the victory for Region I.
1999 Girls: Region U15 US YNT v. Region II
Region II finished the day of games with a great 2-2 draw against the U15 Girls U.S. Youth National Team. The U.S. YNT scored in the 11th minute but Region II's Kristina Lynch leveled the score in the 24th minute of play. Region II pulled ahead in the 45th minute on a Kerry Abello goal but the U.S. YNT evened the score in the 55th minute with an equalizing goal. Neither team could find a game winner and the game ended in a 2-2 draw.
1998 Girls: Region III v. Region IV
Region III picked up their first win of the tournament with a 4-1 victory over Region IV. Brooke Bingham started off the scoring for Region II converting a penalty kick in the 15th minute. Region III's Alexandria Stubblebine scored in the 36th minute followed by teammate Maddison Krstec just five minutes later. Eva Swearngin immediately answered for Region IV, but Region III's Sydney Spruill scored yet another for Region III.
1998 Girls: Region I v. Region II
Region I inched by Region II with a 2-1 win in a game of only first half goals. Region I's Taylor Bennett opened the scoring in just the 6th minute of play. Maggie Basta added what was the game winner in the 15th minute to bring the score to 2-0. Region II's Kylie Sprecher cut Region I's lead in half just a minute later, but Region I held on for the 2-1 victory.
Goal Scorers and Results | Monday, Nov. 23, 2015
2001
Region II
Region IV
Final Score
4
0
Goal Scorers
Ellie Podojil (

06:00

)
Kati Druzina (27:00)
Bridget Mitchell (28:00)
Kalyssa Van Zanten (67:00)
2001
Region I
Region III
Final Score
3
0
Goal Scorers
Phoebe Canoles (33:00)
Alyssa Fleming (50:00)
Alyssa Fleming (60:00)
2000
Region II
Region III
Final Score
1
1
Goal Scorers
Addison Clark (30:00)
Cameron Hall (79:00)
2000
Region IV
Region I
Final Score
0
5
Goal Scorers
Jenna  Devine (

17:00

)
Marykate McGuire (29:00)
Marykate McGuire (37:00)
Taylor Kofton (41:00)
Brice McInroy (64:00)
1999
Region I
Region IV
Final Score
0
4
Goal Scorers
Starland White (40:00)
Alina Stahl (79:00)
1999
USA U15 YNT
Region II
Final Score
2
2
Goal Scorers
Kristina Lynch (

24:00

)
Kerry Abello (45:00)
1998
Region III
Region IV
Final Score
4
1
Goal Scorers
Brooke Bingham (

15:00

)
Eva Swearngin (42:00)
Alexandria Stubblebine (36:00)
Maddison Krstec (41:00)
Sydney Spruill (44:00)
1998
Region I
Region II
Final Score
2
1
Goal Scorers
Taylor Bennett (

06:00

)
Kylie Sprecher (

16:00

)
Maggie Basta (

15:00

)