US Youth Soccer National League P.R.O. sending 144 teams to National Championships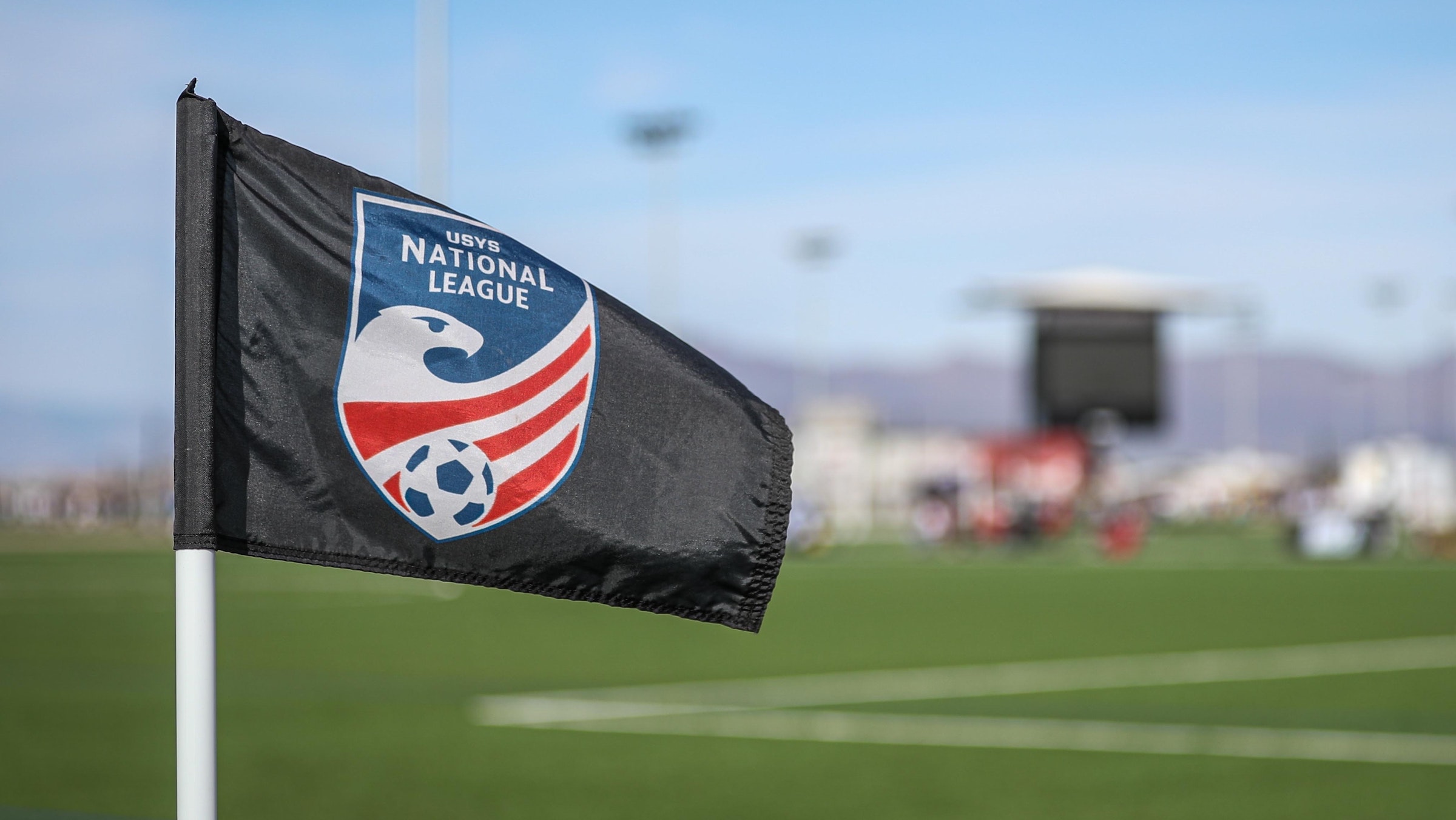 FRISCO, Texas — Following successful USYS National League P.R.O. seasons, 144 teams have punched their ticket to the USYS National Championships, being played July 18-23 at the ESPN Wide World of Sports Complex in Orlando, Fla.
In each of the 14U through 19U age groups, National League P.R.O. competition saw 12 boys teams and 12 girls teams earn advancement to the National Championships, where they will be joined by the four representatives from the upcoming USYS Regional Championships – completing the field of 16 teams in each of those age groups. (View All Qualifiers)
"We're so excited. We've been training and working and putting in the effort to try to get where we are right now," said Coppermine SC 07G (MD) midfielder Riley Matthews in March after her team qualified for Nationals. "We're just so excited and can't wait to have a chance to play for the National Championship."
The National League P.R.O. season featured five exciting events that spanned November through March. Each team attended two events, where they played at least six games before rounding out their seven-game season with a standalone game. With several highly competitive groups, many of the seventh games played during the spring determined National League P.R.O. group titles, as well as berths to Nationals.
The teams that qualified for Nationals through National League P.R.O. represent 28 USYS State Associations, led by Illinois and Eastern Pennsylvania with 15 teams each. Ohio followed with 13 qualifiers, while Maryland had 12 and Florida had 10.
Among the 13 National League Conferences, the Midwest Conference led the way with 35 teams that secured their place in the National Championships, followed by the Great Lakes Conference with 23. Totals for the other conferences include: Mid Atlantic (20), South Atlantic (16), Sunshine (10), Frontier (7), Mid South (7), North Atlantic (7), Desert (6), Pacific (4), New England (3), Northwest (3), Piedmont (3).
"After watching the amazing competition throughout the National League P.R.O. season, we know that any team that earned its place in the National Championships is full of talented and deserving players," said National League Commission Simon Collins. "The challenges these teams faced throughout the National League season have prepared them well to compete for the ultimate title of USYS National Champions, and we can't wait to cheer them on this summer."
2023 US Youth Soccer National Championships Qualifiers
(Via National League P.R.O.)
GIRLS DIVISIONS
14U Girls
Group A
Wasatch SC 09G PO (UT)
Lonestar 09G FDL (TX-S)
Solar 09G FDL Grado/Colvin (TX-N)
Group B
BC United 09G (NY-W)
Legends IE G09 (CA-S)
PA Dominion 09 Girls (PA-E)
Group C
KCL Academy Red 2009 NL (KS)
Brandon FC RSC 09G Premier (MS)
Michigan Rush Northville 09G (MI)
Group D
Keystone FC Premier 09G (PA-E)
Club Ohio Dayton 09G Elite (OH)
Crystal Lake Force 09G Elite Blue (IL)
15U Girls
Group A
Galaxy 2008 Girls Blue (IL)
KC Fusion Academy 08 (KS)
FC Somers Lady Hammers (NY-E)
Group B
Solar South 08G FDL Adames (TX-N)
Germantown Lady Legends 08 Black (TN)
Penn FC Youth 08G Black (PA-E)
Group C
NJ Premier G2008 (NJ)
Yardley Makefield Soccer 08G Premier Spirit (PA-E)
MS Rush United 08G Premier (MS)
Group D
FC Frederick 08 Girls (MD)
STA-MUSC 2008G NL (NJ)
Solar FDL 08G Hernandez (TX-N)
16U Girls
Group A
Galaxy SC 2007 CvC (IL)
Ginga FC 07G Elite PRO NL (CT)
LMSC Furia (PA-E)
Group B
Utah Surf 07 BH (UT)
SFFA 2007 Girls Elite (FL)
Group C
Solar South 07G Adames (TX-N)
Nationals Union 07 Girls Black (MI)
Group D
Coppermine SC Girls 2007 Elite 64 (MD)
KHA North 2007G Red (OH)
MS Rush United 07G Premier (MS)
Group E
Wasatch SC 07G ZB (UT)
Club Ohio Dayton 07G Elite (OH)
17U Girls
Group A
MI Rangers FC 06G Elite (MI)
NUSA 06G Maroon (TN)
Group B
Keystone FC Premier 06G (PA-E)
Yankee United FC Attack (CT)
DMV FC 2006 Blue (VA)
Group C
Lonestar 06G FDL (TX-S)
Club Ohio 06G National (OH)
Group D
FC Revolution Reds 06 (PA-E)
NJ Premier G2006 (NJ)
Chattanooga Red Wolves 06G (TN)
Group E
RUSA FC G06 Gold (NJ)
WYSA 06G Explosion (NC)
18U Girls
Group A
LFA Tottleben 2005G (MO)
DKSC 05G Weir (TX-N)
FC Dayton G05 (OH)
JB Marine Thunder 2005G (MO)
Group B
North Shore United 05G Blue (WI)
Penn FC Youth 05G Black (PA-E)
Chicago FC United 05G Pre-Academy Red (IL)
Barca Academy CLB Premier 05G (OH)
Group C
McLean YS Virginia Union 05 Girls (VA)
Patriots FC Girls 05 (NY-E)
Legends IE G05 (CA-S)
NJ Nationals 2005 Girls Elite (NJ)
19U Girls
Group A
STLDA 2004G Rangers (MO)
Galaxy SC 04/05 Blue (IL)
KCSG Elite 04G (KS)
UCSC FC Leonas (UT)
Group B
Team Chicago SC 2004 Elite (IL)
Nationals Union 04 Girls Black (MI)
Liverpool FCIA Central MD 04 Girls (MD)
Iron Valley United Thorns 04 (PA-E)
Group C
Penn FC Youth 04G Lightning (PA-E)
Hoosier FC 2004G Elite Wolves (IN)
FCE 2004 Elite (PA-E)
STA MUSC 04/05G NL (NJ)
BOYS DIVISIONS
14U Boys
Group A
Juventus Miami Salihamidzic (FL)
Sporting Columbus Boys 2009 I (OH)
Strikers Miami FC 2009 Elite (FL) [wildcard]
Group B
Club Ohio 09B National (OH)
Team Boca 09 Boys White (FL)
BVB International Academy Pittsburgh 09B Premier (PA-W)
Group C
Barca Academy Pro Miami 09 PRO (FL)
Oregon Premier FC 09B Academy (OR)
Group D
3RSC B09 Black (WA)
EBU U14B Elite 09 (WI)
Group E
Rangers FC B2009 White (CA-S)
Galaxy SC 2009 MWC (IL)
15U Boys
Group A
Pateadores SC Nashville 2008B (TN)
Las Vegas Diversity FC 08 NL (NV)
Group B
Utah Celtic FC 08 Boys (UT)
Yardley Makefield Soccer 08B Celtic (PA-E)
Group C
Billy Goat FC 08 (KS)
SBLGN Wildlings Blue 2008 (NY-E)
Group D
Potomac Premier I 08B (MD)
Juventus Miami Pogba (FL)
SMS 08 Strikers Red Premier (MD)
Group E
Chicago Magic 2008 MCL (IL)
Brentwood SC 08 Premier Man City NL (NY-E)
NY Hota Bavarian SC 08 Blue (NY-E)
16U Boys
Group A
Hoosier FC 2007 Elite Wolves (IN)
Spire FC 2007 Boys (OH)
Group B
SAC Boys 2007 Pre-Academy (MD)
PDA SC Vistula Lewandowski (NJ)
Group C
La Roca Milla SC (UT)
FC United – DSM 2007B (IA)
Group D
Chicago Magic 2007 MCL (IL)
07 PTFC Triad Premier (NC)
Group E
Titans FC Orozco B07 (CA-S)
JB Marine Academy Baum 07B (MO)
Group F
Madison 56ers 07 Boys Red (WI)
Croatian Eagles Red 2007 (WI)
17U Boys
Group A
LFA Goddard 2006B (MO)
JB Marine Academy McKeon 06B (MO)
Group B
Juventus Academy Boston EDS N 06 Bianco (MA)
CFJC 2006B Premier (IL)
Group C
Arsenal FC of Pittsburgh 06B Academy (PA-W)
Juventus Miami Buffon (FL)
Group D
WUSC 06 (NJ)
CUP 06 Black (OH)
Group E
NYPFC 2006 Boys (NY-E)
Hunter SC 62Blues (PA-E)
Group F
Miami Breakers FC 2006B Black (FL)
FCE 2006 Boys Elite (PA-E)
18U Boys
Group A
Galaxy 2005 Boys Blue (IL)
Indiana Fire 2005B NL (IN)
Group B
JB Marine Academy 05B (MO)
Potomac Blue 05B (MD)
Group C
FC Bucks Dominion 05 Boys (PA-E)
SAC Boys 2005 Pre-Academy (MD)
Group D
Raiders FC 2005 (IL)
NLS Ajax 05 White (MD)
Group E
Madison 56ers 05 Boys Red (WI)
Libertyville FC 1974 Elite 05 Boys (IL)
Group F
BVB International Academy Pittsburgh 05 Premier (PA-W)
CUP 05 NL (OH)
19U Boys
Group A
Oregon Premier FC 04/05B Academy (OR)
LFA Williams 2004B (MO)
Galaxy 2004 Boys Yellow (IL)
Group B
Spire FC 2004 Boys (OH)
BRAUSA 04 Blue (MD)
ID Houston Legends 04B (TX-S)
Group C
FC Bucks DOMINION 04 Boys (PA-E)
Highland FC 04/05 Red (NC)
Inland Surf 19U (CA-S)
Group D
SCS United 2004 Boys Black (PA-W)
CUP 04 NL (OH)
Dutchmen FC 04 Boys (NJ)