US Youth Soccer National League Las Vegas Preview: 19U Girls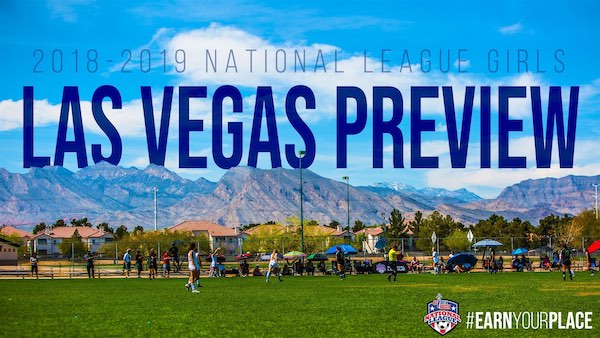 Follow the National League Season…
Twitter | Facebook | Instagram | #EarnYourPlace
Click for division previews, games to watch and player notes…
14U Girls | 15U Girls | 16U Girls | 17U Girls | 18U Girls 
FRISCO, Texas (Via US Youth Soccer) — The US Youth Soccer National League Girls teams will compete in their second event of the 2018-19 season March 15-17 at Bettye Wilson Soccer Complex and Kellogg Zaher Soccer Complex in Las Vegas, Nev., as 100 teams — representing 26 state associations and 64 clubs — play their final games to solidify the division standings.
Continue reading for a full preview of the 19U Girls age group.
SCORES & STANDINGS | BLUE | RED
---
BLUE DIVISION
Behind three straight shutout victories in Florida to finish its season, MapleBrook Fury (MN) clinched at least a top-two finish in the 19U Girls Blue Division. However, the division title and the group's second berth to the 2019 National Championships are still to be decided during the final weekend of the season in Las Vegas.
MapleBrook posted 18 points in its seven games, thanks in part to a defense that allowed just two goals. That point total gives the Minnesota side a six-point advantage over the top team with games remaining — Sunrise Sting 2000 (FL). The Florida side won all four of its games to open the season, including a 1-0 victory against MapleBrook. A couple of wins in Las Vegas would be enough to give Sunrise the division title and a spot in the National Championships — where it would look to defend its 2018 National title.
With two wins in North Carolina, Legends FC G00 Academy II (CA-S) is currently nine points back of second place Princeton SA (NJ). The Cal South side will need to win all of its remaining games to pass Sunrise and catch PSA, and it will need help in the other matches in Las Vegas to have a shot at winning a tiebreaker for second place.
Game to Watch
March 15, Sunrise Sting 2000 (FL) vs. Legends FC G00 Academy II (CA-S)
A win for Sunrise in this matchup on the first day of play in Las Vegas would help it clinch a top-two finish. However, a win for Legends would add a few more questions to the race for the division title and second place as the teams continue with the weekend. Sunrise looked strong in North Carolina, but Legends FC has enjoyed plenty of success as a club in Las Vegas in past National League seasons, so its teams know what it takes to finish strong in the final weekend of play.
RED DIVISION
The 2018 National Championship finalist, Campton United Red (IL), has worked its way back to Nationals thanks to a strong performance in the 19U Girls Red Division. Campton went undefeated during the weekends in North Carolina and Florida, as it posted six wins and a draw to compile 19 points. Time will tell if it did enough to secure the division title, but Campton can keep an eye on the Las Vegas results knowing it has a ticket to the National Championships via a top-two finish.
Campton draw came against Legends FC South (CA-S), which heads to Las Vegas with 10 points. The Cal South side is just two points behind the current second-place team, CDA Premier 00 (OH-S), and Legends can match Campton's group-leading 19 points if it wins its three remaining games.
While Legends is the lone team playing in Las Vegas that can challenge for the division title, all three of its remaining opponents are still in contention for second place. Celtic FC 00 Premier (UT) is just one point behind Legends to begin the weekend, while Greater Seattle Surf 00A (WA) and Pipeline 2000 Pre-Academy (MD) are each within striking distance. With a spot at Nationals still a possibility for each team, each game will be important in shaping the top of the final standings.
Game to Watch
March 17, Legends FC South (CA-S) vs. Celtic FC 00 Premier (UT)
A lot can change between now and the last day of play, but early performances by both of these teams suggest this game could have a berth to Nationals on the line. Legends has a slight lead on Celtic in the standings entering the weekend, and neither team can afford to stumble and risk falling behind over the course of the first two days in Las Vegas. Celtic was the most potent offensive team during the first weekend of the season in North Carolina, where it scored 16 goals in four games, so it has the ability to win a shootout. It may need to do so should it need a win to jump past Legends when they meet to close the season.