US Youth Soccer National League Las Vegas Preview: 18U Girls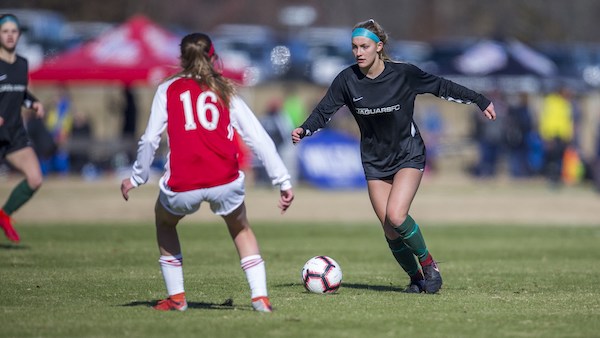 Follow the National League Season…
Twitter | Facebook | Instagram | #EarnYourPlace
Click for division previews, games to watch and player notes…
14U Girls | 15U Girls | 16U Girls | 17U Girls | 19U Girls
FRISCO, Texas (Via US Youth Soccer) — The US Youth Soccer National League Girls teams will compete in their second event of the 2018-19 season March 15-17 at Bettye Wilson Soccer Complex and Kellogg Zaher Soccer Complex in Las Vegas, Nev., as 100 teams — representing 26 state associations and 64 clubs — play their final games to solidify the division standings.
Continue reading for a full preview of the 18U Girls age group.
SCORES & STANDINGS | BLACK | BLUE | RED | WHITE
---
BLACK DIVISION
Behind strong performances in the 18U Girls Black Division during the North Carolina and Florida events, Premier Navy 2001 (MD) clinched the division title for the second straight year. The Maryland side conceded just one goal in its seven games while compiling six wins and a draw to earn 19 points. That figure put it out of reach of the teams with games remaining in Las Vegas. After falling in the National Championship semifinals last year, Premier Navy has earned another trip to Nationals as it looks to add to its accomplishments.
The Black Division sides competing in Las Vegas have the opportunity climb up the standings to secure a high finish. La Roca PO (UT) and CDA Premier 01 (OH-S) each earned two wins from their four games in North Carolina, with La Roca adding a tie for seven total points. Both sides have a chance to finish second in the division, which could build up some momentum as the teams head into late spring and summer competitions.
Game to Watch
March 16, La Roca PO (UT) vs. CDA Premier 01 (OH-S)
Both of these teams had strong showings during their first event of the season in North Carolina. La Roca scored 13 goals through four games, while CDA netted 10 — helping them to goal differentials of plus-seven and plus-four, respectively. The teams come from clubs with significant National League experience through the years, so they will know the value of finishing the season with quality performances in Las Vegas.
BLUE DIVISION
Several teams are still in the mix for the 18U Girls Blue Division title as the remaining sides prepare for the Las Vegas weekend. The current group leader, Nationals Union 01 Red (MI), finished its season in Florida with 15 points gained from its seven games, including three straight wins to finish its campaign. Nationals will now have to wait to see if it can hold on to that top spot once the dust settles in Las Vegas.
The team closest to overtaking Nationals is Celtic FC Premier JR (UT), which heads to Las Vegas with 12 points in the standings. The Utah side won each of its first four contests of the season, and it is in a prime position to move into first place if it can continue that success in the early portion of the final weekend. Meanwhile, 1776 United FC 01 Xtreme (PA-E) secured three wins and a draw in North Carolina — putting it just two points behind Celtic to begin the final weekend. Both Celtic and 1776 defeated Nationals, which benefit them should tiebreakers come into play.
Beadling South Red (PA-W) and SGV Surf G01 (CA-S) both head to Las Vegas with six points in the standings, along with an earlier loss to Nationals. The PA West and Cal South sides will need all three wins, as well as a three-way tiebreaker scenario, for a chance to challenge for the Blue Division title.
Game to Watch
March 16, Celtic FC Premier JR (UT) vs. 1776 United FC 01 Xtreme (PA-E)
Little separates these teams entering the final weekend of play, and both are in position to contend for the Blue Division title. With 17 goals netted by Celtic through four games, along with 14 scored by 1776, this game features plenty of offensive firepower. The potential stakes of this match, combined with the attacking proficiency of each team, set the stage for an exciting matchup that could go a long way in deciding who eventually wins the division title.
RED DIVISION
An undefeated run through its games in North Carolina and Florida helped MI Jaguars 2001 Green (MI) secure a first-place finish in the 18U Girls Red Division. The Jaguars won all four of their opening games in North Carolina by one-goal margins, as the Michigan side displayed an ability to find what it takes to come out on top in tight games. It added a pair of wins and a draw during the January action in Florida to finish with 19 points in the standings and clinch the division title.
All Red Division teams playing in Las Vegas picked up at least three points in North Carolina, including a couple sides — Century V 01 Gold (PA-W) and Rebels 2001 Elite Marquez (CA-S) — who each earned three wins from their opening four games. Both have the opportunity to finish very strong seasons with a successful weekend in Las Vegas, and the defending National Champion, Rebels Elite, will be looking to get into good form as it attempts to make its way back to Nationals through spring and summer competitions.
Game to Watch
March 16, Rebels 2001 Elite Marquez (CA-S) vs. Century V 01 Gold (PA-W)
With three wins apiece entering the Las Vegas weekend, both Rebels and Century are in the middle of impressive seasons. In North Carolina, games involving these teams averaged about four or five total goals, which suggests there could be a good amount of scoring in this match. Rebels has a chance to pick up some momentum heading into National Championship Series play, while Century can test itself against the 2018 National Champion.
WHITE DIVISION
There is a crowd at the top of the 18U Girls White Division, and one team with games remaining has a chance to join or surpass that group during play in Las Vegas. Three teams that finished their season in Florida totaled 15 points in the standings, led by FC Florida 2001 Elite Blue Predators (FL). The Florida side currently sits on top of the division thanks to wins over FC Frederick 01 (MD) and North Shore United 01 Blue (WI), who each have 15 points, as well.
With three games left to play, TFA Elite 01 (OH-S) has an opportunity to pass all of those teams and secure the White Division the title. The Ohio South side heads to Las Vegas with nine points already secured, leaving it just six points back of the group with 15 apiece. Additionally, TFA owns a win against FC Florida, which could work to its benefit in a tiebreaker scenario. Each of TFA's wins came by 2-1 score lines, so it has been able to earn three points in pressure-filled games. It's likely it will need to continue that ability when it faces three tough opponents during play in Las Vegas.
Game to Watch
March 17, Pacesetter Villa Red (OH-N) vs. TFA Elite 01 (OH-S)
Each of TFA's games will be influential in determining who wins the division, and this matchup with Pacesetter has the chance to be the one that proves decisive. Like TFA, Pacesetter played several tight games in North Carolina to begin its season, with three of the four decided by one goal. The pair of Ohio sides have met before, with TFA most recently winning a regional league matchup last spring, so their familiarity should keep this one close.