US Youth Soccer National League Las Vegas Preview: 14U Boys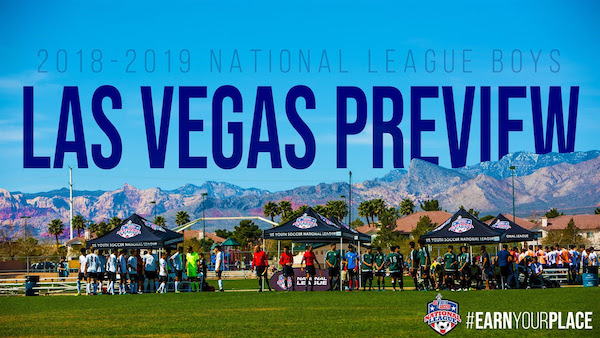 Follow the National League Season…
Scores and Schedule | National League Home
Twitter | Facebook | Instagram | #EarnYourPlace
Click for division previews, games to watch and player notes…
15U Boys | 16U Boys | 17U Boys | 18U Boys | 19U Boys
FRISCO, Texas (Via US Youth Soccer) — The US Youth Soccer National League Boys teams will compete in their second event of the 2018-19 season March 8-10 at Bettye Wilson Soccer Complex and James Regional Sports Park in Las Vegas, Nev., as 104 teams — representing 32 state associations and 68 clubs — play their final games to solidify the division standings.
Continue reading for a look what's in store for the 14U Boys Division.
SCORES & STANDINGS | BLACK | BLUE | RED | WHITE
---
BLACK DIVISION

Of all the standings in the age group, the 14U Boys Black Division features the closest bunch of teams in pursuit of first place. Three teams enter Las Vegas tied at the top of the group with four points in the standings — all having picked up a draw and a win by a one-goal margin during playing in North Carolina. The compact nature of the division will add extra emphasis to each goal scored in the final weekend of play.
Michigan Jaguars (MI) is one of the three teams tied for first place in the Black Division. The Jaguars began their season with a 1-0 victory before playing to a 2-2 draw — giving the Michigan side one more goal scored than the other two teams sitting on four points. Those sides that are level with the Jaguars are Baltimore Celtic Elite (MD) and Raiders FC 2005 (IL), who played to a scoreless draw when they met to open their seasons. Both Baltimore and the Raiders earned 2-1 wins in their second game in North Carolina to set them up in good position moving forward.
A decisive opening day win helped ECU 05 B Maroon (IN) post the highest-scoring opening weekend of any Black Division side, which could come into play in tiebreaking scenarios. The Indiana side, which has three points, also holds a head-to-head win over Germantown Legends 05 Black (TN), who also have three points entering the Las Vegas weekend.
Game to Watch
March 8, Raiders FC 2005 (IL) vs. Michigan Jaguars (MI)
This matchup takes place in the opening time slot of the first day of play in Las Vegas, and the result will go a long way in determining the outlook for the top of the standings moving into the rest of weekend. The teams enter the match as part of three-way tie for first place, so either side that manages to come away with a win will get an immediate upper hand in the hunt for first place. On the other hand, a tie would give each team a valuable point and keep the standings very tight heading into the remaining games.
BLUE DIVISION
The two games in North Carolina allowed Real Jersey FC (NJ) to secure an early advantage atop the 14U Boys Blue Division standings. Jersey allowed just one goal in its two matches, as it picked up a pair of victories in closely contested games. While it is the lone team with six points entering play in Las Vegas, the New Jersey side will need to fend off several teams that are on its heels in the standings.
Pennine United 05 (OH-N) and Sporting KC Academy (KS) each bring unbeaten records into the final weekend, as they picked up a win and a draw apiece in North Carolina. Pennine has the best goal differential in the group after scoring six goals and conceding just two, while Sporting KC left North Carolina after hanging on for a 4-3 win over SDor 05 Elite (VA).
SDor picked up a victory in its opening game against 05 Dalglish (TX-N). That win could prove to be important, as Dalglish and SDor each have three points and share a division-high seven goals scored thus far this season.
Game to Watch
March 9, Real Jersey FC (NJ) vs. Pennine United 05 (OH-N)
A lot could change before these teams meet in the afternoon games on Saturday, but there is a good chance at least one of these sides will be in contention for the division title when they face off. Real Jersey and Pennine enter the weekend with the top two defenses in the division, based on goals against, which could allow each team to keep pace at the top of the standings through the first few games in Las Vegas — setting up a key meeting in this game.
RED DIVISION
Despite having played just two games, a couple of favorites emerged in the 14U Boys Red Division. USA Premier 05 Angeletti (UT) and Rise 05B Elite I C (TX-S) each picked up two wins in North Carolina, making them the only teams in the division with six points. On top of that, the two sides picked up their wins in decisive fashion, as they each have identical marks of eight goals scored with none conceded.
While USA and Rise have an early advantage over the rest of the division, the teams chasing them each have five games to try to make a move into first place. Four teams in the Red Division have three points entering the weekend in Las Vegas, meaning half of the division is just one win away from potentially moving into a tie at the top of the standings. Additionally, USA Premier has games left against each of the teams sitting on three points, while Rise has matchups remaining with three of those sides. There will be plenty of opportunities for the teams chasing the top two sides to make quick moves up the standings during play in Las Vegas.
Game to Watch
March 9, USA Premier 05 Angeletti (UT) vs. Rise 05B Elite I C (TX-S)
The current Red Division co-leaders meet up early on Saturday in a game that could help bring some clarity to the top of the standings. No matter what happens on Friday, both teams will still be in the thick of the division title race when they meet in this game. A head-to-head win for either side over the other could prove to be a deciding factor when the standings are finalized, and early results have provided no hint as to who may have an upper hand in this game.
WHITE DIVISION
Six teams left North Carolina with at least one win in the 14U Boys White Division, but just two — KHA 05 Red (KY) and Libertyville FC 1974 Elite (IL) — picked up victories in both early matches. Both sides currently have plus-four goal differentials, with KHA having a slight edge in goals scored while Libertyville conceded just once in its first two games.
The goal Libertyville gave up came in a tight 2-1 win against Santa Clara Sporting 05 Green (CA-N). The Cal North side picked up a 3-0 win in its other North Carolina match and is one of the four sides that are three points behind the co-leaders entering the Las Vegas weekend. Santa Clara has a slight edge in goal differential over the other three, but there is time left for plenty to change before the games conclude on March 10. The White Division sides will need to watch out for Players SC (NV), which enters the weekend with three points and has the advantage of playing on its home fields during the event.
Game to Watch
March 8, Libertyville FC 1974 Elite (IL) vs. KHA 05 Red (KY)
It won't take long for the top of the White Division to take shape, as the co-leaders meet in their first game of the weekend in Las Vegas. With plenty of matches remaining after this one, the result will not decide the division winner. However, it will determine whether there is a clear front-runner should KHA or Libertyville come away with a win. If they draw, it will allow the pack of teams with three points to inch closer to top the division and make each remaining match even more impactful.