Four girls teams clinch spots to 2015 US Youth Soccer Nationals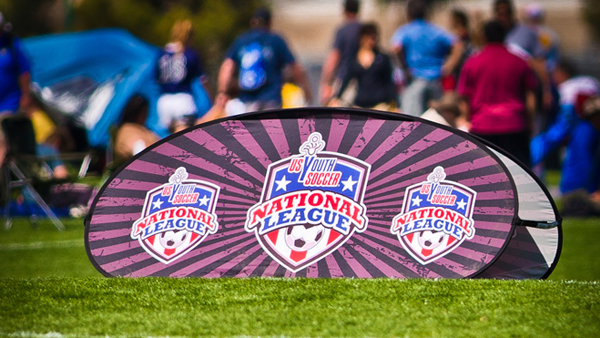 Day 3 of 3 complete
Scores and Standings 
ORLANDO, Fla. (Via US Youth Soccer) — The US Youth Soccer National League Girls teams competing this week wrapped up their 2014-15 seasons on Friday at the ESPN Wide World of Sports in Orlando, Fla., playing alongside the Disney Soccer Showcase. The 48 remaining girls teams will finish their seasons and solidify the league standings March 20-22 in Las Vegas, Nev.
The top two finishers per division earn a spot at the 2015 US Youth Soccer National Championships, as the four National League representatives will join the four Regional Champions in the Under-14 through Under-18 age groups.
Just four teams were able to secure their spot among the top two in the standings this week, meaning many of the division races will come down to the final days of the season in Las Vegas.
2015 US Youth Soccer National Championship Qualifiers via the National League
*qualified Friday
Under-15
Blue Champion: Tophat 18 Gold (GA)
Under-16
Blue: Tophat 17 Gold (GA)*
Red: JFC Storm 98/99 (FL)
Under-17
Blue: Tampa Bay United 97 Premier (FL)*
Under-16 Tophat 17 Gold (GA) and Under-17 Tampa Bay United 97 Premier (FL) became the latest teams to punch their tickets to the 2015 US Youth Soccer National Championships after each secured top-two finishes with wins on Friday. With play in Orlando concluded, nine of the 10 girls' division titles remain to be decided and 16 berths to Nationals are still up for grabs.
After his team fell in a very close 2014 National Championship final, Tampa Bay United coach Adrian Bush said he is very happy that his players have earned another chance to play for the National title by going 4-0-3 in the National League.
"We lost a tough game in PKs in the National Championship last year. Leaving there, it was our goal to get back," Bush said. "It's been a long seven games. This league is absolutely phenomenal. I credit our girls for keeping focus. To go undefeated in the league, giving up one goal in seven games, with the quality of teams that we played — it's absolutely phenomenal."
The one goal conceded by Under-17 TBU makes it the seventh girls team in league history to concede just a single goal during a season. Another notable feat occurred Friday, as Under-15 Tophat 18 Gold (GA) became just the sixth National League Girls team to finish 7-0-0. En route to posting a perfect record, Tophat scored the fourth-most goals (24) by a girls team in a single season, and forward Rachel Jones netted 12 goals herself — giving her the second-most by a girls player in a season.
In addition to the record performances and teams clinching spots at the National Championships, Friday also featured a few teams who picked up some vital points to keep their chances alive at finishing in the top two of their divisions. One such team was Under-18 VSA Heat 96 Blue (VA), which capped an impressive week with a 4-1 win on Friday to move four points ahead at the top of its division.
"There's nothing better than this league. Every game is important. You can't take a game off," VSA coach Steve Smith said. "Today, we played a team that hasn't won a game, but they gave us a great game. You always have to show up to play. That's the important thing about the league — the girls realize you have to come to play."
Smith said Friday's win was bittersweet for his Under-18 players since it was their last National League game before beginning their college careers next season. Meanwhile, Bush and his team knew they had a chance to guarantee one more year in the league with a win on Friday, and the players made sure to take advantage of the opportunity.
"I told the girls at the beginning of the game, 'There are not many teams that have been able to be in this league for four straight years. A win today will allow you to accomplish that,'" Bush said. "It's phenomenal. It tells about the character of the group. I'm really proud of them, and we'll be back at it again next year, and we're really thrilled to be a part of the league again at U-18."
National League teams earn their place in the league based on a proven track record of success in US Youth Soccer regional and national competitions and are among the nation's best. Competing for a league title and a spot in the US Youth Soccer National Championships, each and every game will play into who represents the National League this summer in Tulsa, Okla.
The National League is an extension of the US Youth Soccer Regional Leagues (US Youth Soccer Region I Champions League, Midwest Regional League, Region III Premier League and Far West Regional League).
Some highlights from Friday's matches…
Under-15
Cleveland FC (OH-N) moved into second place in the Under-15 Blue Division with a 2-1 win over Grand Rapids Crew Jrs. 00 Gold (MI) on Friday. The Ohio side fell behind in the 19th minute when Crew's Riley Tanner found the back of the net. Cleveland bounced back to equalize later in the half on a Shannon Narolewski goal, and Aubrey Bechter followed shortly after with a strike of her own to put Cleveland in front in the 39th minute. Grand Rapids created some dangerous moments while pushing for an equalizer, but Cleveland held strong to come away with the 2-1 win.
In other Under-15 Blue Division action, Tophat 18 Gold (GA) became just the sixth team in league history to go 7-0-0 after a 3-0 win over in-state foe United FA 00 Premier (GA). Charlotte Teeter opened the scoring in the 23rd minute when headed home a corner kick to put Tophat in front. Ella Shamburger doubled the Tophat advantage shortly after halftime, and Raegan Kelley added a late insurance goal to cap the 3-0 victory.
FC Virginia United Premier (VA) picked up seven points in Orlando, capped by a 3-0 win on Friday, to move into second place in the Under-15 Red Division. However, it will need a lot of help in Las Vegas to remain in second place when the standings are finalized.
Under-16
Tophat 17 Gold (GA) punched its ticket to Nationals by securing a top-two finish in the Under-16 Blue Division with a 1-0 win against NSA Rockets (IL). Tophat forward Chloe Maize netted her ninth goal of the season in the 16th minute to give her side an early lead. Each team created some scoring opportunities in the second half, but Maize's early strike proved to be the game-winner as Tophat held on for the 1-0 victory. The Georgia side won't know if it finishes as the division champion until the season concludes in Las Vegas.
Defending National Champion JFC Storm 98/99 (FL) added to its lead in the Under-16 Red Division with a 1-0 win over NASA 17 ELITE (GA). JFC's Angeline Daly produced the game's lone goal when she found the back of the net in the 13th minute. The win gives the Florida side a nine-point advantage over second-place Beach FC 98 Academy (CA-S), which will need to win each game in Las Vegas to have a chance at overtaking JFC for the division title.
Under-17
After coming up just short in the 2014 National Championship final on penalty kicks, Tampa Bay United 97 Premier (FL) is heading back to Nationals thanks to a 3-0 win over Eclipse Elite Black 97/98 (IL). After a scoreless first half, Tampa Bay's Brianne Folds struck for two goals and teammate Dominque Nelson added one to help TBU to the win. The shutout victory helped the Florida side secure a top-two finish in the Under-17 Blue Division, as goalkeeper Kaylan Marckese and the TBU defense allowed just one goal during their 2014-15 National League campaign.
A tie against Syracuse Development Academy 97/98 (NY-W) spoiled Tophat 16 Gold's (GA) attempt to stay in first place in the Under-17 Red Division. The Georgia side took a 1-0 lead to halftime thanks to a Logue Shamburger goal, but Syracuse equalized in the 55th minute when Jessica Rose Pignato found the back of the net. Neither side managed to break the deadlock, as the teams split the points. The tie allowed Michigan Jaguars 98 Green (MI) to jump into first place in the group, but much can changed depending on the results in Las Vegas.
Under-18
Maitland 96/97 Florida Krush Black (FL) needed a win to secure a berth to Nationals, but 97 Louisiana Fire Navy (LA) rallied for a 2-1 win in a rematch of last year's Region III Championship final. The Under-18 Blue Division matchup began with a 15th-minute Carrie Lawrence goal that put Maitland in front. The Florida side maintained that lead until Mia Dubroc equalized for Louisiana in the opening minute of the second half. Dubroc struck again in the 74th minute with what proved to be the game-winner, as Louisiana kept its slim top-two hopes alive with the 2-1 victory. The Maitland loss allowed Kings Hammer Academy (OH-S) to move into first place after a come-from-behind win on Friday, but the Ohio side will need to wait until the games in Las Vegas play out to see where it finishes.
With a 4-1 win against SSA Chelsea 97 Elite (GA) on Friday, VSA Heat 96 Blue (VA) extended its lead atop the Under-18 Red Division to four points. Maddie Watson slid her 28th-minute shot inside the right post to put VSA in front, and Gabrielle Gillis found the back of the net in first-half stoppage time to double the Virginia side's lead. Watson scored her second goal of the game to make it 3-0 before SSA's Abigail Abrahart pulled her side within two with a 64th-minute strike. Kelli Burney added a late insurance goal for VSA to cap the 4-1 win. Though it sits in first place in the group, VSA will need to wait until the games conclude in Las Vegas to see if it advances to Nationals.
National League Girls action continues March 20-22, at the Players College Showcase in Las Vegas, Nev.