US Youth Soccer National League Girls set to resume play Jan. 19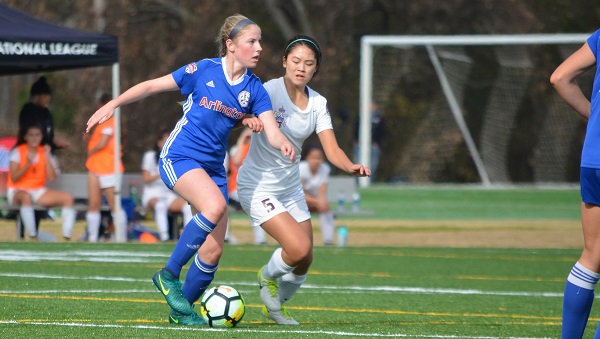 Follow the National League Season…
Scores and Schedule | National League Home
Twitter | Facebook | Instagram | #EarnYourPlace
FRISCO, Texas (Via US Youth Soccer) — The US Youth Soccer National League girls teams will resume league play Jan. 19-21 at the Premier Sports Campus in Lakewood Ranch, Fla. In addition to the National League matches, 22 US Youth Soccer National League Conference teams will be competing in showcase games at the event.
The National League schedule for Lakewood Ranch features four of the eight teams per division in the 15U through 19U age groups, meaning 72 girls teams will take the fields to play the next three games of their National League season. Each matchup holds great importance in determining which teams will punch their ticket to the 2019 US Youth Soccer National Championships, held July 23-28 in Overland Park, Kan.
+NATIONAL LEAGUE SCHEDULE – LAKEWOOD RANCH, FL
+CONFERENCE SHOWCASE SCHEDULE – LAKEWOOD RANCH, FL
After the National League girls sides played competitive matches in North Carolina to open their seasons, nearly every division has several teams in position to contend for the title. The first place team's lead is three points or less in 16 of the 18 divisions in the 15U-19U Girls age groups.
The National League girls teams that do not compete in Lakewood Ranch will complete their season March 15-17 at the Players College Showcase in Las Vegas.
The National League provides an avenue for teams to play in meaningful matches against top competition from across the country for continued development. In addition to recruiting opportunities, National League teams compete for the National League title and one of four slots from each gender age group to the annual US Youth Soccer National Championships. Teams in the 14U-18U age groups are also competing for a chance to re-qualify for the National League's 2019-20 season.
The reimagined US Youth Soccer Leagues Program also includes a new multi-state tier with a network of 13 high-level competitive conferences throughout the country. In 2018-19, the conferences will provide opportunities for qualification into the 2019 US Youth Soccer Regional Championships, as well as the 2019-20 National League.
Since its inception, National League teams have captured a combined 56 of 78 possible National Championships. For a list of past National League champions and history, click here.