US Youth Soccer National League Boys wrap up play in Orlando, Fla.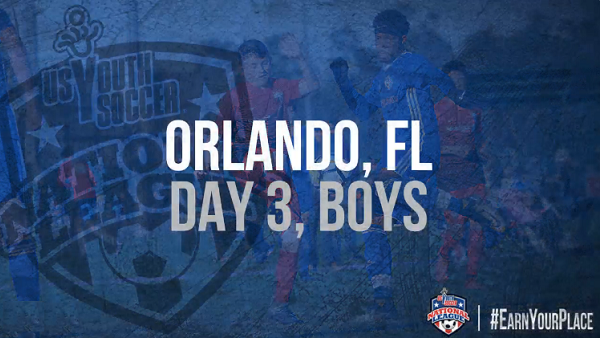 Day 3 of 3 complete
Scores and Standings | Video
Twitter | #EarnYourPlace
ORLANDO, Fla. (Via US Youth Soccer) — The US Youth Soccer National League Boys teams competing this week wrapped up their 2017-18 seasons on Sunday at the ESPN Wide World of Sports in Orlando, Florida as they played alongside the Disney Soccer Showcase. The 72 remaining boys teams will finish their seasons and solidify the league standings March 9-11 in Las Vegas, Nev.
League play will continue Jan. 13-15 when 56 National League Girls teams continue their seasons at IMG Academy in Bradenton, Fla.
National League teams earn their place in the league based on a proven track record of success in US Youth Soccer regional and national competitions and are among the nation's best. Competing for a league title and a spot in the US Youth Soccer National Championships, each and every game plays into who represents the National League this summer in Frisco, Texas.
Just two more teams managed to win division titles on Sunday and secure the accompanying berth to the National Championships. In the 15U age group, OK Energy FC Central 03 (OK) won the Red Division to give the club its second National League title of the season. Meanwhile, defending National Champion Baltimore Celtic SC 00 (MD) will have a chance to defend its title in Frisco after winning the 18U Red Division.
+READ: US Youth Soccer National League Boys resume play in Orlando, Fla.
"It's feels great to win today's game and get that National Championship berth," Baltimore Celtic coach Barry Stitz said. "The kids have worked hard for it. I thought we played well in North Carolina and continued that here."
Having seen what both the National League and National Championships have to offer, Baltimore knows that navigating the league season can be crucial preparation for the level of competition the team will face when it takes the field at Nationals in Frisco.
"It's difficult to win games in the National League. That's the reason why we get into it," Stitz said. "You're playing the best teams from around the country and a bunch of different styles of play. The boys know if you don't go out and compete from the opening whistle, you can lose any game."
2018 US Youth Soccer National Championship Qualifiers via the National League
*qualified Sunday
15U
Red Champion: Oklahoma Energy FC Central 03 (OK)*
17U
White Champion: Oklahoma Energy FC 01 Central (OK)
18U
Red Champion: Baltimore Celtic SC 00 (MD)*
National League Boys action will continue March 9-11 at the Players College Showcase in Las Vegas, Nev. Complete standings, scores and schedules, including goal scorers and match information, can be found at the results page here. Click on the score of each game for more information.
Some highlights from Sunday's matches…
15U
In a matchup of the top two teams in the 15U Red Division, OK Energy FC Central 03 (OK) recorded a dominant win over CFA Dalton 03 Elite (GA) (SC) to secure the division title. It took less than a minute for the Oklahoma side to grab an upper hand in the match, as Fernando Saldana found the back of the net to put the Energy up, 1-0. David Meacham doubled the advantage before Saldana completed a first-half hat trick to push the Oklahoma advantage to 4-0. Caden Ball added a goal in the 67th minute to seal the 5-0 victory. The win marked Oklahoma's fourth shutout of the season, as the 03 side secured the club's second National League division title of the season.
CFJ City 2003 Pre-Academy (IL) entered Sunday with a chance to clinch a top-two finish in the 15U Blue Division with a win, but United SA Mount Pleasant 03 Premier (SC) spoiled that opportunity by winning, 2-1 — a result that moved the South Carolina side into first place. United SA jumped in front in the 18th minute on a Chase Kennedy goal and quickly doubled that advantage when Michael Petry found the back of the net just five minutes later. Just before halftime, Christian Munoz pulled a goal back for CFJ, as the Illinois side built some momentum entering the final 40 minutes. CFJ nearly pulled even on a set piece midway through the second half, but United SA managed to clear a couple attempts off the line to maintain its lead. The South Carolina side held on for the 2-1 win and now sits in a good position to potentially clinch a berth to Nationals with a top-two finish.
+READ: US Youth Soccer National League Boys Florida Event Day 2 Recap
16U
Defending National Champion Solar Chelsea Red 02 Stricker (TX-N) earned a 3-1 win over USA MP 02 Premier (SC) on Sunday to extend its lead at the top of the 16U White Division. The South Carolina side made it known the points wouldn't come easy for Solar, as USA MP took a third-minute lead behind a William Finnegan goal. However, Harvey Castro provided an immediate reply for Solar to level the game just two minutes later. The North Texas side grabbed a lead just moments after halftime when Richard Garcia found the back of the net, and Bleon Salihu added a goal in stoppage time to seal the 3-1 victory for Solar. Idle Club Ohio Green 1 (OH-S) must win all three of its games in Las Vegas to pass Solar in the standings.
17U
A 2-1 win on Sunday helped McLean Green 01 (VA) finish its 17U Red Division campaign in a good position, as it topped Sporting Omaha FC 01 Elite (NE). The Virginia side's early pressure paid off when it went up, 1-0, by way of an own goal in the 28th minute. The teams exchanged chances for much of the match, and Ted Zhang netted a crucial second goal for McLean in the 52nd minute. Sporting pulled a goal back in the final minute of regulation with a blast inside the near post, but McLean held on to take the 2-1 victory. Eastside FC 01 Red (WA) will need to win all three of its games in Las Vegas to pass McLean in the standings.
In the 17U Blue Division, Solar 01 Stricker (TX-N) had a chance to build a substantial lead atop the standings, but NCFC 01 Elite (NC) had other ideas. The match was tight throughout and entered the final 15 minutes with no score. That changed when Dylan Enseling beat the keeper in the 76th minute to put NCFC up, 1-0. Solar pushed forward looking for an equalizer, but Santiago Romero provided NCFC with some breathing room when he doubled the lead in the 81st minute. North Carolina held on for the shutout, as it handed Solar its first loss of the season. The North Texas side now has just a four-point lead over idle SLSG Elite 01 (MO) heading into the games in Las Vegas.
By conceding a late goal, Solar 01 Sawyer (TX-N) had to settle for a 1-1 draw with Arlington 2001 Red (VA) and missed out on a chance to clinch to 17U Black Division title. The game remained scoreless for more than an hour of play, but Solar produced a critical breakthrough in the 67th minute. Todd Fuller swung in a free kick from the right wing, and Johnny Koponen placed his header back across goal and inside the right post to put the North Texas side in front. Arlington punched back and drew a foul in the box in the final minutes. Eduardo Castillo-Bonilla stepped up to the penalty spot and converted his attempt to force the 1-1 draw. The result, coupled with a Tampa Bay United (FL) comeback win, puts Tampa Bay in first place in the group heading into the final weekend of play in Las Vegas.
18U
With a convincing win over HMMS Eagle FC 00 Titans (PA-E) on Sunday, defending National Champion Baltimore Celtic SC 00 (MD) clinched the 18U Red Division title. Baltimore scored three goals in an eight-minute span midway through the first half to seize control of the contest, as Andrew Privett, Andrew Holt and Anthony Dragisics each found the back of the net. Jordan Ehart extended the lead to 4-0 with a strike shortly after halftime, and Herson Morales added a 51st-minute goal. The Celtic defense did the rest, as it held on for its second clean sheet of the season, as Baltimore won the group and earned a chance to defend its title at Nationals in July.
After two events, LVU 2000 Black (PA-E) is in first place in the 18U White Division — a lead that was extended by a point on Sunday thanks to a 1-1 draw against CUP Gold 00 (OH-S). It appeared CUP was destined to take all three points on Sunday, as Connor Wilson's 67th-minute strike provided that game's lone goal deep into stoppage time. However, Phillip Bell scored a dramatic equalizer for LVU four minutes into added time to help the Eastern Pennsylvania side salvage a point. The draw pushed LVU's advantage to six points over a pair of White Division sides who each have three games left to play in Las Vegas.