US Youth Soccer National League Boys Florida Event Day 2 Recap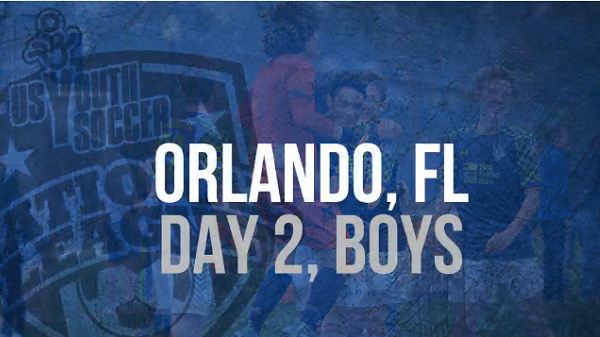 Day 2 of 3 complete
Scores and Standings | Video
ORLANDO, Fla. (Dec. 29, 2017) — The 2017-18 US Youth Soccer National League Boys showcased their talents in front of hundreds of college coaches in meaningful and competitive matches Friday at the ESPN Wide World of Sports in Orlando, Florida, alongside the Disney Soccer Showcase.
The boys teams competing in Orlando will wrap up their season on Sunday, while the rest of the league will compete March 9-11 in Las Vegas before standings are finalized.
The first team — 17U Oklahoma Energy FC 01 Central (OK) — earned a berth to the 2018 US Youth Soccer National Championships, as the Oklahoma side captured the 17U White Division title. Meanwhile, several other teams inched closer to punching their tickets to Nationals by earning important results.
+READ: US Youth Soccer National League Boys resume play in Orlando, Fla.
Among those who have a chance to be in good standing following this weekend is defending National Champion Solar Chelsea Red 02 Stricker (TX-N). The 16U side can't clinch the White Division title this week, but it has picked up two big wins to extend its lead atop the group standings.
"We love coming to National League. It's our favorite event of the year because you're playing such high-level teams," Solar coach Chris Stricker said. "Last year, we won the National Championship, and we qualified for Nationals through the National League. To get back to Nationals would be a big deal and to try to repeat — it's very tough, but I think the boys are focused and want it bad. We're hoping to come out Sunday and get a good result."
Whichever teams earn a berth to the National Championships through the National League will look to follow a history of success. Since its inception, National League teams have captured a combined 56 of 78 possible National Championships. Solar Chelsea was one such team a year ago, and Stricker knows how the league can help prepare his team for a potential National title defense.
"I think it gave us so much confidence to play in the National League last year. We knew going into Nationals that we had already played many of the top teams in the country," Stricker said. "To be able to draw on that experience is awesome. It gives us confidence to know that we played these hard of games early on, and hopefully we be peaking at the right time like we did last year."
The National League features the top 256 teams in the 14U through 18U Boys and Girls age groups. With teams in each age group divided into eight-team divisions, each side has had to earn its place in the league through success in US Youth Soccer Regional Leagues and National Championship Series play.
The National League is an extension of the highly successful US Youth Soccer Regional Leagues (US Youth Soccer Eastern Regional League, Midwest Regional League, Southern Regional Premier League and Far West Regional League). The National League provides an avenue for teams to play in meaningful matches against top competition from across the country for continued development and opportunities for exposure at the national team, collegiate and professional levels.
National League action will continue Sunday, Dec. 31, at the ESPN Wide World of Sports. Complete standings, scores and schedules, including goal scorers and match information, can be found at the results page here. Click on the score of each game for more information.
Some highlights from Friday's matches…
15U
The 15U Red Division champion could be crowned on Sunday when OK Energy FC Central 03 (OK) and CFA Dalton 03 Elite (GA) meet to close out their weekends in Florida. Each side came away with victories on Friday to increase their leads in the standings over idle Beadling (PA-W). If either team can come away with all three points in their matchup on Sunday, the victor will leave Orlando with a division title and ticket punched to the National Championships.
16U
Baltimore Celtic 2002 (MD) had an opportunity to move into first place in the 16U Black Division, but Odyssey 02 (TX-N) had other ideas. The North Texas side used a strong defensive effort to secure its first win of the season and defeat Baltimore, 1-0. After a scoreless first half, Brock Pope beat the keeper in the 43rd minute to give Odyssey a 1-0 lead. Baltimore pushed forward in search of an equalizer, but the North Texas side remained organized in the back and held on for the shutout victory.
A late goal helped Philadelphia Ukrainian Nationals 02 Black (PA-E) earn a 1-1 draw with NCFC Elite 02 (NC) and continue its climb up the 16U Red Division standings. After a scoreless first half, a 50th-minute strike from Samuel Durand allowed NCFC to grab an advantage. However, Philadelphia provided a reply in the 71st minute when Jordan Kahny produced an equalizing goal. Neither side managed to break the deadlock in the game's final 10 minutes, as the sides settled for a 1-1 draw. Philadelphia is now just one point back of the idle group leaders.
17U
The first title of the season came in the 17U White Division, where Oklahoma Energy FC 01 Central (OK) secured first place with a hard fought 1-0 win over OBGC Rangers Blue 2001 (MD). Gabriel Ontiveros spotted the Oklahoma side an early lead with a 19th-minute strike — a goal that placed pressure on OBGC, which needed a win or tie to stay alive in the division title race. With the Maryland side just one goal away from changing the complexion of the group standings, the second half featured several crucial moments. However, the Oklahoma defense had an answer for every OBGC attack, as the Energy held on to take the 1-0 victory and claim the division title.
Elsewhere in 17U age group, defending National Champion Tampa Bay United (FL) put a hold on the Black Division title hopes of Solar 01 Sawyer (TX-N), as Tampa beat the North Texas side, 3-1. Thanks to an early penalty kick save by the Solar keeper, the game remained scoreless until midway through the second half. In the 68th minute, Tampa seized control of the game when Joshua Colledge precisely curled a free kick attempt into the upper-90 to put his side in front. Just three minutes later, Robert Soronellas converted a penalty kick by slotting his shot into the right corner to put Tampa in front, 2-0. Solar pulled a goal back through Pablo Velazquez but Tampa's Zachary Board sealed the victory in the 85th minute when he cut inside a defender and placed his left-footed shot inside the far post. Tampa is now just one point behind Solar in the standings, with each team having one game remaining.
Solar 01 Stricker (TX-N) extended its advantage at the top of the 17U Blue Division with a 1-0 win on Friday against Pipeline Pre Academy (MD). The teams could not be separated for much of the match, as the game entered its final stretch with no score. However, Solar's Christian Naizer provided a crucial breakthrough goal when he found the back of the net in the 69th minute. The Solar defense, which has conceded just one goal through five games, held on to secure the clean sheet and victory.
18U
While three points would have given it a shot at the 18U White Division title on Sunday, LVU 2000 Black (PA-E) earned an important draw against USA/Mt Pleasant 00 Premier (SC) to add to its group-leading point total. The Eastern Pennsylvania side produced several set piece opportunities early in the second half, as it looked to grab the game's opening goal. LVU did just that, but it came in the run of play, as Dawson Berger nodded home a teammate's low cross from the right wing to give his side a 60th-minute lead. In the 77th-minute, Charles Marino spoiled LVU's hopes of a victory when he found the back of the net to force a 1-1 draw.
Baltimore Celtic SC 00 (MD) is a win away from the 18U Red Division crown after a dominant victory on Fridayagainst TUSC 00 Red (TN). The Maryland side built a four-goal lead the break behind tallies from Nicholas Richardson, Benjamin Stitz, Luke Davis and Abdalrahman El Masry. Tulsa's Riley Indermuehle pulled a goal for his team in the 59th minute, but Baltimore replied with goals from Justin Gielen, Stitz and El Masry to cruise to victory.