US Youth Soccer National League Boys conclude play in Florida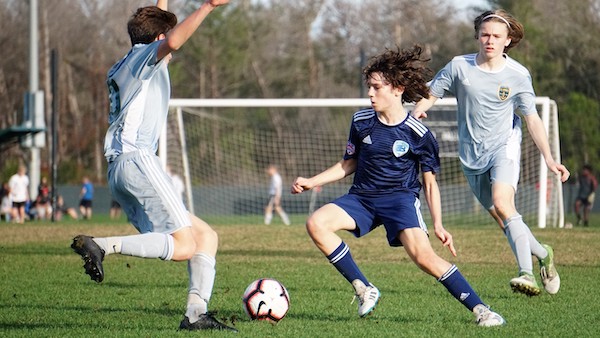 Day 3 of 3 complete
Monday Photos
Follow the National League Season…
Scores and Schedule | National League Home
Twitter | Facebook | Instagram | #EarnYourPlace
ORLANDO, Fla. (Via US Youth Soccer) — The US Youth Soccer National League Boys teams competing this week wrapped up their second event of the season at the ESPN Wide World of Sports in Orlando, Fla., as they played alongside the Disney Soccer Showcase. The boys teams that did not play in Orlando will resume their seasons March 8-10 in Las Vegas, Nev.
National League play will continue Jan. 19-21 when 72 National League Girls teams continue their seasons at The Premier Sports Campus in Lakewood Ranch, Fla.
National League teams earn their place in the league based on a proven track record of success in US Youth Soccer regional and national competitions and are among the nation's best. Competing for a league title and a spot in the US Youth Soccer National Championships, each and every game plays into who represents the National League this summer in Overland Park, Kan. The National League division champions in the 14U through 18U age groups advance to Nationals, while the top two teams in each of the 19U divisions move on to Overland Park.
The results in Orlando saw two 19U Boys teams — Lehigh Valley United 2000 Black (PA-E) and LMSC Rats (PA-E) — secure top-two finishes in their respective divisions to give them each a spot in the National Championships. All other National League berths to Nationals are still to be decided when play resumes in Las Vegas.
+READ: National League Boys resume season alongside Disney Showcase
Lehigh Valley United earned a place at Nationals despite dropping a tight 1-0 game to Ohio Premier NL (OH-S) on Monday. Ohio Premier, like many other teams competing in Orlando, picked up valuable points in the standings that could lead to a berth to Nationals when the standings are finalized at the end of the season.
"Lehigh is a very good team, and there is a reason they're at the top of the bracket. We knew we had our work cut out," Ohio Premier coach Alan Yost said following his team's win on Monday. "Lehigh hadn't conceded a single goal in the National League, which says a lot about them as a team. They were very talented,  and for us to get a win today keeps us in the hunt, which is what we were looking to do."
Yost, who is the head men's soccer coach at Capital University, said the environment created by having National League division titles and berths to the National Championships on the line helps to mirror what players will experience when they move on the college level.
"Every game matters, and that's the big thing," Yost said. "You get to compete rather than just play. You're going up against quality competition and the games are going to be tough."
The National League features the top 348 US Youth Soccer teams in the 14U through 19U Boys and Girls age groups, and it provides an avenue for teams to play in meaningful matches against top competition from across the country for continued development. In addition to recruiting opportunities, National League teams compete for the National League title and one of four league slots from each gender age group to the annual US Youth Soccer National Championships.
+READ: US Youth Soccer National League Boys – Saturday Recap
National League Boys action will continue March 8-10 at the Players College Showcase in Las Vegas, Nev. Complete standings, scores and schedules, including goal scorers and match information, can be found at the results page here. Click on the score of each game for more information.
Some highlights from Monday's matches…
15U Boys
VHSC Steamers 04 Black (AL) came back to win, 2-1, against Dallas Kicks Selecao 04 (TX-N) in a matchup of the top two teams in the 15U Blue Division. Zackery Betzinger gave Dallas a 27th-minute lead when he received a pass, spun toward goal and finished. That advantage lasted until the early moments of the second half, when VHSC used a long free kick to equalize. The ball floated into traffic and was directed into the net by Gabriel Russo to tie the game at 1-1 in the 46th minute. Just four minutes later, the Steamers seized the lead when Kosi Udeh made a diagonal run into the box to meet a cross and nod it past the Dallas keeper. That proved to be the game-winner, as the Steamers secured their fifth win of the season — four of which have come by one-goal margins. The Alabama side will have an eye on the Las Vegas results to see how the division standings shape up.
In a matchup of two of the top three teams in the 15U Red Division, Arlington SA Red 04 (VA) earned a 2-1 win over Team Challenger FC 04 Black (OH-N). The Virginia side received goals from Jonathan Zarate-Turcios and Ian Morales in the victory, as Arlington moved to 10 points in the standings. However, two goals apiece from Federico Palacios and Fidencio Torres, along with a Kabl Kahkesh tally, powered Oklahoma Energy FC 04 (Central) (OK) to a 5-1 win against Inter Atlanta FC Blues (GA) on Monday to keep the Energy in front of Arlington via a head-to-head victory for Oklahoma when the two sides met on Saturday. The Energy will be keeping an eye on results from Las Vegas to see if it can maintain that place in the standings.
16U Boys
In the 16U Red Division, Baltimore Celtic Premier (MD) picked up three key points with a 2-0 win over Syracuse Developmental Academy (NY-W) — keeping the Maryland side in first place in the current group standings. Vincent Danielson put Celtic in front when he found the back of the net midway through the first half. Danielson was not done, as he doubled Baltimore's lead in the 49th minute to give his side some breathing room. Celtic hung on for the shutout, as it recorded its third win out of three games in Orlando.
With a 1-0 win against STA MUSC 2003 (NJ) on Monday, Lake Grove Newfield Dynamite 2003 (NY-E) jumped to the top of the 16U White Division standings. As the first half neared its midway point, Lake Grove earned a chance to grab a lead with a penalty kick. Moses Bakabulindi stepped up to the spot and converted the attempt to put Lake Grove in front in the 19th minute. The Eastern New York side continued its strong defensive play, as it ensured that single goal would be enough by recording a second straight shutout. With three wins in Orlando, Lake Grove now has 10 points in the standings.
17U Boys
Defending National Champion Arlington SA 2002 Red (VA) dropped its first points of the season but managed to earn a 1-1 draw against Baltimore Celtic 2002 (MD) in 17U Red Division action. Joseph Core netted his sixth goal of the season in the 12th minute to give Arlington an early advantage. The Virginia side kept the lead for much of the game, but Baltimore prevented Arlington from netting a second despite several chances. The strong defensive effort paid dividends for Celtic, as it netted a tying goal in the 87th minute. The Arlington keeper made a nice save on a curling Celtic free kick, but Liam Nesbitt rushed on to flick in the rebound and force a 1-1 draw. Arlington leaves Orlando with 13 points in Red Division standings, with a seven-point edge on the closest teams with games left in Las Vegas.
+US Youth Soccer National League 18U Boys – College Commitments
18U Boys
PPA KSA 01 Pro-Profile (GA) fought back to earn a 2-2 draw against Lake Grove Newfield United (NY-E)  and maintain its spot atop the 18U Blue Division standings. Alexander Rosa put Lake Grove in front after 31 minutes of action, and the Eastern New York side maintained that slim advantage until Carl Henry Desir equalized for KSA in the 55th minute. It took just eight minutes for Lake Grove to regain its lead with a Brendan Tomlinson strike, as it looked to hand KSA its first loss of the season. However, the Georgia side earned a penalty kick in the 70th minute, and Deedson Vixamar placed it inside the left post to tie the game at 2-2. Neither side managed to net a third goal, as they settled for the draw. The result marked the first points KSA dropped on the season, but the Georgia side still currently sits in first place with four wins and a draw.
OBGC Rangers Blue 2001 (MD) leaves Orlando leading a tight 18U Black Division, thanks to a 1-0 win on Monday against Tampa Bay United (FL). After a scoreless opening half-hour of play, the Maryland side broke through when Nathan Messer found the back of the net. OBGC did well to hold on to that narrow lead, as Tampa Bay looked to fight back for the win to remain in first place in the group. However, the Rangers fought off all equalizing attempts by Tampa, as they came away with the 1-0 victory.
+US Youth Soccer National League 19U Boys – College Commitments
19U Boys
Lehigh Valley United 2000 Black (PA-E) had a chance to leave Orlando with the 19U Blue Division title, but it will have to settle for a guaranteed top-two finish after it dropped a 1-0 decision to Ohio Premier NL (OH-S). After a scoreless first half, LVU keeper Dylan Smith made a diving stop to his left to stop a powerful Ohio shot in the 60th minute. The Eastern Pennsylvania side generated plenty of pressure in the attacking end, but it couldn't find the right final touch as the game entered the late stages scoreless. With a quick shot from a tight angle on the left side of the box, Ohio Premier's Drew Fischer slid home the game-winner in the 83rd minute — producing the only goal conceded by LVU this season. The win keeps Ohio Premier's hopes of a top-two finish alive, while LVU will wait to see if it finishes as the top team in the Blue Division following play in Las Vegas.