US Youth Soccer National League 2019-20 Season Preview: 19U Boys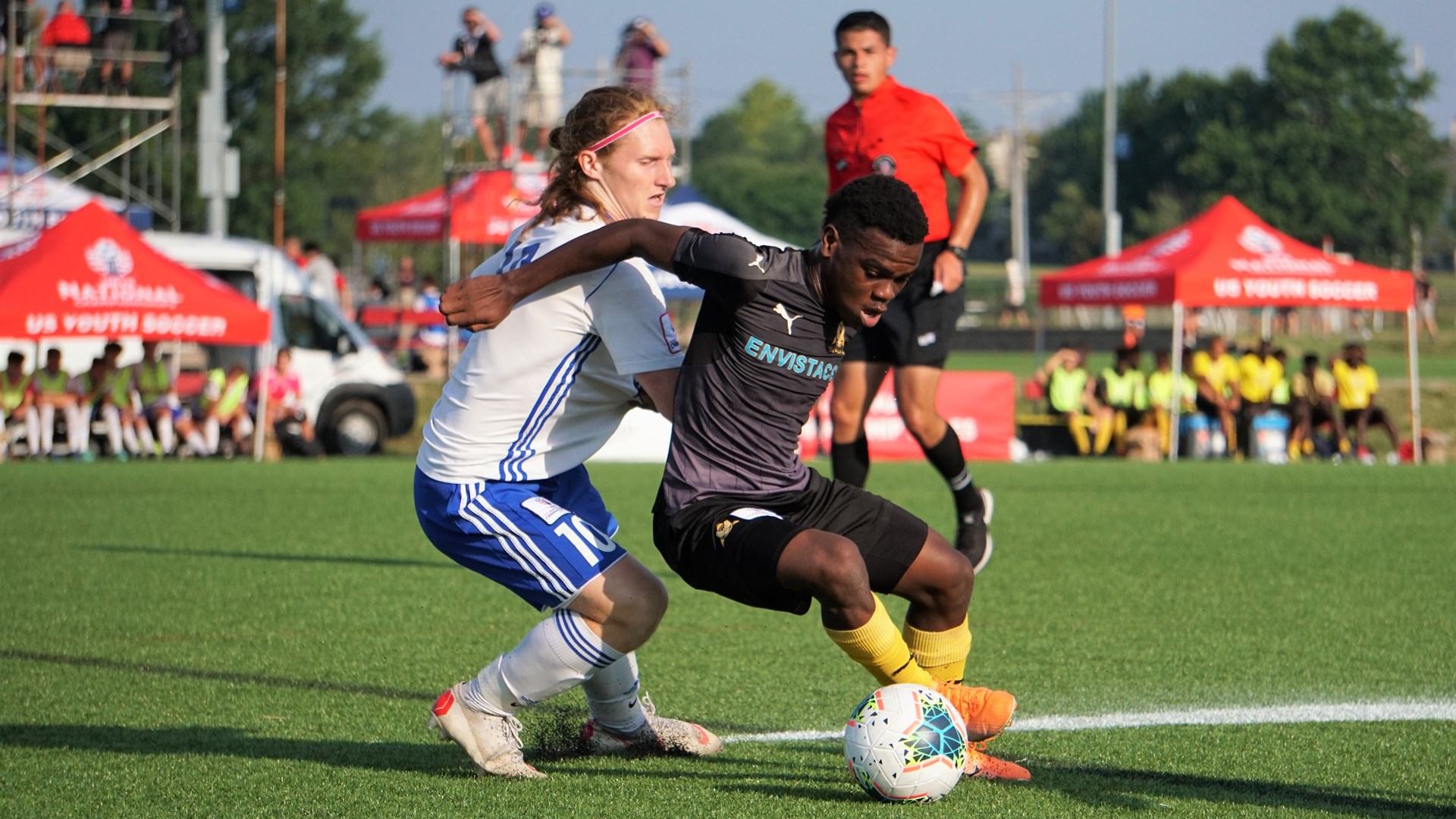 With the 2019-2020 US Youth Soccer National League season kicking off  this month, we take a look ahead at the competition with an in-depth preview of each age group.
In this edition, find out what's in store for the 19U Boys.
Schedule, Scores and Standings | History and Results
With each 19U Boys Blue Division team entering its final year of youth soccer, there is a long list of accomplishments between them. PPA KSA 01 Pro-Profile (GA) is coming off a very strong season that added many accolades to the division's collective tally. KSA won the Blue Division last year, to go along with a 7-0-0 record and first-place finish in the US Youth Soccer Piedmont Conference. At the US Youth Soccer National Championships in Overland Park, Kan., KSA advanced out of its group after a win and two draws. It then put forth two dominating performances to claim the 18U Boys National Championship.
KSA will certainly be a team to beat for the Blue Division sides, including a couple others who are also coming off trips to Nationals. FC Dallas Youth 01 Premier (TX-N) advanced to the semifinals in Overland Park, where it came up a penalty shootout loss away from the title game. Prior to that, FC Dallas won the US Youth Soccer Frontier Conference with a 10-0-1 record, and it claimed the US Youth Soccer Southern Regional Championship by winning all six of its matches in Baton Rouge, La.
Philadelphia Ukrainian Nationals 01 Black (PA-E) also competed at the National Championships after it won last season's National League White Division.  It will aim to replicate that league success when Blue Division play kicks off this December. Meanwhile, OC Surf Armour 2001 (CA-S) is coming off a season that included a first-place finish in the US Youth Soccer Pacific Conference, as well as a run to the knockout rounds at the US Youth Soccer Far West Regional Championships. With several teams that have proven their ability to string together results in a league format, it will be an interesting race for the top spots in this year's Blue Division.
An abundance of teams coming off National League or US Youth Soccer Conference titles makes it hard to pick any favorites in the 19U Boys Red Division. Solar 01B Stricker (TX-N) should be a team to watch, as it won the Red Division last season and advanced to the final match at the National Championships. Veterans of the last four National League seasons, Solar will surely be looking to finish its time together with another strong performance in the league.
OBGC Rangers 2001 Boys (MD) has also put together several impressive seasons in a row, including a 2018-19 season that saw it win the National League Black Division and make its second straight appearance at the National Championships. Meanwhile, US Youth Soccer Eastern Regional Champion LVU-FPA 2001 Boys Black (PA-E) is coming off a trip to Nationals that saw it narrowly miss out on a semifinal berth from a three-way tie atop its preliminary group. OBGC and LVU-FPA will each look to finish at the top of the Red Division to earn a return trip to Nationals. The same can be said for Sparta 01 Premier JK (UT), which came out on top of that three-way tie involving LVU-FPA at the National Championships and advanced to the semifinals. Sparta fell to the eventual National Champion in the semifinals, but it still enjoyed a successful season that included winning the Far West Regional Championship and US Youth Soccer Desert Conference.
A few other teams also put together strong performances in league formats to win their respective Conferences. LGN United (NY-E) won the US Youth Soccer North Atlantic EDP Conference Premier I Division, while SLSG Elite 01 Boys (MO)went 9-0-0 to win the US Youth Soccer Midwest Conference Premier I Division. Lobos Rush 01 Premier (TN) compiled eight wins out of nine games to finish first in the US Youth Soccer Mid South Conference before making a run to the Southern Regional Championship semifinals — adding even more experience to the Red Division field.
Christopher Rindov (OBGC) – Best XI at the National Championships
Carl Henry Desir (PPA KSA) – Best XI at the National Championships
Orlando Castro (FC Dallas) – Best XI at the National Championships
Richard Sanon Nicholas (PPA KSA) – Golden Glove, Best XI at the National Championships
Euan Forrest (LVU-FPA) – Best XI at the National Championships (as a 19U player)
Logan Moore (FC Dallas) – Best XI at the National Championships (as a 19U player)
Mark Lee (Pipeline SC) – Leading scorer at the Eastern Regional Championships with six goals
2019 US Youth Soccer ODP Boys Interregional – 2002 Roster
South Region – Carsten Haddad (Lobos Rush)