US Youth Soccer National League 2018-19 Season: 15U Boys Preview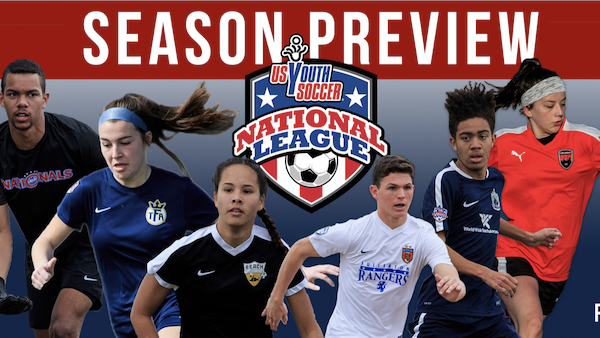 (Via US Youth Soccer) – With the 2018-2019 US Youth Soccer National League season quickly approaching, take a look at the entire 15U Boys age group, which features four competitive divisions with some of the nation's top clubs represented.
The 15U age group begins to see teams with National League experience from last season, and that's the case with the 15U Boys Black Division. PPA KSA 04 Pro-Profile (GA) should be in the thick of the fight for the top spot in the group after it finished second in last year's Red Division with a 5-1-1 record. That performance earned the Georgia side a berth to the 2018 US Youth Soccer National Championships, where it tied all three group games and narrowly missed out on the semifinals. KSA should feel motivated to return to that stage and will be a tough matchup for all Black Division opponents.
Another team that should be anxious at the prospect of capturing the division title and earning a place at Nationals is Downtown LVSC 04 Gold (NV). The Nevada side made its way to the championship match at the 2018 US Youth Soccer Far West Regional Championships, but it fell short in the final. LVSC has a shot to improve on that performance when it competes for the Black Division title this season.
+READ: US Youth Soccer National League 2018-19 Season | 14U Boys Preview
Potomac Soccer Association (MD) also made a run in its regional competition, as the Maryland side strung together some wins at the 2018 US Youth Soccer Eastern Regional Championships. Potomac outscored opponents 9-to-0 during group play before dropping a 1-0 result in the semifinals. It now has a chance to prove itself against a new batch of talented teams who will all be fighting for first place in the Black Division.
Defending National Champion Nationals Union 04 Black (MI) highlights the 15U Boys Blue Division. The Michigan side's national title capped a 2017-18 season that also included winning the National League Blue Division, finishing first in the Midwest Regional League and claiming the 2018 US Youth Soccer Midwest Regional Championship. With so much experience and success to go along with it, Nationals Union should be a side that makes some noise this season in the National League.
Another side that competed at Nationals is VHSC Steamers 04 Black (AL), which captured the 2018 US Youth Soccer Southern Regional Championship. In addition to its tournament success, the Steamers also finished first in their Southern Regional Premier League division and will look to transfer that league success to the 2018-19 Blue Division campaign.
+READ: Nominees set for U.S Young Male, Young Female Player of the Year
Several other sides enjoyed Regional League accomplishments, including SC Del Sol White 04 (AZ), which won its Far West Regional League division and recorded a third-place finish in the 2017-18 National League Blue Division. PCU 04 Red 1 (OR) and JB Marine-Gober (MO) each also won their respective Regional League divisions and will look to repeat that league play success when the Blue Division kicks off in North Carolina.
NM Rush 04 (NM) will take aim at the top spot in the 15U Boys Red Division as it looks to defend the title it claimed last season. New Mexico secured six wins and a tie in 2017-18, as it won the Red Division by outscoring opponents 21-to-5. A couple of narrow defeats at Nationals left it third in Group A, but Rush has a chance to get back to that stage if it can successfully defend of its Red Division title.
A couple of Regional Championship finalists are looking to finish on top of the Red Division and earn a berth to the National Championships. Arlington SA Red 04 (VA) won its Eastern Regional League division before making a run to the Eastern Regional Championships final. Elsewhere, Oklahoma Energy FC 04 Central (OK) followed up a mid-table finish in its National League division last season by coming up one game short of the Southern Regional Championship when it dropped a 2-1 game in the final.
+READ: U.S. U-17 MNT draws Portugal 1-1 in Nike International Friendlies
TFA-San Fernando Valley (CA-S) will be another team to watch after it won its Far West Regional League competition — showing it can produce the consistent results necessary to win a National League division title.
The National Championship finalist, Real Jersey FC (NJ), will aim to return to Nationals by winning the 15U Boys White Division. The New Jersey side outscored opponents 11-to-1 before coming up just short in the National final. Prior to that, Real finished first in its Regional League division and posted five shutouts at the Eastern Regional Championships to take the title. If it can continue that sustained high level of play, Real will be a contender for the White Division crown.
Challenging the New Jersey side will be a Soltilo FC Los Angeles (CA-S) side that has a solid National League campaign under its belt. Soltilo FC finished third in its National League division last season, as it posted a 4-1-2 record. The Cal South side allowed a group-low three goals in its seven games, and a similar defensive effort will go a long way in its pursuit of this season's White Division title.
Another team to watch will be Lexington FC 2004 BW (KY), which advanced to the semifinals of the Midwest Regional Championships. In its semifinal match, the Kentucky side dropped a close 1-0 decision to the eventual National Champion but showed it can hang with anyone in the country.
Richard Ludwig (Nationals Union Black) – Golden Ball, Best XI at the National Championships
Andrew Kitch (Real Jersey FC) – Best XI at the National Championships
John Perez (PPA KSA 04 Pro-Profile) – Best XI at the National Championships
Devin Hernandez (Nationals Union Black) – Best XI and tied for leading scorer (five goals) at the National Championships
Alan Guerra-Melendez (VHSC Steamers) – Best XI at the National Championships
Cade McGrath (Real Jersey FC) – Best XI and tied for leading scorer (five goals) at the National Championships
Emanuel Michael (PPA KSA 04 Pro-Profile) – Best XI at the National Championships
Jeremy Sharp (Nationals Union Black) – Best XI at the National Championships
Matthew Marino (Real Jersey FC) – Golden Glove, Best XI at the National Championships
Brandon Beltran (Lexington FC) – Leading scorer at the Midwest Regional Championships with four goals
Fidencio Torres (Oklahoma Energy FC) – Leading scorer at the Southern Regional Championships with six goals
2018 US Youth Soccer ODP Boys Interregional – 2002 Roster
Midwest Region – Tyler Murphy (LMVSC)
2018 US Youth Soccer ODP Boys Interregional – 2004 Roster
East Region – Matthew Mueller, Nicholas Laffey (Bethesda Blue); Beckett Wenger, Jack Albright, Brett Rajkowski (PA Dominion); Brent Fields (LMVSC)
Midwest Region – Sean Stenger (JB Marine), Sam Holthaus (Team Challenger), Nicholas Cassidy (Midwest United)
South Region – Emiliano Lopez (Rise 04 Elite); Federico Palacios (OK Energy FC); Gabe Russo, Nathaniel Starzl, Nathan Tozzi (VHSC Steamers)
West Region – Saul Cisneros, Jarrett Claypool, Aidan Romero (NM Rush); Paul Kim (Sparta Premier)
2018 US Youth Soccer ODP Boys Interregional – 2005 Roster
West Region – Derek Lozano (NM Rush)