US Youth Soccer extends contract of CEO Chris Moore through 2021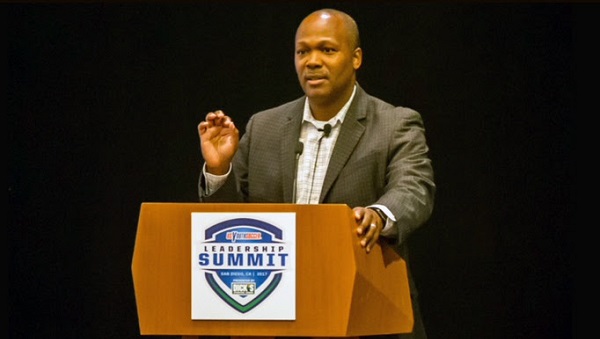 FRISCO, Texas (Via US Youth Soccer) — US Youth Soccer has announced the extension of CEO Christopher Moore's contract through February 2021. Moore has served as CEO since February 2015.
"With tremendous leadership and professionalism, Chris Moore has furthered the US Youth Soccer mission and guided our vision for the future," said US Youth Soccer Board Chair Jesse Harrell. "Chris championed changes to our organizational structure, spearheaded the addition and renewal of official US Youth Soccer sponsorships and assembled a new management team. US Youth Soccer is proud to call him our CEO."
Under Moore's leadership, US Youth Soccer has guided its membership through governance and bylaw changes, cultivated partnerships with several national brands such as CLIF Kid, Dick's Sporting Goods, Sun-Maid Raisins, Target, Yokohama and many others. Chris has also worked with the US Youth Soccer Board of Directors to enhance and improve the relationship with the United States Soccer Federation, the national governing body for soccer.
+READ: Jefferson Cup 2018 Championship Division Preview | U-17 Boys
"I am honored to have received this contract extension and am incredibly grateful to our Board, the US Youth Soccer membership and my fellow staff members," said Moore. "We're at a seminal moment in our growth and evolution, where the competition for our players – both elite and recreational – is at an all-time high. I very much look forward to continuing to serve our members, help grow participation and establish US Youth Soccer as the preeminent youth sports organization in the country."
Moore's focus over the past three years has been to strengthen and build a professional member-centric culture that serves US Youth Soccer's 55 State Associations, along with its clubs, coaches, teams, players and families. Reimagining and improving the delivery of US Youth Soccer events like the National Championship Series, National and Regional Leagues and the Olympic Development Program – and improving the experience at those events – has also been a priority for Moore and his management team.
+READ: Hiring process underway for USMNT, USWNT General Manager roles
Recently, Moore announced a number of new senior leadership appointments to evolve US Youth Soccer into the future, including a slate of regional General Manager appointments who bring decades of combined experience in youth soccer. The General Managers oversee and manage day-to-day programmatic, operational and administrative decisions. Moore also created a new Leagues Program Director position to refresh, standardize and expand US Youth Soccer's league structure.