US Youth Soccer Desert Conference concludes as 150 teams compete in Phoenix event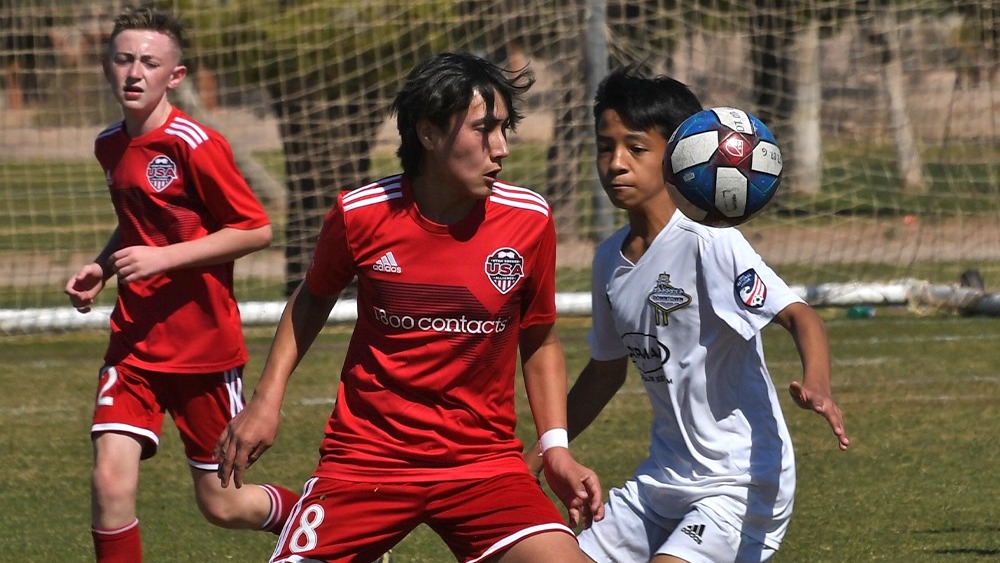 PHOENIX — A total of 150 teams completed their 2020-21 US Youth Soccer Desert Conference seasons this past weekend in Phoenix, as several age groups held some of their final games of the season at Grande Sports World and Copper Sky Park in the Phoenix area.
The event included matches in the 12U-14U Girls age groups, as well as the 12U-16U and 19U Boys age groups. Several teams completed their Desert Conference seasons, with some securing first-place finishes and a spot in the 2021 USYS Far West Regional Championships.
No matter where teams fall in the table, they can come away from the Desert Conference events with a better understanding of what it takes to compete in high-level matches.
150 teams competed in Desert Conference action this past weekend, with several securing first-place finishes.

Recap & Photos ➡️ https://t.co/BJ1bfieoJ4
Video ⤵️ pic.twitter.com/yoMNLnJSQf

— National League (@NationalLeague) March 4, 2021
"The competition we face in the Desert Conference is a lot higher level than what we experience at the state level," said Kiva Gresham, coach of Rio Rapids 08G (NM). "The kids are faster, stronger and more technical, so it pushes our kids to learn how to play against that and also gives them an example of what they could do in certain situations."
Girls Recaps
In the 12U Girls age group, Colorado Rush Academy 09 DI BIASI (CO) capped a very successful weekend with a 2-1 victory over Players 09 Elite Girls (NV) in a matchup of unbeaten sides. By earning that tight victory, Colorado secured a first-place finish in the group, as it equaled Players' 24 points in the standings while obtaining the head-to-head win.
Impact MN (UT) earned a win and a draw in Phoenix to maintain an unbeaten record and the top spot in the 13U Girls age group. However, the draw came against Players 08 Elite Girls (NV), which is just three points back of first place and has a game in hand. Impact has a significant edge in goal differential, which could be the deciding factor if Players can win its final game.
In the 14U Girls age group, Wasatch SC 07G (UT) posted three shutout victories in Phoenix to finish a perfect 9-0-0 season that resulted in a first-place finish. The Utah side conceded just two goals in its nine games, while scoring an average of five goals in its unbeaten campaign.
Boys Recaps
In the 12U Boys age group, USA 09B DC (UT) recorded three straight shutout victories to in Phoenix to finish in first place. The Utah side's strong defense proved to be a key factor in its winning campaign, as it conceded just three goals in its nine games — eight fewer than the next closest teams.
La Roca KP 08 (UT) finished on top of the 13U Boys age group, as it compiled a 7-0-2 record on the season. La Roca finished strong during its three wins in Phoenix, as it outscored its opponents, 8-to-1, over the course of the weekend to claim the title.
In the 14U Boys age group, La Roca-J Milla (UT) capped a perfect 9-0-0 season with a three clean sheet victories in Phoenix. The Utah side combined the group's highest-scoring attacks with one of the stingiest defenses during a dominant Desert Conference campaign.
Though it still has a game to play, Sparta B06 JK (UT) did enough in Phoenix to clinch a first-place finish in the 15U Boys age group. A pair of victories this past weekend moved the Utah side to 6-0-0 on the season, as it has outscored its opponents 21-to-4.
After dropping its first game of the weekend on Saturday, Players 05 Elite Boys (NV) bounced back with a 4-0 victor on Sunday to maintain its lead atop the 16U Boys age group. The Nevada side can clinch the title with a win or tie in its lone remaining game against Tuzos Academy 05 (AZ).
With three tight wins over the weekend, Tuzos Academy 02 (AZ) secured a first-place finish in the 19U Boys age group. The Arizona side won all six of its matches while compiling a plus-15 goal differential in its title-winning season.
For more information on the Desert Conference, including schedules, scores, and standings, click here.
For more information on all of the National League Conferences, the National League Showcase Series and the National League Playoffs, click here.