US Club Soccer welcomes Yellowstone Premier League to NPL program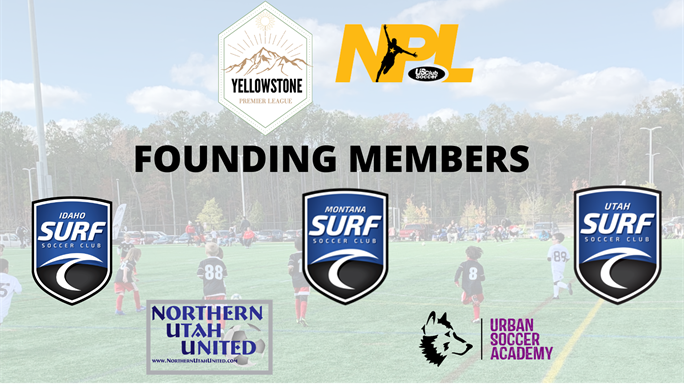 US Club Soccer's National Premier Leagues (NPL) continues to grow, as it welcomes the third newest member league for the 2020-21 season: the Yellowstone Premier League with clubs spanning Idaho, Montana and Utah.
While the Yellowstone Premier League expects to add more club-based and team-based members, here are the founding clubs:
Idaho Select SC (ID)
Idaho Surf SC (ID)
Montana Surf/Blitzz FC (MT)
Northern Utah United (UT)
Urban Soccer Academy (ID)
Utah Surf (UT)
The inaugural season offers competitive opportunities for 11-U through 19-U boys and girls teams with top divisions of 13-U and older age groups participating in the NPL pathway. The Yellowstone Premier League is administered by International Elite Program (IEP) Soccer.
"We are excited to have connected with a fantastic group of like-minded club leaders in this region," said Mayowa Owolabi, IEP Soccer founder. "These leaders are forward-thinking and are truly committed to collaborating on and off the field to help grow the game. From the first conversations, myself and these directors all knew this was something the area needed, so we are excited to be able to kick off during these unprecedented times."
The youngest age groups – 11-U through 14-U – will play a 12-game season split between the fall and the spring, while the older NPL divisions play nine games from January to March. The Yellowstone Premier League has developed an event-based calendars to limit the amount of travel and to centralize key match days for maximum exposure for players, families, coaches and scouts.
"The Yellowstone Premier League adds geographical diversity to the nationwide NPL map," said Leo Garcia, NPL General Manager and US Club Soccer VP of Competitions. "We're excited to welcome these clubs, and we know they're bringing skills and enthusiasm to the entire NPL."
As an NPL member league, the Yellowstone Premier League enjoys a pathway to postseason opportunities for both its boys and girls clubs. In addition to postseason opportunities, members of the new league also gain access to a plethora of US Club Soccer benefits, including: player identification and development, cup-based competition, player health and safety resources, robust coaching education and more.
US Club Soccer's mission is to foster the growth and development of soccer clubs throughout the country to create the best possible development environment for players of all ages in every club. The primary vehicle for accomplishing that ambition is Players First: a branded, holistic club soccer experience for parents and players which emphasizes the development of each individual to his or her full potential, and helps parents make better choices about where their children should play.
That Players First philosophy is supported by best-in-class partners and resources, including LaLiga, and is anchored by five pillars: Club Development, Coaching Development, Player Development, Parent Engagement & Education, and Player Health & Safety. In particular, Player Health & Safety is the emphasis, as US Club Soccer prides itself on fostering the safest environment for players in youth sports. US Club Soccer has stringent requirements for all staff registration/eligibility and also provides a variety of safety-related resources to members.
Clubs and teams interested in joining the Yellowstone Premier League are encouraged to contact Owolabi at [email protected].
Quotes from founding member clubs:
Shawn Watts, founder and Executive Director of Idaho Surf: "The Yellowstone Premier League has been designed in such a way that we are able to utilize its platform to get more meaningful games against clubs regionally. We could not be more excited to be a founding member, as we watch not just this league grow but also watch our players grow in a true developmental structured league."
Kristin Taylor, Board of Directors President of Montana Surf/Blitzz FC: "For more than 35 years, Montana Surf/Blitzz FC has been the premier soccer club in SW Montana, offering everything from recreational soccer to high-level preparation for college play. We constantly strive to provide diverse and high-quality opportunities to our players and, with that in mind, are honored to be a founding member club of the Yellowstone Premier League."
George Hunt, Technical Director at Urban Soccer Academy: "We look forward to growing with the league and achieving great successes. The goals and ambitions of the Yellowstone Premier League match well with our vision as a club. The Yellowstone Premier League has a great group of clubs as founding members that we are very much looking forward to working closely with. Urban Soccer Academy looks forward to competing at the highest level possible in the region and beginning to grow the recognition of the region on a national level."
Blaine Hale, Executive Director of Utah Surf: "With the Yellowstone Premier League coming into this area, we are excited to be able to provide additional experiences and opportunities to our young athletes. New competition and new pathways are exciting during these times."
Jeff Ginn, Director of Coaching at Northern Utah United: "Since 1989, Northern Utah United has been serving the Cache Valley Utah and surrounding communities by providing recreational programs and facilitating competitive play for teams to compete in local and state competition. With an emphasis on coaching development in recent years, NUU has committed to focusing more on player and team development through programming with an emphasis on coaching education. The opportunity to be a founding member club of the Yellowstone Premier League fits in with the NUU vision by providing an atmosphere where teams can execute learned principles of play in a competitive environment. Northern Utah United is proud to be a founding club for the Yellowstone Premier League, and we are grateful for the opportunity for NUU coaches and teams to enjoy a greater regional camaraderie and unite our efforts in the growth of the western United States technical soccer community. United is more than a name. United is what we are."
Eddie Garcia, Technical Director at Idaho Select SC: "Idaho Select SC is thrilled to become a founding member of Yellowstone Premier League, and we are excited about the level of competition the league will bring to our region. We are committed to developing strong and competent youth athletes who display confidence, sportsmanship and contributions on and off the field."