US Club Soccer National Cup West Regional concludes in Davis, Calif.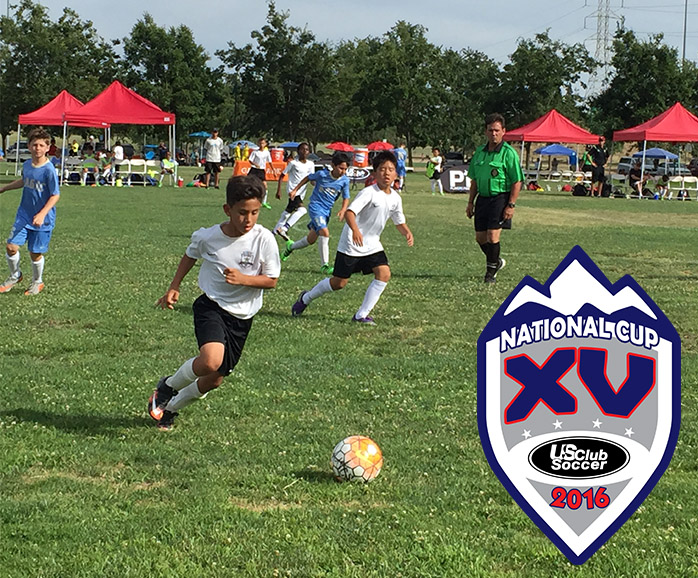 (Via US Club Soccer) – The National Cup XV, the 15th anniversary of US Club Soccer's cup-based national championship series, officially kicked off at the National Cup XV West Regional (Boys) in Davis, Calif., June 11-14.
Open to U-11 through U-18/19 boys teams, this was the first of six Regional events held throughout the country in June. Next month, U-13 through U-17 Regionals winners and state cups qualifiers will compete for national championships at the National Cup XV Finals in Aurora, Colo.
More than 120 teams competed among 14 divisions at Davis Legacy Soccer Complex and Granite Regional Park. Outside of northern California, the Regional included 18 teams from southern California, three from Nevada and one from Hawaii.
Only two clubs won multiple age groups: Atletico Santa Rosa (2001 and 2002 Super Groups) and Napa Sport Academy (2000 and 2001 Premier Groups).
After claiming the 2003 Premier Group, Union Sacramento FC nearly clinched its second division, but was edged by Atletico Santa Rosa Chivas in the 2001 Super Group. The 2002 Super Group was especially competitive, as the Atletico Santa Rosa Tigres earned three wins (4-3, 4-2 and 3-2) by a total margin of four goals, in addition to a 3-3 tie.
Another highly competitive bracket was the 2001 Premier Group, where all but one game was either decided by one goal or finished as a tie. Napa Sport Academy White used its 3-0 opening victory to clinch the age group on tiebreakers.
The following teams are champions of their respective age groups:
| | | |
| --- | --- | --- |
| | Super Group: | Premier Group: |
| 1996/97: | El Cerrito FC Spurs (Calif.) | — |
| 1998: | FC Golden State East (Calif.) | — |
| 1999: | Cal Magic (Calif.) | — |
| 2000: | Marin FC Blue (Calif.) | Napa Sport Academy Blue (Calif.) |
| 2001: | Atletico Santa Rosa Chivas (Calif.) | Napa Sport Academy White (Calif.) |
| 2002: | Atletico Santa Rosa Tigres (Calif.) | Ethos Saints Earthquakes Sacramento (Calif.) |
| 2003: | Juventus Sport Club Pre-Academy (Calif.) | Union Sacramento FC (Calif.) |
| 2004: | De Anza Force SC Academy (Calif.) | Lamorinda SC Navy (Calif.) |
| 2005: | Legends FC West (Calif.) | — |
The remaining National Cup XV Regional schedule is: