US Club Soccer id2 Training Camp wraps up in North Carolina

Rosters – Boys / Girls | Photos | Daily log | usclubsoccer.org/id2
Raleigh, NC | The first id2 Training Camp of the 2018 cycle targeting 2005 boys and 2004 girls was held March 15-18 at Ting Park. The camp was attended by 108 players, hailing from 63 clubs across 25 states, ranging from Florida to Washington.
The athletes participated in a number of on-field training sessions, including two-a-days on Friday and Saturday, as well as off-field presentations from id2 Program coaches and special guest Crystal Dunn, of the U.S. Women's National Team and the North Carolina Courage.
The athletes' daily field sessions focused on technical and tactical abilities, such as,advanced dribbling drills and building out of the back, while also featuring a final scrimmage Saturday evening (by the girls) and Sunday morning (by the boys). A collection of these exercises will soon be released publicly on usclubsoccer.org, as part of a Players First partnership with SportSessionPlanner.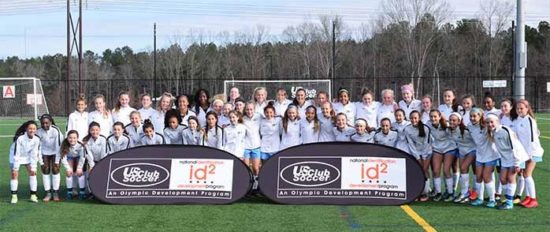 On-site to implement and oversee the id2 curriculum was boys program director Gerry McKeown, and girls program director, Tricia Taliferro. Assisting McKeown in coaching the boys was: David Allred (Wake FC), Justin Marriott (JJSA), Caleb Norkus (Wake FC), Carlos Parra (Inter Atlanta and former MLS defender), and Tom Shields (STA). The girls were coached by Steve Campbell (Maryland United FC), Maria Doris (Drexel University), Russell Gee (Challenge SC), Kevin Mascary (FC Stars), and Ruiari McGuinness (East Meadow SC). Leo Garcia, NPL General Manager and US Club Soccer Vice President of Competitions, was also on-site to oversee the program.
Two more id2 Training Camps will be held in the fall for the current age cycle before their respective National Selection programming gets underway next year. In two days, the 2004 boys cycle id2 2018 National Selection International Tour (2004 boys cycle) team will begin their journey to Spain. This summer, US Club Soccer and ECNL will co-host a domestic camp for 2003 girls id2 and ECNL National Selections.
Click here for more insight on the foundations and pillars of the id2 Program from the directors themselves. This was the first id2 Training Camp hosted at Wake FC's Ting Park.

Established in 2004, US Club Soccer's id2 Program provides an opportunity for the country's elite youth soccer players to be identified and developed, and scouted for inclusion in U.S. Soccer's National Team programs.
The id2 Program is an Olympic Development Program (ODP) approved by the United States Olympic Committee and the U.S. Soccer Federation. There is no cost for players to participate or be scouted, and all meals, lodging and gear are provided by US Club Soccer and Nike.